Sessions Testimony: Attorney General Helps Himself, Trump as Senate Committee Grills Him on Russia Investigation and Comey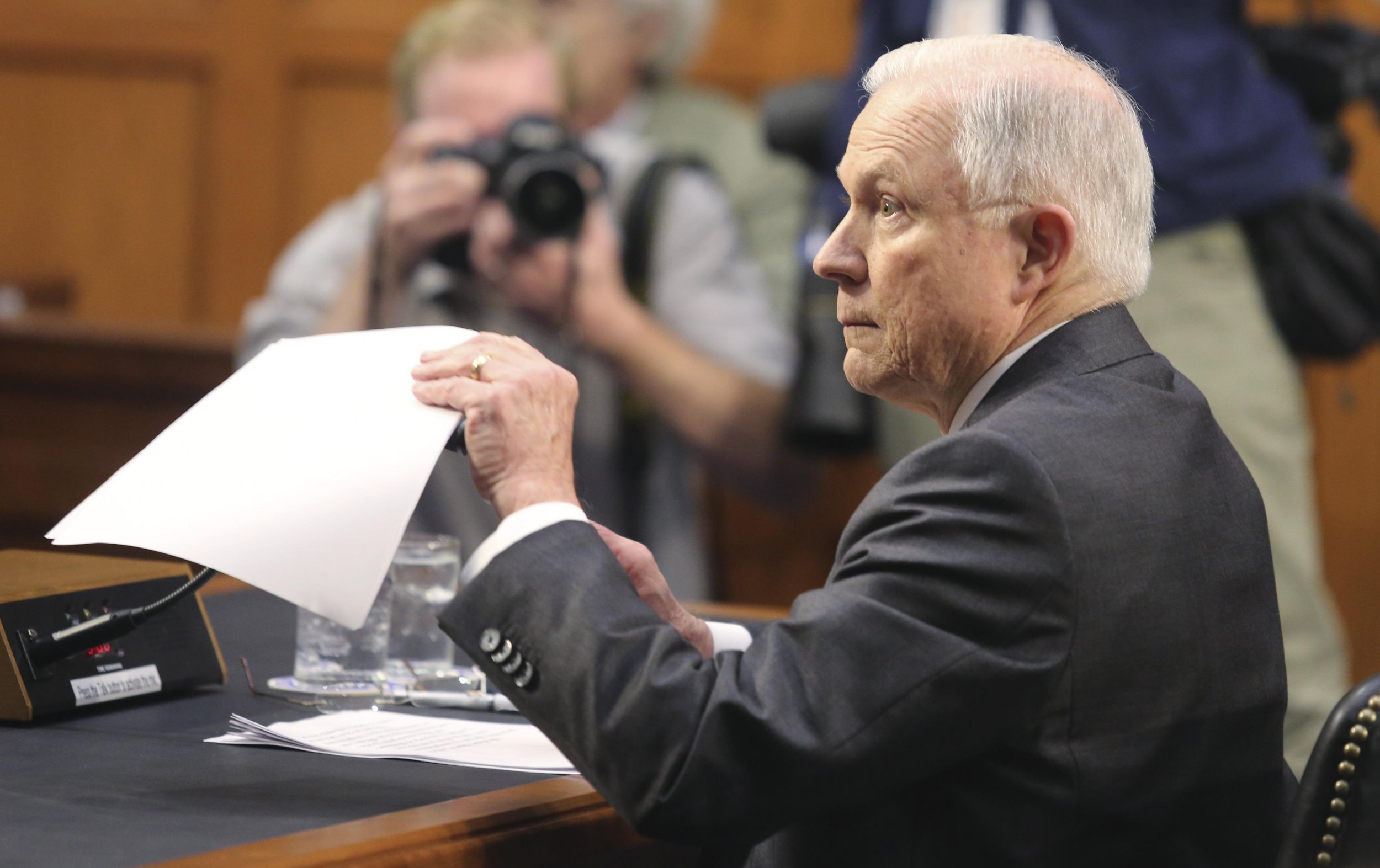 Watergate was a whirlwind for attorneys general. No fewer than four were caught up in the Nixon-era scandal. But Jefferson Beauregard Sessions III is likely to fare better than those other top lawmen. On Tuesday, the elfin lawman helped blunt the investigation into Russian interference in the 2016 election through two and a half hours of denials, nonanswers and lapses in memory before the Senate Intelligence Committee.
Less than a week after the panel heard from fired FBI Director James Comey, Sessions offered little insight into one of the main areas of its inquiry: ties between the Trump campaign and Moscow's subterfuge. The former Republican senator from Alabama adamantly denied colluding with Russia. "Scurrilous," Sessions sniffed about the charge, bolstering the president and campaign officials who are under scrutiny, such as former Trump campaign chairman Paul Manafort.
Related: What Comey didn't say about the Russia probes
"Let me state this clearly, colleagues: I have never met with or had any conversation with any Russians or any foreign officials concerning any type of interference with any campaign or election in the United States. Further, I have no knowledge of any such conversations by anyone connected to the Trump campaign," Sessions said in his opening statement. "Any suggestion I participated in or was aware of collusion with the Russians is an appalling and detestable lie."
If Democrats were looking to score points over Sessions's meetings with a top Russian official, they didn't get very far. The attorney general acknowledged two meetings during the 2016 campaign with the Russian ambassador to the United States, Sergey Kislyak—one at the Republican National Convention in Cleveland in July and another at a meeting on Capitol Hill that spring. But he said he did not recall meeting the avuncular diplomat at a Trump foreign policy speech in April 2016 at the Mayflower Hotel in Washington, D.C.—something Democrats allege may have occurred. Sessions allowed that he and Kislyak both attended the mogul's address and a small reception adjacent to it—photos prove that both men were there—but he doesn't recall interacting with the portly Russian.
This denial was a blow to James Comey, the former FBI director who was fired by Trump in May. Sessions adamantly rebuffed what Comey suggested during his blockbuster testimony last week when he alluded to a "problematic" reason that Sessions had for recusing himself from the Justice Department's Russia investigation. Comey said he would elaborate on what he meant in closed session, and it emerged from leaks that Comey seemed to be referring to the alleged meeting with Kislyak at the Mayflower. "This is a secret innuendo being leaked about me...and I don't appreciate it," Sessions said, growing visibly angry.
The attorney general didn't give the committee and special counsel Robert Mueller much new information on Russian hacking or even its ambassador's efforts to promote Moscow's worldview. But he did make a few eyebrow-raising assertions about Vladimir Putin's government and the Trump campaign's coziness with Moscow. First, Sessions recalled discussions during the 2016 campaign about the poor relations between Russia and the U.S. But instead of characterizing the strained ties as a result of Moscow's expansionism or crackdown on freedom, he labeled it a "tragic" event, as if it were immaculately conceived, and one that a President Trump would endeavor to correct. And under questioning from Republican Senator John McCain, Sessions said he never discussed Syria with Kislyak or Russia's clampdown on human rights and espionage activities in the U.S. The 70-year-old Alabaman did allow that he and Kislyak disagreed over Russia's annexation of Crimea and war against Ukraine. But stunningly, he said he has not been briefed on Russian hacking in the 2016 election since becoming attorney general in February.
A U.S. senator for 20 years, Sessions seemed to best his former colleagues. He's unlikely to appear again anytime soon to discuss the Russia case, and he was cagey about providing more documents. He bobbed and weaved on the question of why he was refusing to answer certain questions regarding his conversations with the president about Russia or the Comey firing. Sessions denied invoking executive privilege as a reason for passing on the lawmakers' questions, instead maintaining that he was unresponsive lest the president choose to invoke privilege at a later date. That kind of obfuscation riled Democrats, including Senator Ron Wyden, who accused Sessions of "stonewalling," a charge that the attorney general adamantly contested.
But there is little Democrats can do about Sessions's testimony because they're in the minority in the Senate. They can't raise the specter of holding him in contempt, as the GOP House majority did for then–Attorney General Eric Holder over the "Fast and Furious" gunrunning case (he was eventually held in contempt, and a court later struck down his claim of privilege).
Sessions did well under the klieg lights on Tuesday. He's used to it. The Senate in 1987 rejected the occasionally prickly Southerner when it denied him a federal judgeship, as allegations swirled about his honesty and civil rights record as a U.S. attorney. Sessions would get the best of them, winning a U.S. Senate seat less than a decade later and joining the chamber in 1997. After a quiet career as a tough-on-immigration conservative, Sessions became the first Republican in the Senate to endorse Donald Trump, using a massive rally in Mobile, Alabama, to bless the TV star. Earlier this year, Sessions's confirmation hearing to become attorney general was a bruising affair in which none of the usual senatorial courtesies applied. Only two Democrats backed his nomination, and one of those who opposed him, New Jersey Senator Cory Booker, broke a century of precedent by testifying against a fellow senator.
Sessions may have earned the president's ire too. Reports have claimed Trump was livid in March and remains peeved that the attorney general recused himself from the Russian investigation because it centered on the Trump campaign of which he was an integral part. But Sessions's recusal proved a wise choice. It allowed Sessions to claim on Tuesday that he had followed Department of Justice guidelines and point proudly at a memo his chief of staff sent around the department's D.C. headquarters, known as "Main Justice," outlining all the ways he was not stepping into the Russian fray.
Trump pulled him back into it with the Comey firing, and the Senate tried again on Tuesday. But the septuagenarian ex-senator proved spry.