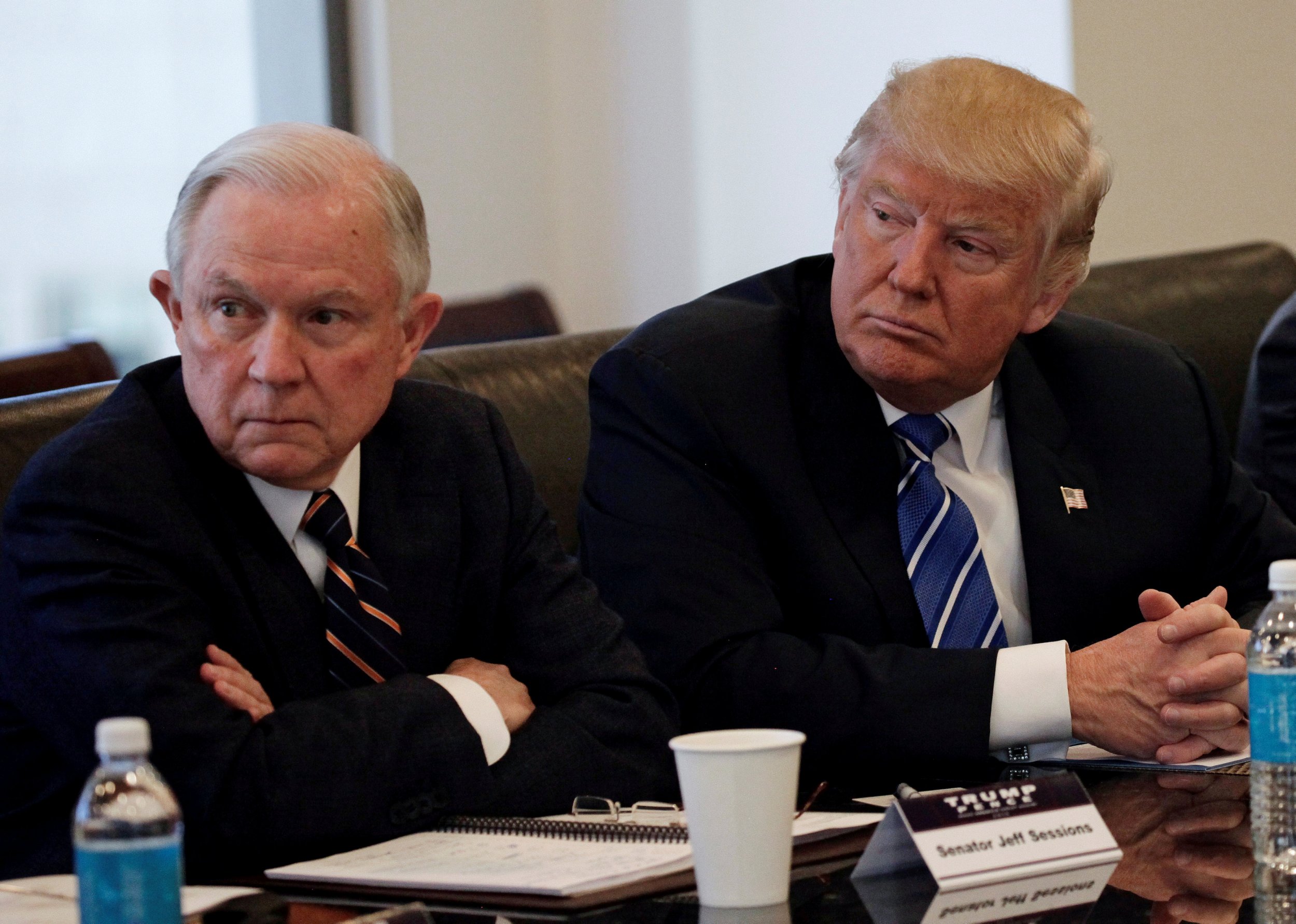 Hello chaos, my old friend. Welcome to the Justice Department.
Just as mixed signals and personnel shakeups have roiled the Trump administration, so has Attorney General Jeff Session's admission that he falsely testified about his own contacts with Moscow's ambassador to the United States thrown the Justice Department's top ranks into disarray.
Under hurricane-like pressure Thursday, the courtly Alabaman, chairman of Trump's presidential campaign, was forced to recuse himself from his own agency's sensitive probes into Moscow's alleged interference in the 2016 election after reports surfaced contradicting his confirmation testimony.
Related: Jeff Sessions Did Not Disclose Russia Contacts
How that investigation will proceed inside the department quickly came under close scrutiny Friday by legal experts, particularly as reports spread that the Trump administration was rushing to purge agencies of holdovers from the Obama administration.
Lawyers and Justice Department officials on Friday were poring through statutes and scratching their collective heads over who has authority to sign warrants for the FBI's electronic surveillance of the Russians and Trump associates implicated in the probe, now that Sessions has stepped aside.
Who Has Authority?
Some experts argue that "acting" officials under Sessions can't sign off on FBI applications to the the Foreign Intelligence Surveillance Court, or FISC, the secretive judicial body that reviews Justice Department requests for electronic surveillance. The acting deputy attorney general is Dana J. Boente, a federal prosecutor from Virginia who briefly served as acting attorney general while Sessions was in the process of being confirmed. Below him is the associate attorney general, but that office has been vacant since shortly after Trump's inauguration.
Further down the FISC warrants chain is Mary McCord, a holdover from the Obama administration who is the acting assistant attorney general for the national security division, which is responsible for counterintelligence and counterespionage investigations involving foreign agents and spies. Although McCord is a highly regarded career federal prosecutor, she could well be replaced as the Trump team reportedly searches for "loyalists" to staff key cabinet positions, especially if she balks at implementing White House initiatives she deems illegal or unconstitutional. In January, Trump fired another career federal prosecutor, Acting Attorney General Sally Yates, when she refused to carry out the president's executive order closing U.S. borders to people from predominantly Muslim countries. Boente replaced her.
Now, in a syntactical forest only lawyers could love, the FBI's authority to eavesdrop on Russian officials and their Trumpworld associates depends on Boente's job description at any given hour. As acting deputy attorney general, or DAG, he's not entitled to sign surveillance warrants, according to one federal statute. But another federal regulation says the president of the United States can authorize "the first assistant" to any government official to assume his or her duties if that official is "unable to perform the functions and duties of the office."
And that official would be Sessions, incapacitated on the Russian front since he admitted he met twice with Moscow's ambassador the the United States, Sergey Kislyak, contrary to his Senate testimony that he met with "no" Russians while chairing Trump's campaign.
Susan Hennessey, managing editor of the authoritative Lawfare blog explained to Newsweek that, "in the case of recusal," the acting deputy attorney general becomes the acting attorney general "for purposes of the investigation." In other words, he can switch hats in front of the surveillance court judges to get the warrants.
Not so fast, a Justice Department attorney familiar with national security issues tells Newsweek, speaking on condition of anonymity because he is not authorized to talk to reporters. Boente can only swap out his titles, he said, "if a judge buys it."
He called it a "legal fiction" that might work with judges on an emergency basis, such as renewing "an expiring" surveillance warrant on, say, a Russian diplomat's telephone conversation with an American official, as happened with Trump's former national security adviser Michael Flynn. (Surveillance or searches of foreigners or foreign-owned installations in the U.S. can be granted for 180 days and renewed for a year. For surveillance of a U.S. person—a citizen or legal resident—it's 90 days.) But he called the maneuver "a mess," since Sessions will still be able to pursue warrants on cases not directly affecting the Russian probes. "If this is used," he said, "you have the AG's authority split among two people"—Sessions and Boente.
'Unprecedented Levels of Chaos'
All this may be moot if Rod J. Rosenstein, the top federal prosecutor in Maryland, is quickly confirmed, as expected, for the job of deputy attorney general. His confirmation hearing is scheduled to begin Tuesday.
Still, tensions will remain in the FBI and Justice Department with the Russia scandal engulfing so many members of the Trump administration and the president's 2016 campaign.
"The astonishing thing is that DOJ is even in the position to have to contemplate these questions at all," said Hennessey, speaking of confusion provoked by the White House's hastily written executive orders, the firing of Yates, and now, Sessions having to recuse himself from his own department's probes of Kremlin connections.
"Not even two months into the Trump administration, the Department has had to not once, but twice, question whether anyone in the building was authorized to perform a critical national security function," Hennessey added.
"That speaks to unprecedented levels of chaos and disorganization. This just doesn't happen where the White House has its act together."