Set the Controls for the Heart of the Sun: The Pink Floyd Origin Story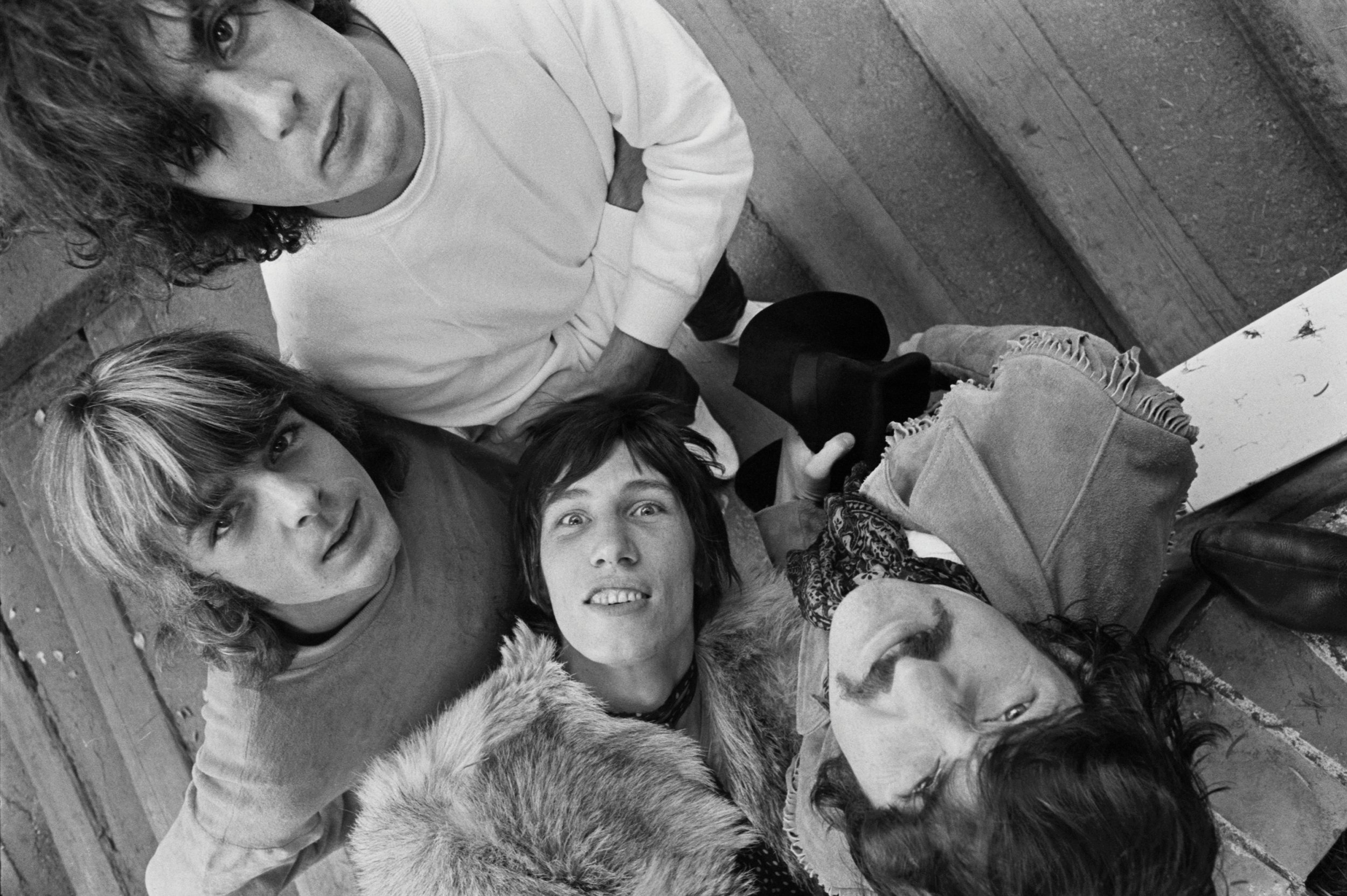 Nick Mason, Richard Wright and Roger Waters met as students at Regent Street Polytechnic and, along with art student Syd Barrett, formed the foundation of Pink Floyd in 1965. Fifty years later, the band's legacy is firmly entrenched in the hearts and minds of rock & roll fans. Newsweek's latest special edition on the band explores their origin story.
In the early '60s, sex, drugs and rock & roll became a rallying cry for a countercultural revolution, and one of the global hotbeds of the changing times was the city of London. Roger "Syd" Barrett, Roger Waters, David Gilmour, Richard Wright and Nick Mason were among those who took part in the newfound freedom. They moved to London to study architecture and the arts, eager to explore the depths of their own creativity by immersing themselves in the new global counterculture.
Roger Waters, studying at Regent Street Polytechnic at the time, already had a friend in the big city. Syd Barrett, a student at the Cambridge School of Arts, had known Waters since childhood. The two had gone to the same primary school, where Waters's mother was also a teacher. Despite being raised by a schoolteacher, Waters still had a rebellious side. When he was 19, he and some friends drove to Beirut in an ambulance, which ended up breaking down. As a result, Waters found himself hitchhiking back to England. (He later wrote about the experience in a 2003 song called "Leaving Beirut.")
In 1964, while at school, Barrett met David Gilmour, who was attending classes at Cambridge School of Technology, which was right next door to his alma mater. The two began playing music together and were in a band called Jokers Wild for a short period of time.
While Barrett played in Jokers Wild, Waters met fellow Regent Street students Richard Wright and Nick Mason in an architecture class. After eyeing Mason's 1930 Austin 7 (a car known as a "Chummy" for its small, cozy interior), Waters jokingly asked if he could borrow the car. Mason refused, but was eventually paired with Waters on a class assignment, and the two struck up a friendship. The pair started to play music together after they came across an ad posted by students Keith Noble and Clive Metcalfe that read, "Anyone want to start a group?" Wright joined shortly thereafter but didn't own a keyboard, so he could play only at venues that had a piano. In a bit of foreshadowing, Metcalfe found Waters to be intimidating and authoritative, though Waters later attributed this behavior to youth and insecurity. After hearing Bob Klose, a highly rated guitarist in the Cambridge music scene, the fledgling band offered him a spot immediately. Meanwhile, Metcalfe and Noble, feeling as though their music styles didn't gel with the rest of the group's, left. After their departure, Waters took over on bass, where he'd stay for the remainder of his time in the band. In late 1964, Barrett left his first gig with Gilmour and joined Waters, Mason, Wright and Klose. Klose then introduced his bandmates to Chris Dennis, a technician for the Royal Air Force at the time, who became lead singer.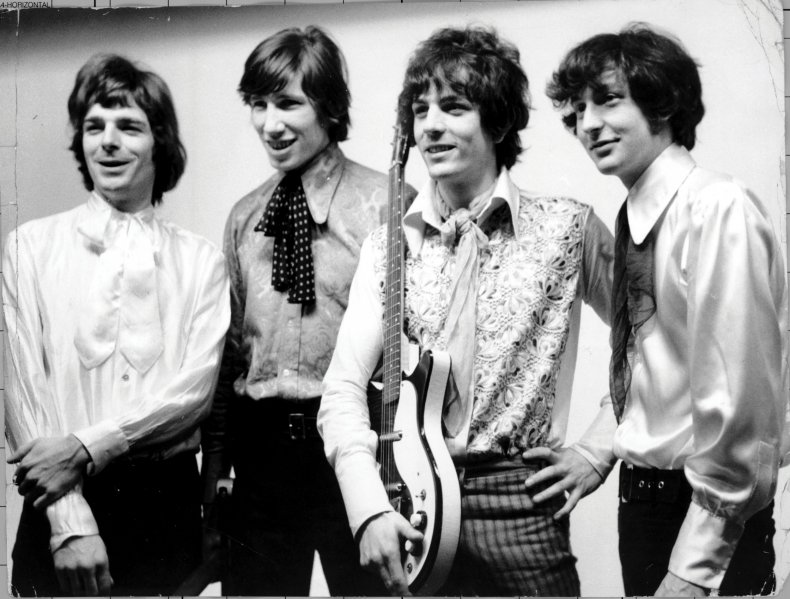 The group, now consisting of Waters, Mason, Wright, Klose, Barrett and Dennis, was heavily influenced by R&B, as Klose was primarily a jazz guitarist. Barrett was inspired by bluesmen Pink Anderson and Floyd Council, and subsequently named the band Pink Floyd (alternatively known as The Pink Floyd Sound, or just The Pink Floyd). Pink Floyd's first official gig occurred in 1965 at a venue called the Count Down Club in London. Shortly after the show, Dennis left the group to accept an RAF assignment in Bahrain, which led to Barrett becoming the frontman. Following Dennis's departure, Klose left the band to pursue a photography career—and also because the jazz-influenced guitarist wasn't too keen on Barrett's interest in psychedelic rock. With Klose's exit, the band was now down to the core four members of Waters, Barrett, Mason and Wright.
With Barrett as the group's frontman and creative driving force, Pink Floyd's sound evolved through a hodgepodge of new music technology such as tape-loops, feedback and echo-delay. The implementation of this novel technology, encouraged by Barrett, helped brand the band's unique, psychedelic sound. Live, Pink Floyd played shows that were a sonic conglomeration of spacey strings and carefully rafted soundscapes, though the music was sometimes outshined by the group's use of light shows and projections. Regardless, this early Floyd era, as well as the band's post-Barrett years, became the foundation on which a rock empire would be built.
The group continued to book various gigs around London, playing college campuses, private shows for friends, as well as hole-in-the-wall venues. By 1966, the band became a fixture at the Spontaneous Underground shows at London's now-legendary Marquee Club on Sundays. It was here where the band met future managers Peter Jenner and Andrew King.
Jenner, an assistant lecturer at the London School of Economics, wasn't too well-versed in the rock world but was immediately taken by the group's stage presence. King, an old friend of Jenner, had just left his job at British Airways' training department and had recently come into a large monetary inheritance. The two tracked the band down and offered to manage them, but the group was less than enthused. Though they were making a name for themselves at the Spontaneous Underground, they found other gigs hard to come by and were skeptical of two strangers who promised to make them "bigger than the Beatles." The boys went off on their summer vacations, not sure if they would reunite, and told Jenner and King to come find them in the fall. Jenner and King followed through and added the promise of new equipment to their original offer. Refreshed from the summer, the group accepted the deal, and Jenner and King became their managers.
With the guidance of Jenner and King, Pink Floyd began booking more shows, and in 1966 they became the house band at the London Free School, where they continued to experiment with their trance-like sound and light-show spectacles. The increased exposure helped the band land a gig at the UFO Club and International Times' launch at the Roundhouse. Later, with the help of UFO co-founder Joe Boyd, they recorded the instrumental "Interstellar Overdrive." At the same time, record companies were showing interest. In February of 1967, Pink Floyd signed with EMI. The landscape of rock music was about to drastically change.
This article appears in Newsweek's Special Edition, Pink Floyd, by Issue Editor Jeremy Brown