'Family Guy' Jokes That Came True: Seth MacFarlane Explains Truth Behind Eerie Weinstein, Spacey Predictions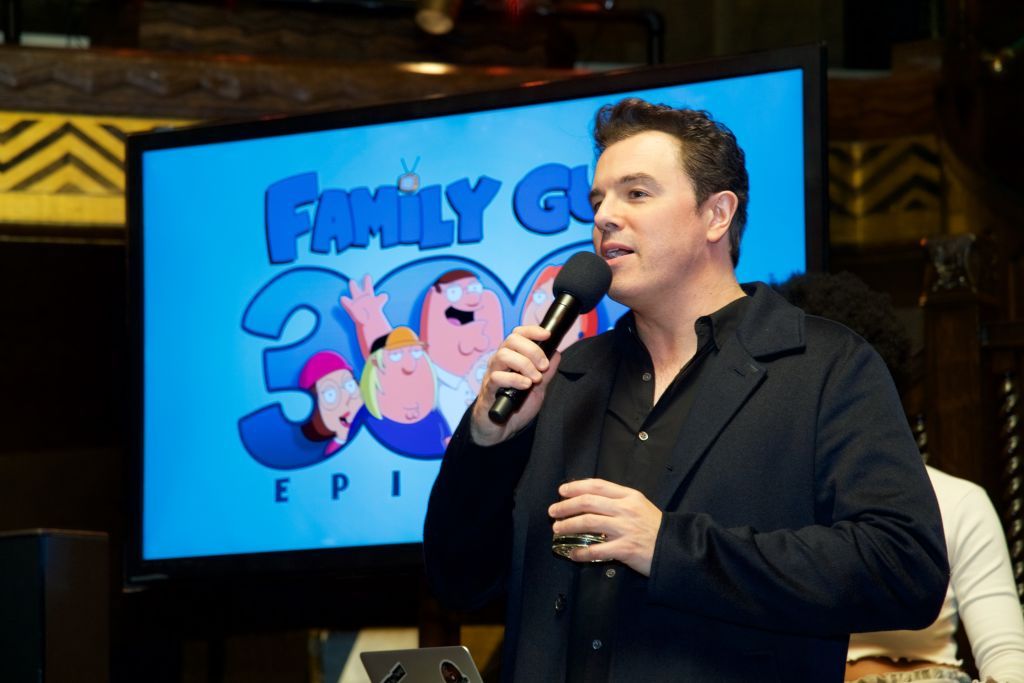 One man is flourishing in this new age of sexual misconduct allegations: Seth MacFarlane. The comedian behind Family Guy was outing Hollywood's predators years before accusations of abuse began surfacing—and spreading—last October. In a new interview with The Hollywood Reporter, to commemorate his animated show's 300th episode, MacFarlane offered some explanation for what were beginning to seem like psychic abilities.
"A lot of these things were talked about and whispered about in Hollywood, but nobody had any direct anecdotal information about what was really going on, so all you had to work with was rumor," MacFarlane told the Reporter.
Several of those rumors-turned-jokes became true. After Anthony's Rapp's accusation that Spacey made inappropriate advances when he was a teenager, a 12-year-old Family Guy clip resurfaced. In the 2005 episode, Stewie—the show's youngest character—runs naked, screaming, "Help! I've escaped from Kevin Spacey's basement!"
MacFarlane claimed he had nothing to do with that one. "The Kevin Spacey thing is something I had not heard when it was pitched," MacFarlane said. "The Family Guy writers have always had very open ears."
Then there was Brett Ratner, the X-Men: The Last Stand director, who allegedly forced former model and actress Natasha Henstridge to perform oral sex. Several more women have accused Ratner of sexual harassment, including Olivia Munn, who claims Ratner masturbated in front of her in 2004. The accusations were made in November, but Family Guy had a joke about it in 2012: Ratner bids on Stewie at a sex ring auction.
MacFarlane's predictions were praised by some, for exposing open secrets that most in Hollywood were too scared to investigate. Others criticized him; if he suspected a possible crime, why didn't he report it? "The idea that we had some inside knowledge—I wish we were that Kreskin-like that we could predict the future, but we were hearing the same rumors as everyone else in town," MacFarlane said.
On the other hand, according to executive producer, Richard Appel, who runs Family Guy with MacFarlane, the Spacey and Ratner jokes were fact-checked. "The episodes are vetted by the legal standards department," he said. "And either there has to be some basis for a joke or it has to be so insane and unbelievable, that no one would take it seriously. And honestly, in some of these instances, both were true."
Outside of Family Guy, the prescient MacFarlane was taking aim at Harvey Weinstein way back in 2013, at the Academy Awards. "Congratulations, you five ladies no longer have to pretend to be attracted to Harvey Weinstein," he told the Supporting Actress nominees.
This joke, MacFarlane admitted, was a direct call-out. "The Weinstein thing, I had a very good friend who had a very troubling run-in, and I despised the guy for direct reasons."