Seth Meyers Condemns Fox for Comparing Marjorie Taylor Greene to Ilhan Omar
Seth Meyers has blasted Fox News for comparing Marjorie Taylor Greene to Ilhan Omar.
On Wednesday, Fox News' Bill Hemmer sought to create an equivalence between the QAnon-supporting Greene and Omar.
"One might be weird and kooky.... the other is seen as racist," Hemmer said of the two lawmakers from opposing parties.
Hemmer noted that Omar has previously faced accusations of anti-Semitism after criticizing some pro-Israel groups.
Greene has been making headlines over the last week for social media posts revealing apparent approval of far-right conspiracy theories and extremist views that include support for assassinating prominent Democrats.
An increasing number of Republicans have joined Democrats in denouncing Greene, including House Majority Leader Mitch McConnell.
"Hmm, one wants Medicare for All," Meyers said of Omar in his Wednesday night monologue. "And the other thinks Jewish space laser starts wildfires!"
He added: "Seriously, what's wrong with you? There's no equivalence and any attempt to create one is disgusting and racist."
Meyers went on to add: "Greene has refused to apologize, despite sharing anti-Muslim and anti-Semitic posts, questioning whether a plane really crashing into the Pentagon on 9/11, suggesting that school shootings were faked, that Nancy Pelosi should be executed, that Barack Obama is a secret Muslim, that Muslims shouldn't be allowed to serve at all in the government and, once again, that a JEWISH SPACE LASER STARTS WILDFIRES."
"That's way beyond 'weird and kooky,'" the host added. "She's not a member of the Addams Family, unless Uncle Fester believed that a JEWISH SPACE LASER STARTS WILDFIRES!"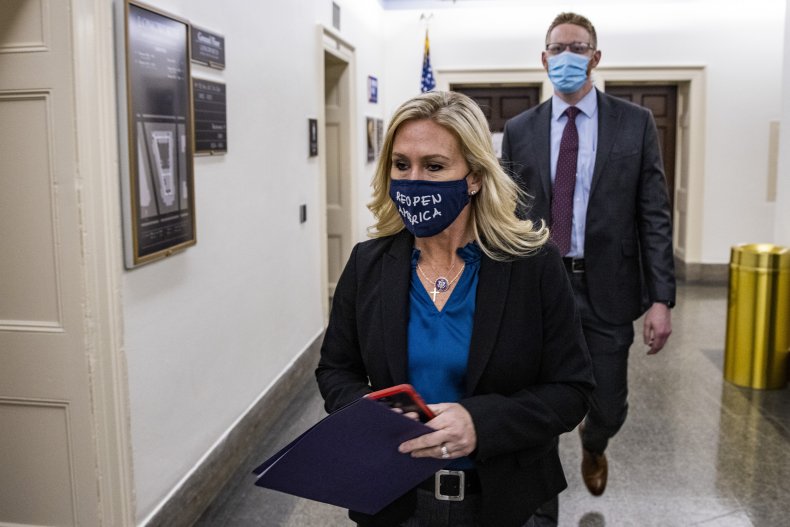 "This is the bad-faith bull**** that right-wing media is full of because they have nothing else," Meyers concluded.
Meyer's condemnation comes as GOP officials from Greene's home district have released a letter favorably comparing her to a number of Democrats. The letter resurfaced a disproven conspiracy theory that Omar's ex-husband Ahmed Nur Said Elmi is actually a brother she married to skirt immigration laws—a rumor which Omar vehemently denied when it emerged in 2016.
"She [Greene] has broken no laws and done nothing illegal," the group of 16 Republican officials from Georgia's 14th Congressional District wrote in the letter, which Greene shared to Twitter. "Ilhan Omar can lie and marry her brother to circumvent our laws and not get in trouble ... The double standards are atrocious, and quite frankly, an embarrassment."
Earlier this week, McConnell criticized Green for her belief in extremist conspiracy theories.
"Somebody who's suggested that perhaps no airplane hit the Pentagon on 9/11, that horrifying school shootings were pre-staged, and that the Clintons crashed JFK Jr.'s airplane is not living in reality," McConnell said. "This has nothing to do with the challenges facing American families or the robust debates on substance that can strengthen our party."