Seth Meyers Defends 'Filthy' and 'Mean' Michelle Wolf Amid White House Correspondents' Dinner Backlash
Seth Meyers defended Late Night alum Michelle Wolf on Monday night, amid continuing controversy over her roasting of Trump administration officials at the White House Correspondents' Dinner.
In a tweet on Monday, President Donald Trump said "filthy 'comedian'" Wolf "totally bombed" and harked back to Meyers's own "weak performance" at the event back in 2011, when Meyers ridiculed Trump well before he was elected president.
The NBC host joked "the eye of Sauron is upon [me]" before launching into an impassioned defense of Wolf.
"Michelle Wolf doesn't need anyone to defend her, but she is our friend. So just know that when you call her filthy, you are right. She is filthy. And she is mean, which is what we love about her. Because those are wonderful qualities for comedians and terrible qualities for free world leaders."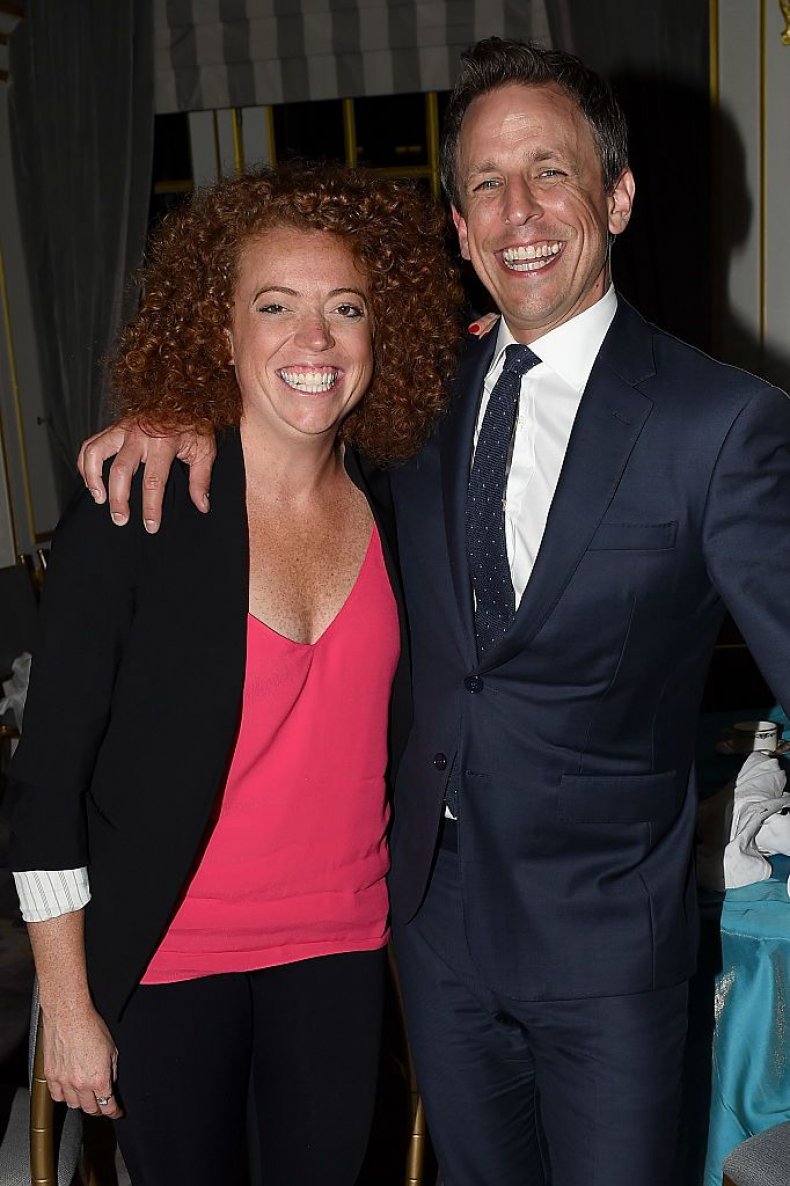 Meyers also hit back at White House Correspondents' Association president Margaret Talev for criticizing Wolf in a statement on Monday, before going on to plug Wolf's new Netflix show, The Break.
"Based on what happened Saturday, you can be sure that it will be great, because she's not going to waste any time trying to decide when it is or isn't proper to make fun of people in power who lie to us on a daily basis," said Meyers.
Sarah Sanders and Kellyanne Conway were among the Trump administration officials who attended Saturday's dinner, and sat stony faced while subjected to Wolf's mockery.
She also mocked President Trump, referring to his alleged affair with porn star Stormy Daniels, whose real name is Stephanie Clifford, and the infamous Access Hollywood tape on which Trump boasted of groping women.
Noting the president's no-show at the event for the second year in a row, she remarked, "I would drag him here myself, but it turns out that the president of the United States is the one pussy you're not allowed to grab."
After the show critics said that Wolf had gone too far, but defenders praised her for lambasting the mendacity of the Trump administration.
Wolf has taken the criticism in stride.
"Tonight's #WHCD was a disgrace," tweeted former White House press secretary Sean Spicer after the show.
"Thank you!" replied Wolf.