Video: Seth Meyers Roasts Trump's Wall Deal Reaction—From Unhappy to Thrilled in 20 Seconds
Comedian Seth Meyers lambasted President Donald Trump Wednesday over his response to a proposed border deal that could avoid another government shutdown.
The bipartisan compromise would allot $1.375 billion dollars for fencing along the border—more than $4 billion shy of the $5.7 billion Trump previously requested.
At a cabinet meeting Tuesday, the president said he was "not happy" with what he'd seen in his "first glance" at the new boarder security deal.
"But am I happy with where we're going? I'm thrilled. Because we're supplementing things and moving things around, and we're doing things that are fantastic," the president continued.
The comedian criticized Trump's comments on Late Night with Seth Meyers, telling the audience: "In the span of 20 seconds, he went from saying he was not happy to saying he was thrilled to saying he was doing things that are fantastic."
"If we just let him keep talking, he'll say he's building the wall, he built the wall, everyone loves the wall, and he's moving to the southern border to live in a one-bedroom apartment with his best friend, The Wall," Meyers continued. "We're going to film it for a TV show and call it 'Wall and Grace.'"
Throughout the "A Closer Look" segment, Meyers criticized Trump for a lack of direction over his attempts to build a southern border wall—a flagship policy of his presidential campaign.
"We are in this situation because Trump sold his supporters an obvious lie he had no intention of keeping, and now he's desperately trying to save face," Meyers said, before blasting Fox News presenters for "[reinforcing] his alternate reality.".
"Fox News has been insisting for weeks that even though Trump didn't get any money for his wall, in the end he'll find a way to win," the comedian said, showing clips of network talking heads insist the president must have something up his sleeve.
The graphic below, provided by Statista, illustrates the existing and proposed structures on the U.S. Southern border.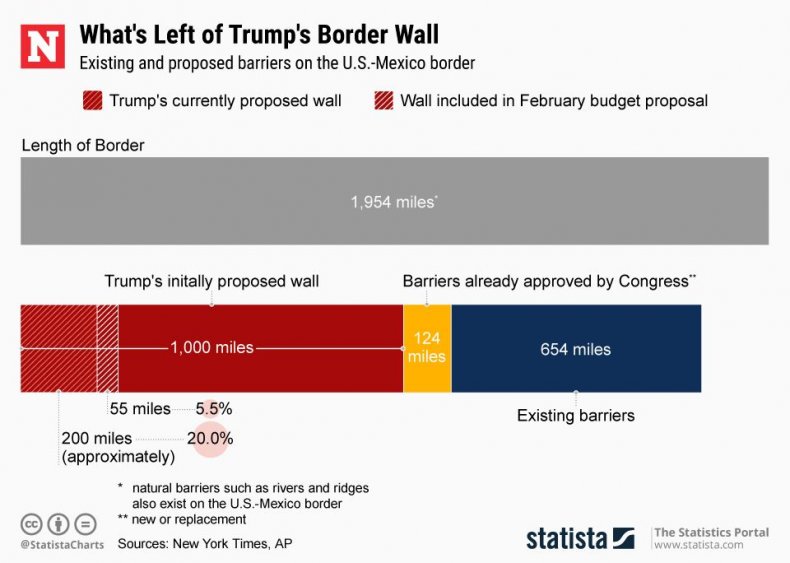 But key Fox News and Fox Business hosts including Laura Ingraham, Sean Hannity and Lou Dobbs have all criticized the proposed deal.
On January 25 Trump announced an end to the recent partial shutdown over funding for a border wall which, at 35 days, was the longest in U.S. history. Affected federal workers missed paychecks and turned to food banks as pressure grew on politicians to reach a compromise.
Trump, however, said the January 25 end might only be a temporary reprieve, if a satisfactory border security deal was not reached by February 15.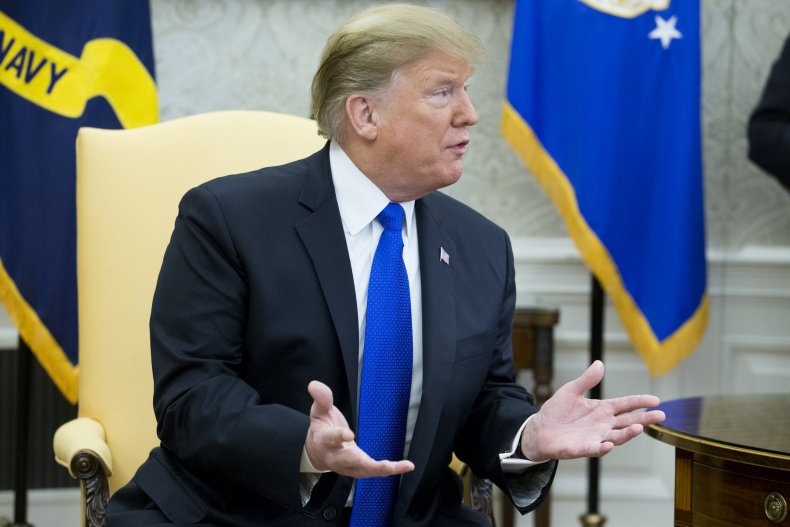 This article was updated to include an infographic.