Seth Meyers: Donald Trump Is the Neediest and Most Insecure President in History, and Out of Shape Too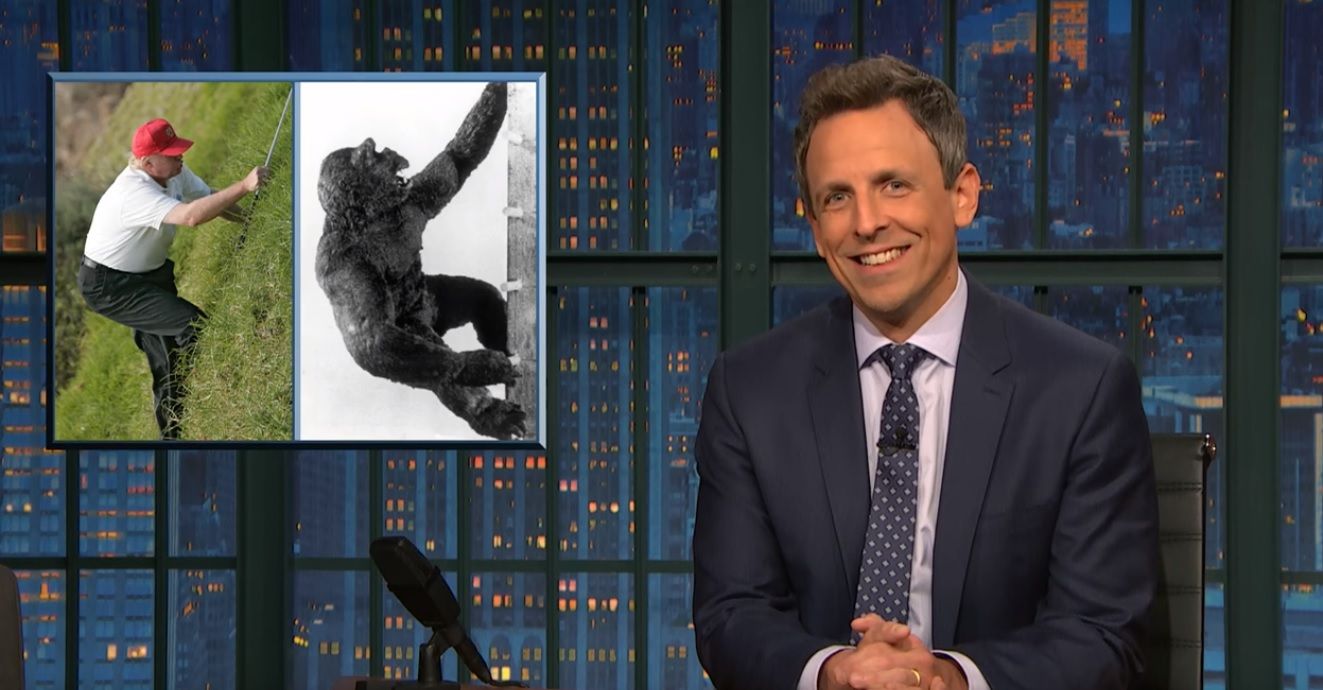 Just how insecure is President Donald Trump? Very, says Seth Meyers.
The comedian roasted Trump Monday night on Late Night with Seth Meyers over on NBC, after Trump appeared to sing his own praises on Twitter again.
Meyers said: "No matter what else happens, Donald Trump will surely go down as our neediest and most insecure president—with the exception of Millard Fillmore, whose first State of the Union speech started with, 'Do you guys think I'm fat?'"
Meyers's evidence of Trump's insecurity was a self-aggrandizing tweet Sunday in which the president said he'd done more in 10 months in charge than any other president:
"He's right about one thing," Meyers quipped. "The way [FBI special counsel] Robert Mueller is handing down indictments, there's a good chance Trump will be a 10-month president."
But wait, Trump went one further. Not only did he praise himself, he's "resorted to unhinged conspiracy websites to back him up."
Meyers said: "He retweeted a link to MAGApill.com, that calls itself 'THE President Donald Trump accomplishment list website.' Although I don't know why you need a website for something that could be covered with an emoticon: ¯_(ツ)_/¯"
The comedian continued that Trump does not even need to look at approval polls to realize that Americans don't agree with his claim that he has made America great again in 10 months.
"Trump just needs to look at his surroundings," said Meyers, pointing to tweets by reporters that traveled with Trump which noted he was being followed by a large number of protesters.
"Some of the signs spotted read: 'President Trump is fake news,' 'Go away and don't come back,' and 'Mr. Mueller is coming for your orange ass,'" said Meyers, reading out a tweet.
Trump was at his Mar-a-Lago golf resort in Florida for Thanksgiving where it was reported that he played golf five days in a row.
"Even the Masters only lasts four days," Meyers mocked the president.
Meyers then stuck the knife even further. Pointing to Trump's tweet last Friday that he would quickly play a game of golf with Tiger Woods, Meyers said: "You can't play golf quickly."
He followed up: "And Trump doesn't do anything quickly. He's an out-of-shape 71-year-old who moves like he's climbing the Empire State Building," comparing the president to King Kong.
Hey, that's unfair. (To King Kong.)