Seth Meyers Rips Donald Trump's 'Dumba** Idea For a Space Force'
Seth Meyers can't understand why President Donald Trump is so adamant about establishing a Space Force when his administration is engulfed in scandal. Meyers weighed in on Trump's latest development—his plans to create a space-based military—and said the former real estate mogul's relentless pushing for a Space Force sounded like "a carnival barker at a third-tier state fair trying to get kids to go on his ride."
"Before today this was just an insane idea that we could all ignore because it came from a confused grandpa whose brain stopped developing in 1972," Meyers said on Late Night on Thursday. "Today that all changed because his vice president [Mike Pence] and his secretary of defense [James Mattis] had to actually go to the Pentagon—the real Pentagon—and make it a reality after Trump ordered them to officially start working on creating a Space Force."
With Mattis beside him, Pence advocated for Trump's Space Force in front of members of the Pentagon on Thursday. Pence said Trump's idea would prepare the country for "the next battlefield" where the best of U.S.' militia would be "called to deter and defeat a new generation of threats to our people."
While Meyers was taken aback by Pence's attempt to advance Trump's Space Force, the late-night TV host wasn't all that surprised considering the outlandish headlines that have graced the news since Trump's presidency first started in 2017. "One of the byproducts of the whole Trump presidency is nowadays you walk by a TV, tune to cable news and you constantly see headlines you just would never have imagined a few years ago," he said after showing a clip of Pence's Pentagon address. "But that was on TV today and that takes the cake."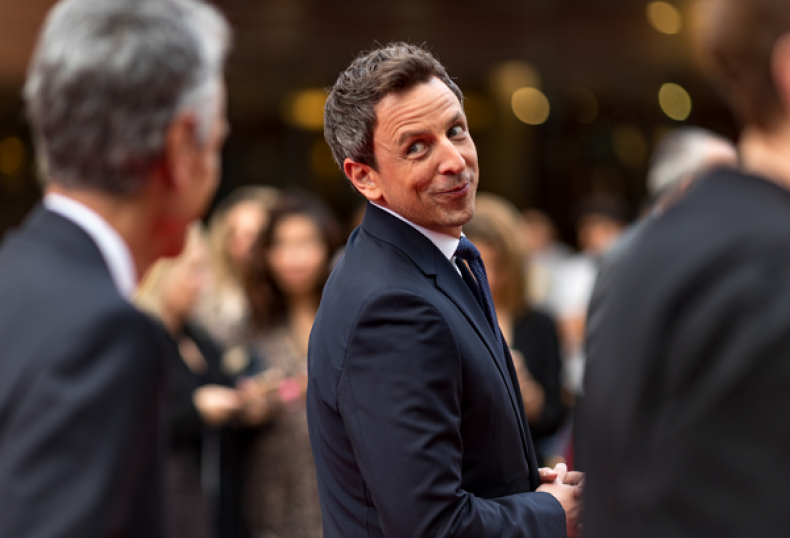 He added: "That is an adult man talking about building a Space Force. I mean, seriously, are we allowed to be surprised by any headline anymore?"
According to Meyers, the president's latest idea is only an attempt to direct Americans' attention away from the numerous scandals swallowing his administration. "Makes sense that Trump wants the folks on space because what's happening here on Earth is really bumming him out," he said.
"Some of his closest aides and allies have been arrested. His lawyers have basically admitted that if he testifies under oath he might commit perjury, which is odd given that Trump repeatedly insisted during his campaign that it was Hillary Clinton who surrounded herself with criminals," he continued.