Watch Seth Meyers' Takedown of Harvey Weinstein, Donald Trump and Systemic Sexism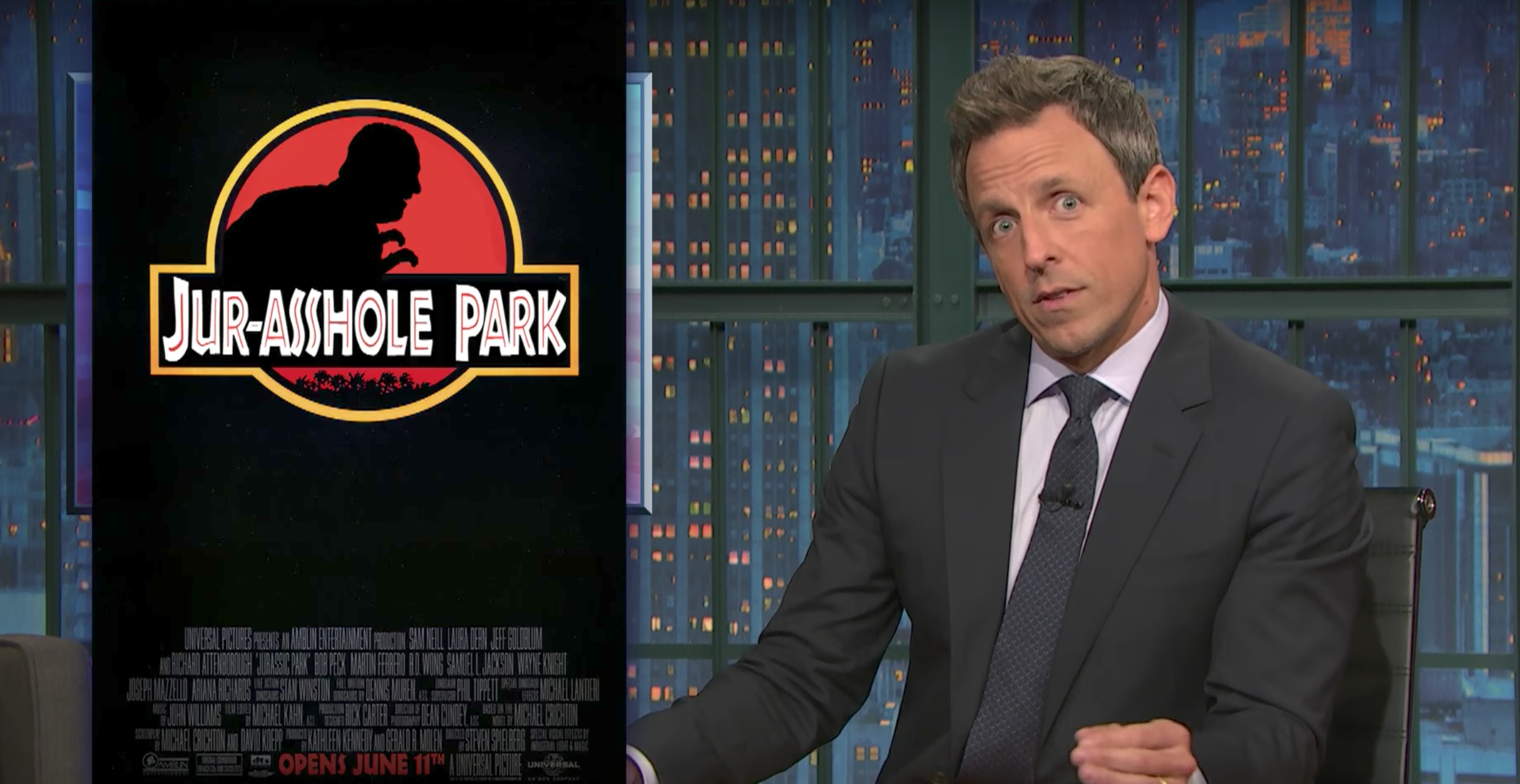 Seth Meyers has a point: If Harvey Weinstein is "an old dinosaur," as his former adviser believes, he's not going to "learn new ways." He's going extinct.
"If you're a dinosaur, this is your Ice Age, buddy!" Meyers declared on Thursday night's episode of Late Night.
Meyers joined a list of late-night hosts, including Stephen Colbert, Samantha Bee and Jimmy Kimmel, to lay into the Weinstein rape and harassment allegations. But the NBC host dug a little deeper in his takedown, tying in the sexual harassment allegations that have been leveled against President Donald Trump.
"It's worth remembering that almost a year ago, Trump tried to silence and bully the 12 women who accused him of sexual harassment by viciously attacking them and even threatening to sue them," Meyers said before rolling clips of Trump insisting his accusers were liars.
Among the accusers was former Apprentice contestant Summer Zervos, who claimed Trump tried to kiss and grope her in a hotel room in 2007.
The comedian points out that the breadth of harassment and assault allegations clearly indicates a systemic problem. How else would alleged abusers, assaulters and harassers end up in the most powerful positions in politics, film and news? (For that last point, Meyers pulls up a photo of former Fox News CEO Roger Ailes, who resigned in disgrace following allegations of sexual harassment last year.)
Meyers stresses that this should not be a partisan issue—though many Republicans are trying to make it one, including White House counselor Kellyanne Conway on Twitter.
"It took Hillary about 5 minutes to blame NRA for madman's rampage," Conway wrote, "but 5 days to sorta-kinda blame Harvey Weinstein 4 his sexually assaults."
"Oh my God," Meyers exclaimed in frustration. "You work for Donald Trump, remember?!" The comedian also tore into former White House aide Sebastian Gorka, who wrote on Twitter that Weinstein's abuse could have been avoided had he followed Vice President Mike Pence's ban on dining alone with a woman who is not his wife. Meyers had no patience for this sentiment. "Can't believe I have to say this, but you should be able to be alone with a woman and not sexually assault her."
"This is a problem with systemic misogyny and male entitlement," the Late Night host said, getting serious. "Men need to speak up and address their complicity."
Of course Weinstein, as Meyers points out, was finally found out and fired, albeit years after the allegations, several of which he outright denies. Trump's accusers came forward more than a year ago, but nothing more has happened. In Meyers' words: "What's the holdup?"