'Trump Hates Me:' The View's Joy Behar Tells Seth Meyers How the President Takes Jokes About His Hair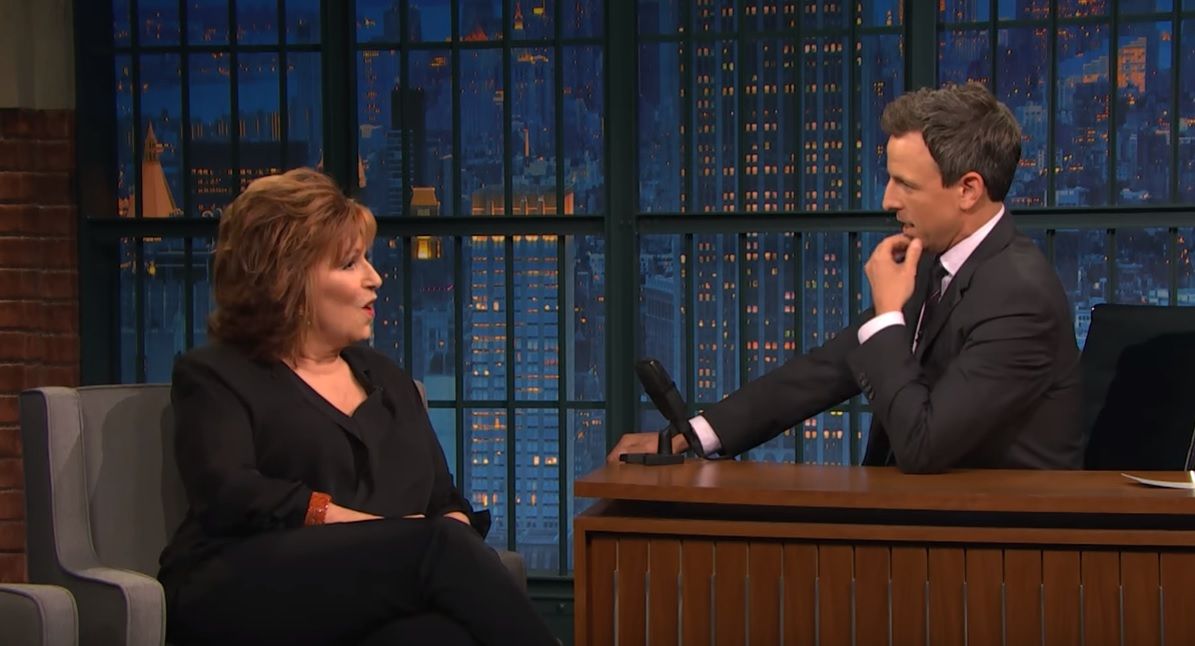 The View's Joy Behar, one of Donald Trump's many celebrity rivals along with Rosie O'Donnell, Arnold Schwarzenegger and more, spoke about her contentious relationship with the U.S. President on Tuesday's episode of Late Night with Seth Meyers.
Behar talked about how she has been in both Trump's good and bad books over the years while coming across one another in the New York social scene. The talk show host recapped her ever-changing relationship with Trump, saying, "He hates me, then he likes me, then he hates me again."
At the moment she is firmly in the bad books. "He hates me again now. And he should hate me, because I'm all over him every day," the comedian told Meyers.
"Right now, I'm on his bad list, his Twitter list," Behar said, alluding to Trump's penchant for hastily tweeted missives. But she is fine with being out of favor with the president. "I'm proud of it...that's like being on Nixon's enemies list."
Behar said that she was once sent a cease-and-desist letter for making jokes about the businessman's hair. "'It's his real hair, if you don't believe me, you can come to the office and check on it,'" she told Meyers about the letter. "I said, 'I'm not doing that.' He comes to [The View] again and he makes me pull his hair a little bit, and it's his real hair."
That didn't stop her from continuing to make jokes about Trump's famous 'do: "That's not what comedians do; so I make a few more jokes about his hair—and he hates me again."
She also talked about the president's now infamous 2006 interview with his daughter Ivanka on The View, during which he said "if she wasn't my daughter, I'd be dating her." Behar told Meyers that Trump got more annoyed about her jokes about his hair than her "Woody Allen" quip.
The conversation turned to Trump's wife Melania. Meyers asked if Behar feels sympathy for the First Lady, who herself has come under greater public scrutiny. Behar talked about interviewing Melania, and joked, "I feel sorry for her, she had to sleep with him once."
Behar also said she didn't like taxpayers paying to keep Melania and 11-year-old son Barron in New York during the first three months of Trump's presidency. The pair only moved into the White House earlier in June.
Behar, 74, revealed she was one of the guests at Trump's second wedding to model Marla Maples in December 1993. Other guests included O'Donnell, one of Trump's longstanding foes, and O.J. Simpson.
"O.J. Simpson was there…a lot of criminals," said The View co-host. "He attracts that sort of type, I guess." Simpson is currently in jail for kidnapping, robbery and assault.
Behar told Meyers that she is currently at work on an anti-Trump book that will be published in late October. "I'm only hoping it comes out before he's impeached, because I want to sell the book," she added.