Seth Meyers Grills Kellyanne Conway on 'Late Night'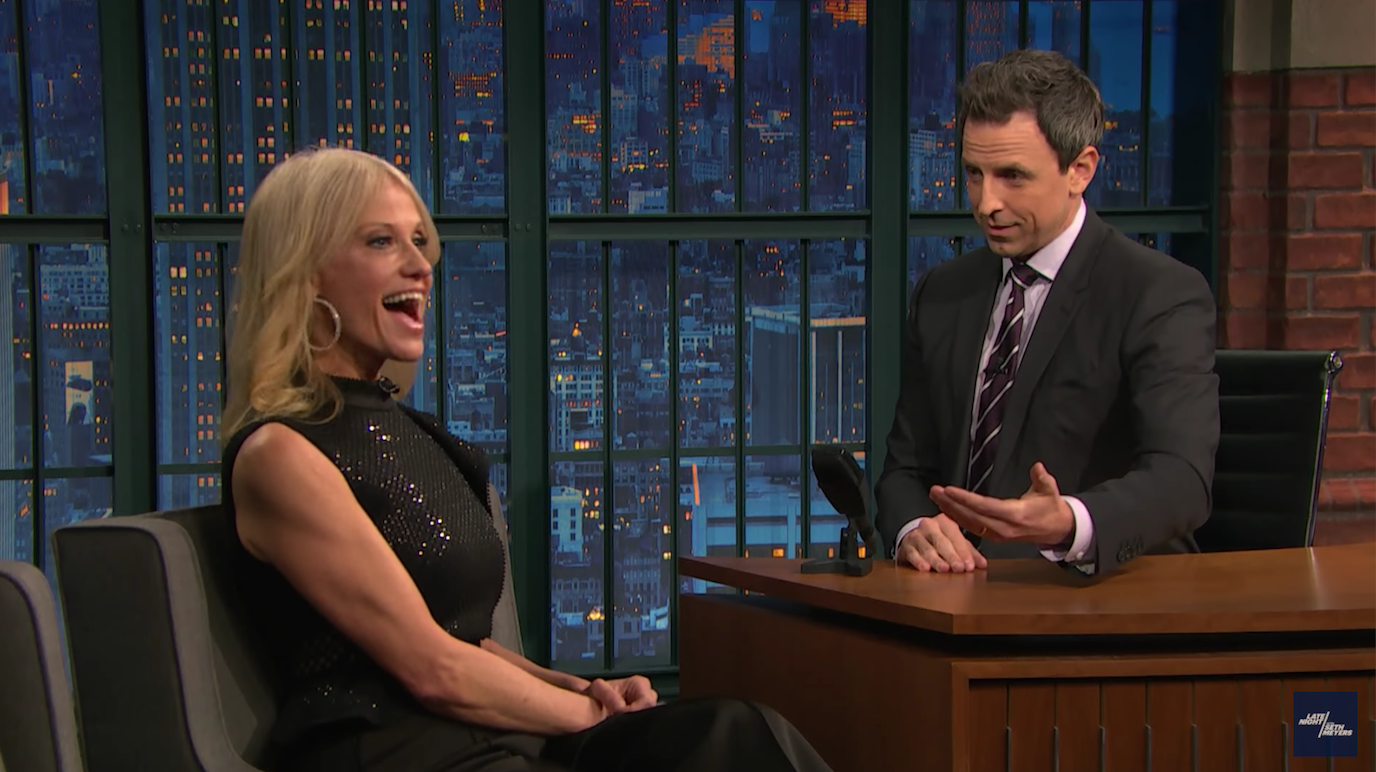 Since the election began, no late-night TV host has been as tough on politicians as Seth Meyers. As much as the format allows, he has engaged in real discussions with his guests, whether it be Sarah Palin or Hillary Clinton. He has also been especially critical of Donald Trump. After the Trump campaign banned The Washington Post from his events in June, Meyers the following night banned the candidate from Late Night. He didn't ban the Trump team, though, and Tuesday night the president-elect's spin master, Kellyanne Conway, sat down with Meyers to discuss her boss, who on January 20 will be sworn in as the 45th president of the United States.
Related: How to fight Trump in four easy steps
The timing was convenient, as just before the interview was taped, news broke that Russia may hold compromising information on Trump. Meyers led with this, of course, and Conway made sure to discount what had been leaked. "Nobody has sourced it," she said. "They're all unnamed, unspoken sources in the story." Meyers followed up about the source and whether Trump was briefed on the memos in question, but because most of the leaked information is unverified and the sources anonymous, Conway was able to dismiss the topic without much pushback.
Meyers had a wry smile on his face for most of the interview. He appeared to think he was not going to get anything close to a straight answer from Conway, and it was clear that he viewed their back-and-forth more as an amusing exercise in spin and deflection rather anything substantive. After Meyers questioned whether Trump is even curious about how much the Russians may have tried to interfere in the election, Conway assured viewers he has "enormous curiosity" before noting that "he was curious enough to figure out America."
Meyers quickly cut her off. "That's a pivot right there, Kellyanne," he said with grin. Conway didn't pretend otherwise, smiling along with him and shaking her arms when Meyers told her that "no one does it better."
They continued to touch on Trump's reluctance to make himself available to the press (his last press conference before Wednesday took place in July), as well as Conway's insistence that Americans pay attention not just to what Trump says, but to what is in his heart. This confused Meyers. "How can we know what's in his heart?" he asked. Conway then said "he expresses it," to which Meyers responded, mimicking someone teaching a toddler to put his words together, "He expresses it how? Out of his mooouth." Conway simply smiled and said that Trump would be a president for all Americans.
From there the interview devolved into an absurd exchange in which Conway brought up the election, then accused Meyers of bringing up the election, to which a flabbergasted Meyers essentially threw his hands up and ended the interview. He didn't get much out of Conway, but it wasn't for lack of trying. Some in the mainstream press could learn a thing or two from the former SNL writer.