Seth Meyers Compares Trump and Bolton's Beef to 'Alien vs. Predator'
During his show on Wednesday night, Late Night host Seth Meyers quipped that President Donald Trump's beef with former National Security Advisor John Bolton was akin to the 2004 sci-fi crossover thriller Alien vs. Predator.
In his "A Closer Look" segment, Meyers made jokes at the expense of both Trump and Bolton, saying that neither is particularly admirable, but at least Trump is much easier to stop than the aliens in the film.
"There's no one to root for in a Trump vs. Bolton fight. They're both megalomaniac sociopaths looking out for themselves," he said. "It's a real Alien vs. Predator situation, except all you need to do to stop alien Trump is install a ramp." That last dig is a reference to a recent viral video in which Trump slowly descended down a ramp at West Point's graduation ceremony.
"He's getting closer! He's getting closer! Oh, he's slowing down. Oh, he's slowing down," Meyers joked. "Okay, he's slowing way down. Alright, y'know what? I think we're good. I think we're good to move around our spaceship as we did before this alien infestation."
After speaking about Trump's handling of the coronavirus pandemic, Meyers addressed Bolton's upcoming book The Room Where It Happened, and criticized the ex-National Security Advisor for "hid[ing] behind his mustache rather than testify[ing] in Trump's impeachment trial." Before cutting to news clips that discuss the book, Meyers said that Bolton "has alleged in a new tell-all book that not only did Trump seek to leverage aid to Ukraine to help his re-election bid, but that Trump did similar stuff all the time."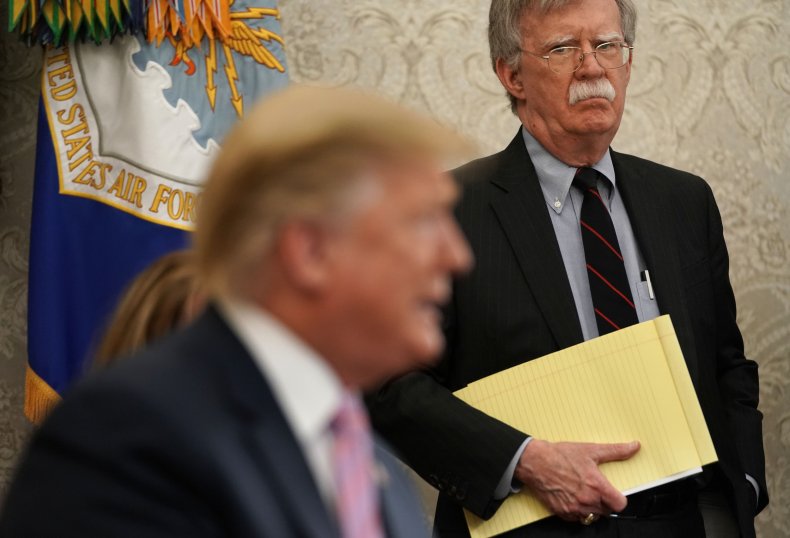 Meyers said that Bolton's revelations about the president were unsurprising. "What's the opposite of being so shocked that you spit out water? 'Donald Trump is only driven by self-interest,'" he said sarcastically gulping down a sip of water.
The comedian decried the information about Trump being released in Bolton's book, which is set to hit shelves on June 23, several months after Trump was acquitted in his impeachment trial. Meyers compared the book coming out now to "a guy who sees neighbor's house on fire, and instead of calling 911, writes a book called Hey, That House is on Fire."
A press manager for NBC did not respond to Newsweek's request for comment in time for publication.