Seth Meyers Mocks Donald Trump with Fake Book Saying Founding Fathers 'Had Really Bad Hair'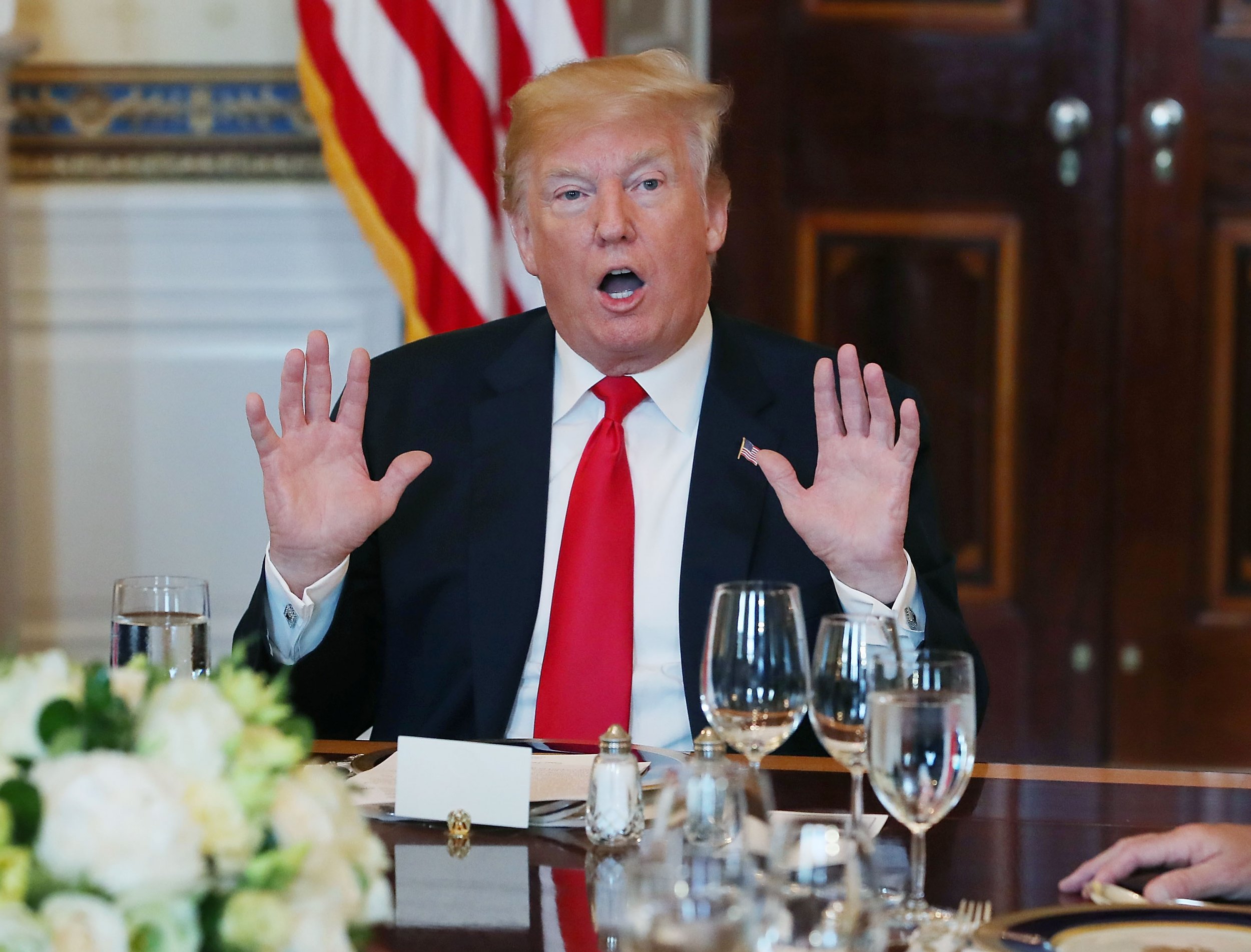 Late Night comedian Seth Meyers mocked President Donald Trump on the Fourth of July by putting out a video depicting American history from what he assumes is Trump's point of view, as the president put out his Independence Day video message.
Related: Melania Trump 'Hoping to Be Freed Next' After North Korea Hostages, Stephen Colbert Jokes
Meyers impersonates Trump's voice and reads a book he pretends is written by Trump, titled "Salute to America's Independence."
"Patrick Henry famously tweeted, 'Give me liberty, or give me death.' That was a long time ago," one page of the book reads. "Way before they gave you 280 characters. Had he had more characters, he probably would have added something like, 'Give me a hamburger.'"
Another page on Benedict Arnold, a general during the Revolutionary War who defected to the British army, depicts Trump eating an eggs benedict-type dish. "Benedict Arnold is one of my favorite breakfasts," Meyers reads. "I have it every time I eat at Trump Tower Bar and Grill, one of the highest-end restaurants in a tower in New York City."
The next page has an illustration of Trump holding a crown and reads, "I don't know much about King George, but I do like the way 'king' sounds. I'm going to see if they can change my title. King Donald has a very nice ring to it."
In another page, Meyers makes fun of Trump's hairdo, which, according to a recent book by Michael Wolff, gets its shape from scalp-reduction surgery, cheap hair dye and strong hairspray.
"The Founding Fathers were a bunch of great, great men. But they had really bad hair," the book reads. "If you're the president, you need to have good hair that doesn't in any way look like a wig."
Meyers introduced the video on Tuesday night, and the show tweeted the video less than half an hour after Trump released a video message on Wednesday about Independence Day and the Declaration of Independence, and thanked U.S. military members.
"Let us never forget that our freedom has been earned through the blood and sweat and sacrifice of American heroes," Trump said. "And let us share the grateful heart of our nation with every veteran and member of the United States Armed Forces. Truly special people."