Seth Meyers Paid Staff out of Pocket During Late Night COVID-19 Shut Down
Seth Meyers paid the staff on his late-night show out of his own pocket during the coronavirus shutdown, Newsweek has learned.
The Late Night with Seth Meyers host is being praised on social media amid rumors that he paid the salaries to staff whose jobs were affected by the pandemic out of his own money.
The rumor appears to have originated from celebrity gossip and sighting Instagram account Deux Moi.
Deux Moi accepts anonymous submissions from people, sharing their celebrity encounters.
"I have a friend who works at Seth Meyers. Seth made sure the crew got paid during the pandemic last year," the submission reads, that was shared on Deux Moi's Instagram stories recently.
"I know Seth paid out of pocket for like three months I believe," the post reads. "Either way, Seth Meyers, nicest guy on late night."
When Deux Moi questioned the "out of pocket" part of the gesture, the person responded: "Yup not sure for how long exactly. But he took care of them. Guy is a gem."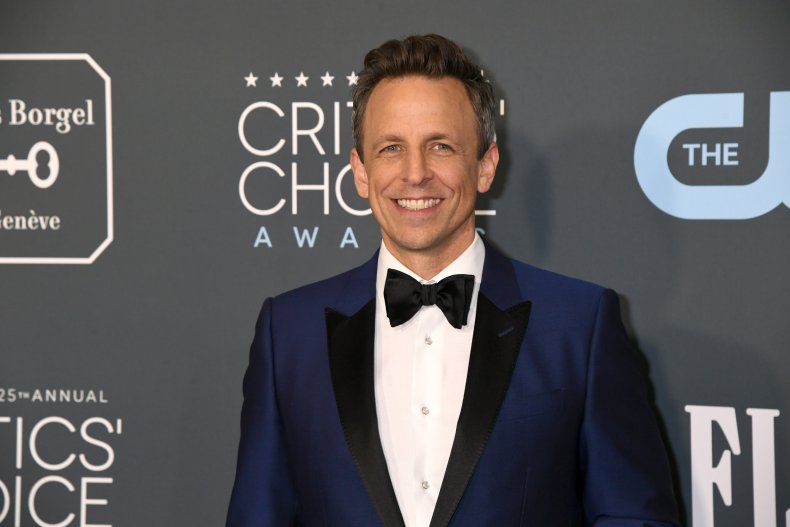 They later quoted their friend who works the show, adding: "Can confirm. 'Yeah he did. For the whole time we were off.'"
Newsweek can confirm that this is true.
At the beginning of the pandemic on March 13, 2020, the NBC show suspended filming from its home at NBC's Rockefeller Center headquarters as cases of the virus rose in the U.S.
The show later resumed with Meyers, 47, filming from home.
Filming Late Night with Seth Meyers did not resume in the studio until September 8, 2020.
So that means Meyers paid for the studio crew out of pocket for around six months.
The host's generosity is being discussed on Reddit where he has been labeled a "saint" by fans.
"To find out he's a genuinely good person and is so good to his writers and crew as well just makes me so happy," one Reddit user wrote.
While another added: "I believe it. Look at how much he showcases his writers, too. Must be a dream boss."
Meyers spoke about filming the show from home without his trusted crew last April.
"Mostly it's just doing it without your staff right next to you. Most of my bandwidth on a regular workday is just about writing for the first chunk of the day and then the second chunk of the day is performing what was written," he told CNN.
"I don't have to make any other decisions about anything other than that because you're surrounded by this incredible group of people who are as good if not better at what I'm good at... Even just having to pick a shirt is exhausting when you're not used to it, then all of a sudden you see it on camera and you're like, 'Oh, this isn't a good pattern for TV.'"