Seth Meyers Pokes Fox News: 'They're Trying to Scare Us with Free Healthcare?'
Seth Meyers took aim at Fox News pundits Thursday night, mocking them for "trying to scare" viewers with free healthcare.
He poked fun at Laura Ingraham, who on Tuesday blasted the "wacky" policies of newly-elected Democratic congresswomen Rashida Tlaib, Ilhan Omar, Ayanna Pressley and Alexandria Ocasio-Cortez.
The "far-left newbies," she said, supported such "radical" policies as free college for all and free healthcare.
"Wait. They're trying to scare us with free healthcare?" Meyers said during the Late Night with Seth Meyers "A Closer Look" segment. "You know an idea is popular when even Fox News can't make it sound bad.
"What's next? These radical socialists are proposing crazy ideas like free pizza, a trunk full of gold, 'Hamilton' tickets, a kiss from Ryan Gosling," he continued.
Healthcare in particular has Republicans scared, Meyers said, because many Democrats won on issues like expanding Medicare coverage. "Now they'll have the power to pass bills in the House...and force Republicans to take positions on them.
"And that has right-wing Fox News pundits like Laura Ingraham freaking out," he said.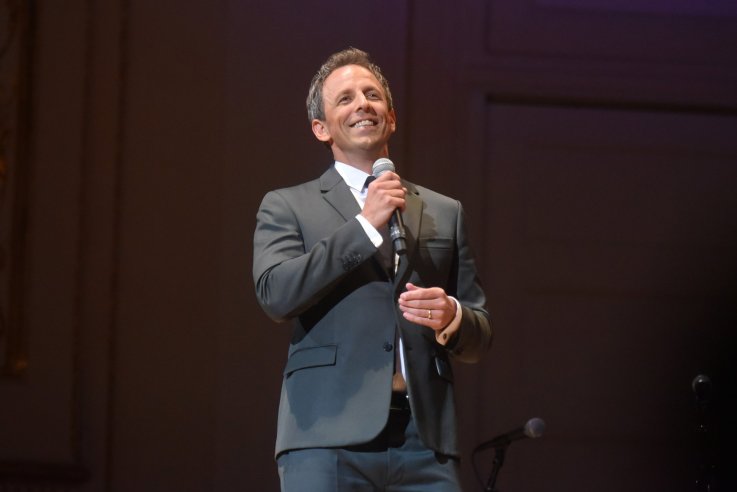 The Democrats' success in the midterms, Meyers added, was a national rejection of Donald Trump's presidency. Now the party has control of the House, Trump "knows he'll be held accountable for his actions for the first time in two years and as a result, he's panicking," Meyers added.
On Wednesday's show, Meyers mocked the president over rumors certain White House Staff were set to depart, comparing the residence to the hotel from Stephen King horror classic The Shining.
"Damn, is there anyone left?" Meyers said. "Trump is slowly turning the White House into the Overlook Hotel. Pretty soon it'll just be Trump in a ratty bathrobe writing all over the walls."
On Tuesday, the comedian aimed his jokes at television network CNN, which had earlier announced it would be suing the president and numerous White House aides over the suspension of reporter Jim Acosta's press privileges. "Really, you want to go after Trump with a lawsuit? That guy lives for lawsuits. He's been served more than the Big Mac," Meyers said. "Trying to sue him is like trying to drown a fish."
"You really want to go after him, stop inviting liars on your network to tell everybody how great he is," Meyers continued. "Start there."
Seth Meyers Pokes Fox News: 'They're Trying to Scare Us with Free Healthcare?' | U.S.