Seth Meyers Rips Right-Wing Hypocrisy Over Trump and Stormy Daniels: Imagine if It Was Obama or Hillary Clinton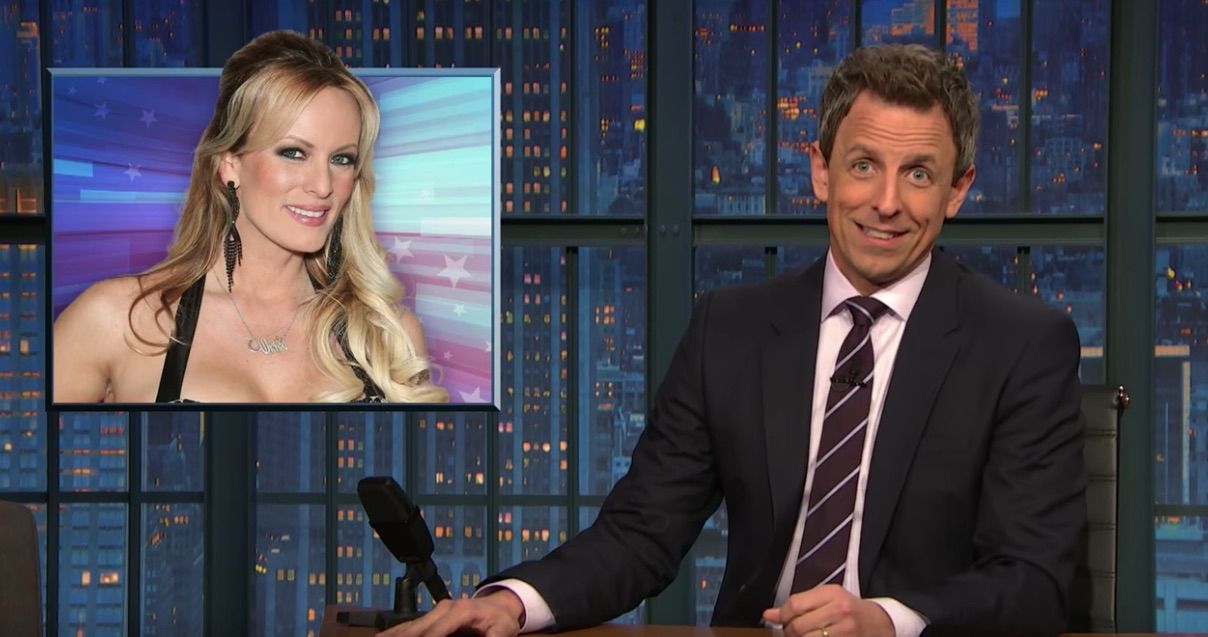 Seth Meyers took a closer look at the increasingly bizarre saga involving President Donald Trump and porn star Stormy Daniels on Wednesday's Late Night, declaring that the scandal is yet another example of the "rot of bad faith" at the core of the Republican Party.
To recap, it was reported January 12 that Trump's personal lawyer Michael Cohen arranged a $130,000 payout to Daniels—real name Stephanie Clifford—to keep quiet about an alleged sexual encounter between them in 2006. The payment was made in October 2016, just a month before the presidential election. Then it emerged that Daniels had already spoken out about the alleged affair before signing the rumored gag order. In 2011, she gave an in-depth interview with In Touch magazine, saying the sex was "textbook generic." And this week, the political watchdog Common Cause called for an investigation into the payout to Daniels, made through a shell company set up by Cohen, to determine whether it may be considered an in-kind contribution to benefit Trump's presidential campaign.
All this, yet some right-wing conservatives—whom Meyers dubbed "self-proclaimed defenders of morality"—are still backing Trump, including Tony Perkins, the president of the Family Research Council, who was blasé about the claims in an interview Tuesday.
Meyers criticized the right for hypocrisy, saying: "Imagine if Obama or Hillary Clinton had potentially violated federal campaign finance law by paying hush money to a porn star? The right would have lost their mind."
The late-night host was pretty incredulous about the whole incident. He suggested that had Daniels not been paid off before the election, "the last months of the campaign might have been dominated by two people named Stormy Daniels and Anthony Weiner," he said, referring to an FBI investigation into the disgraced former congressman in September 2016 that ultimately led to then–FBI director James Comey reopening an investigation into Hillary Clinton's emails.
"Is it possible that the 2016 campaign was a porno?" Meyers asked in jest. "Are we living in a porno? Because [Trump] acts the way a president acts in a porno: 'Immigration, crime, North Korea. Is it getting hot in here?'"
Maybe not hot, but it seems the Stormy weather in the White House won't be easing up any time soon.