All of Seth Meyers' Trump Jokes at the 2018 Golden Globes, Despite His Promise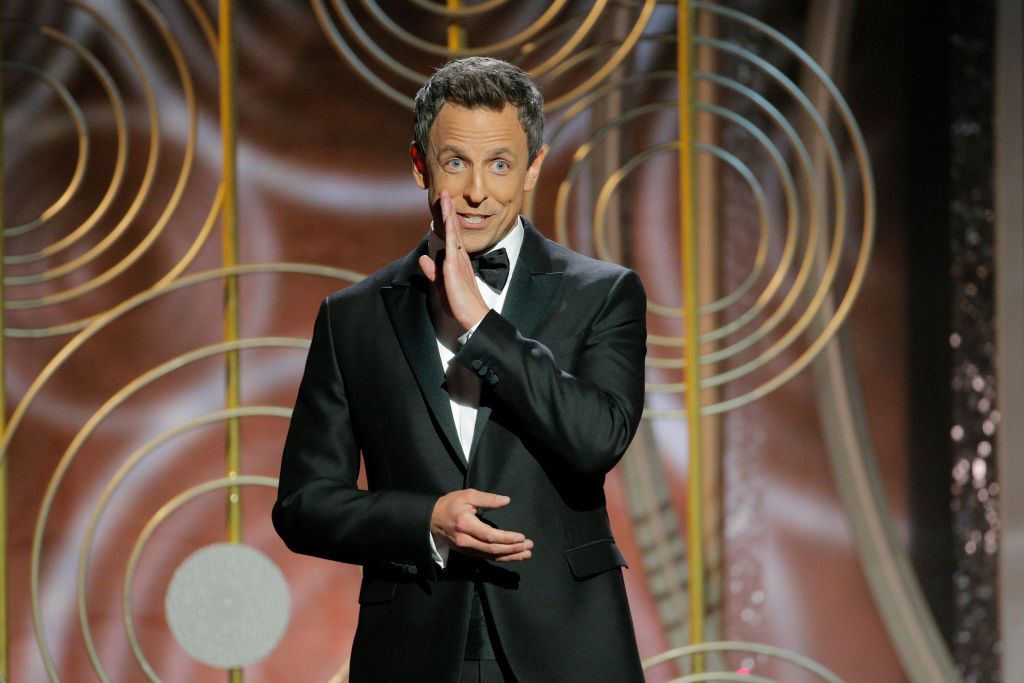 Last week, host Seth Meyers said the 2018 Golden Globes would have little to no jokes about a certain president of a certain United States. But it seems that promise was quickly forgotten when the late-night host took the stage on Sunday night.
Throughout the course of the night, Meyers managed to sneak in at least three Donald Trump jokes. Two came in his opening monologue.
The first was subtle enough that it seemed perhaps Meyers was trying to stick to his No Trump rule after all. The host pointed to actor Seth Rogen and said, "Hey remember when he was the guy making trouble with North Korea? Remember that? Simpler times." The joke was in reference to The Interview, the 2014 film Rogen made with James Franco about the assassination of Kim Jong Un that eventually led to a massive hack against Sony, the studio that produced the movie.
Then Meyers dropped all pretense with his next Trump joke. "We're all here tonight because of the Hollywood Foreign Press," Meyers said, "a string of three words that could not have been better designed to infuriate our president. Hollywood. Foreign. Press. The only name that would make him angrier would be the Hillary Mexico Salad Association."
Meyer's third presidential jab came later in the night, when the host introduced Meher Tatna, the president of the Hollywood Foreign Press Association, as "the president who actually is a stable genius." This was, of course, a reference to Trump's latest Twitter tirade, in which the president declared he was "not smart, but genius....and a very stable genius at that!"
Admittedly, they were all pretty good jokes. But what happened to the plan to leave Trump out of this? On Thursday, when Meyers told The Hollywood Reporter he decided not to focus on Trump at the Golden Globes, he added he was "reserving the right to change [his] mind."
Meyers had more important things to mock—such as the ongoing sexual misconduct conversation. "Especially this year with everything that's happened in Hollywood, it seems far more important to have the focus there as opposed to anything that's happening in Washington," Meyers said.
While Meyers essentially broke his promise, he also called out Hollywood's badly behaved men, to the crowd's discomfort.
His jab at disgraced movie mogul Harvey Weinstein was met with awkward groans from the audience: "Harvey Weinstein isn't here tonight. Because, well, I've heard rumors that he's crazy and difficult to work with. But don't worry he'll be back in 20 years when he's the first person ever booed at the in memoriam."
His Kevin Spacey joke elicited a similar response: "I was happy to hear they're going to do another season of House of Cards. Is Christopher Plummer available to do that too? I hope he can do a Southern accent... cuz Kevin Spacey sure couldn't. [Crowd reacts.] Oh, was that too mean? To Kevin Spacey?"
Meyers even took a shot at Woody Allen—even though the film director accused of molestation has yet to be publicly shunned á la Weinstein and Spacey: "I have to admit, when I first heard [The Shape of Water] was a movie about a naive young woman falling in love with a disgusting sea creature, I thought, 'Man, not another Woody Allen movie.' It's like Manhattan, in water." (This joke was met with yet more groans.)
In contrast, the Hollywood crowd laughed easily at Meyer's hits on Trump. Perhaps the presidential misdeeds are easier to swallow than those of their friends and colleagues.