Democratic Massachusetts Representative Seth Moulton has said that Labor Secretary Martin Walsh should resign if he knew of the domestic violence allegations facing Dennis White when he appointed White as Boston's police commissioner.
After working 32 years in the Boston Police Department, White was appointed as police commissioner by Walsh on February 1. At the time, Walsh served as the city's mayor. Two days after his appointment, the city placed White on administrative leave over allegations of domestic violence. Walsh resigned as mayor on March 22 after being confirmed for Democratic President Joe Biden's cabinet.
"There are a number of questions that everybody wants to know about this whole situation," Moulton said on Thursday, according to The Boston Globe. "We obviously need to know all the facts about [White's] vetting. If it turns out Secretary Walsh is lying, he should resign as well."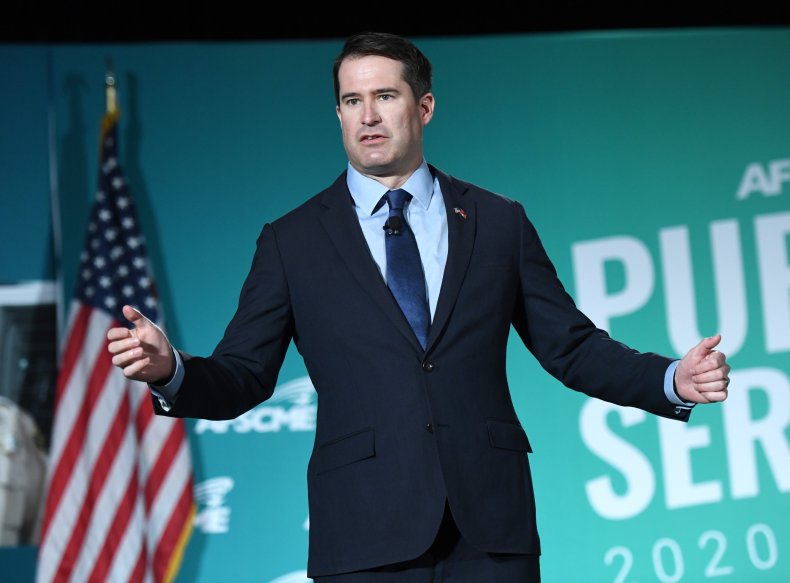 The allegations claim that White inflicted "physical and mental abuse" on his then-wife, daughter and niece during the 1990s. He allegedly physically and verbally abused his then-wife numerous times during their marriage. He also allegedly threatened to shoot her during an incident at a friend's home in late December 1998. He believed she was involved in an affair with another police officer.
In April 1999, White allegedly threatened to shoot his daughter if she ever approached him while he was asleep.
In 1993, he allegedly had a physical confrontation with his 19-year-old niece who had been living with him. He allegedly verbally abused, slapped, punched and threw her down a stairway during a fight. He said his niece had kicked him in his knee which had recently been operated on and refused to leave his house despite his telling her to.
On May 5, 1999, White's ex got a restraining order against him. The order required White to vacate his home, stay away from family and give up his police gun. At the time, he denied the abuse allegations and said he didn't seriously mean the verbal threats.
White and former police commissioner William Gross said that Walsh knew of the domestic violence allegations against White before appointing him as commissioner. Walsh said he didn't know about the allegations at the time, or in 2014 when White was nominated for a command staff post, according to WBTS.
"As I said on February 3, I was not aware of these serious allegations until after I
appointed White as police commissioner," Walsh said in a statement. "Neither the allegations nor the internal affairs files were shared with me in 2014, or during any other consideration of Dennis White. Had I known, I would not have chosen him for police commissioner or any other role."
The allegations were not reportedly mentioned during Walsh's state Senate confirmation hearing and debate, according to the Globe. However, a May 15 report from an independent investigator said that Walsh's administration tried to stop a probe into White launched by the former mayor. A Labor Department spokesperson denied the report's claim.
Newsweek contacted the Department of Labor for comment.