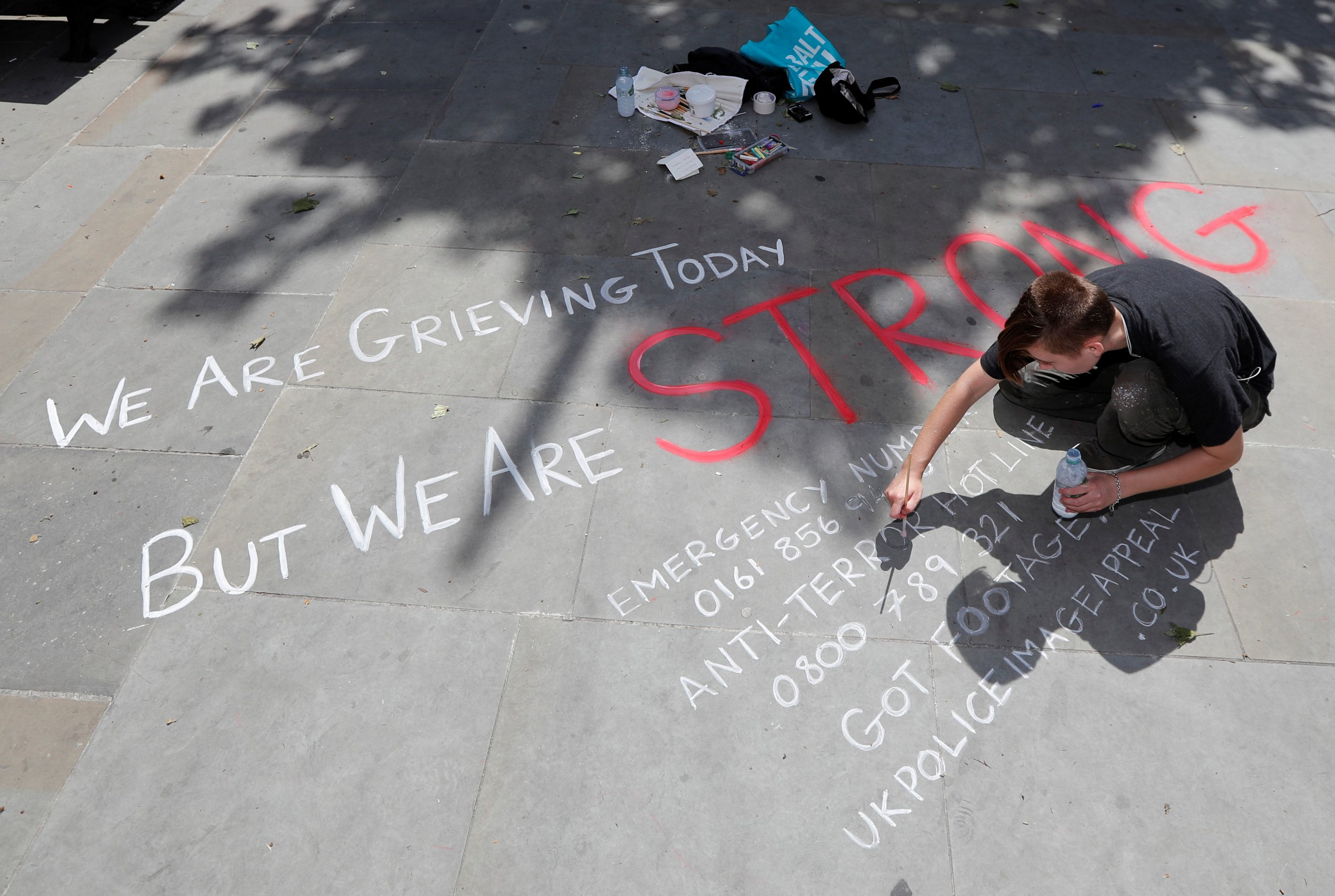 Don't worry: the far right knows. It won't be fooled by reports of a bomber aligned with the Islamic State group killing 22 concertgoers in Manchester, England. That's too obvious, too easy, exactly the sort of thing they want you to believe. A false flag, in other words.
Few details about the bombing at an Ariana Grande concert were confirmed in the hours immediately after the attack, but by Monday night, the far-right Internet had figured out the entire thing, a mystery at once fiendishly simple and incredibly complex: the Manchester bombing was a distraction engineered by liberal activists—perhaps by Hillary Clinton herself! —who wanted to distract free-thinking Americans from the investigation into last summer's murder of Seth Rich, a Democratic National Committee employee.
Rich, you see, had been responsible for giving DNC internal communications to Wikileaks, because he had been a supporter of Bernie Sanders who was furious at the way the Socialist from Vermont was being treated by establishment supporters of Clinton. The killing was a silencing by the shadow elite.
That Rich was killed is true — he was the victim of a botched robbery in the Washington, D.C., neighborhood of Bloomingdale. Everything else above about him is false, and though this narrative is odious, you can't be surprised that some people believe it.
Fox News had treated the Rich "conspiracy" like the main news story gripping America throughout the last week or so as if to say: President Donald Trump is winning so much that victories are coming out of his nostrils, congressional Republicans are hard at work giving billionaires the tax breaks they deserve, Planned Parenthood and the National Endowment for the Arts have been silenced into submission by the collective voices of American patriots. No, the story that needs to be heard — the story they don't want you to hear — is of a 27-year-old who was on the cusp of exposing the Democrats as a coven of deceitful hypocrites willing to kill to maintain power.
The day before the Manchester bombing, former House Speaker and reputed conservative intellectual Newt Gingrich told Fox and Friends, "We have this very strange story now of this young man who worked for the Democratic National Committee, who apparently was assassinated at 4 in the morning, having given WikiLeaks something like 53,000 emails and 17,000 attachments."
A day later, in the wake of the carnage in Manchester, users on Twitter pleaded with Fox News' Sean Hannity to make the connection between that tragedy and Rich's death. Parker Molloy, who chronicles the alt-right Internet ecosystem on Twitter, captured responses such as that of a user named Jeri Mizak, who pleaded with Fox News blowhard Lou Dobbs, "Timing of Manchester to offset coverage on Seth Rich? Don't let it. This type of incident to bury a story has incident has happened before."
"Is anyone else watching @foxnews and thinking this whole Manchester story sounds fishy?" wondered a user named J Dub.
Another said he "wouldn't be surprised" if Clinton herself were somehow "connected" to the Manchester attack: "That monster would stop at nothing." The message included a telling hashtag: #SethRich.
Gab, a social media platform popular with the alt-right, was also rife with Manchester-Rich conspiracy theories. One user, named Ian Kerke, posted a photograph of a bloodied young woman led by emergency workers from the bomb site. "False Flag? Getting the headlines off Seth Rich? Somebody has to ask," Kerke wrote.
"Manchester clearly is a distraction from the Seth Rich bombshells," said Bella Philgosi on Gab. "This shit is getting real." Actually, it's getting ever further from reality, but that distinction appears to be lost on the far right.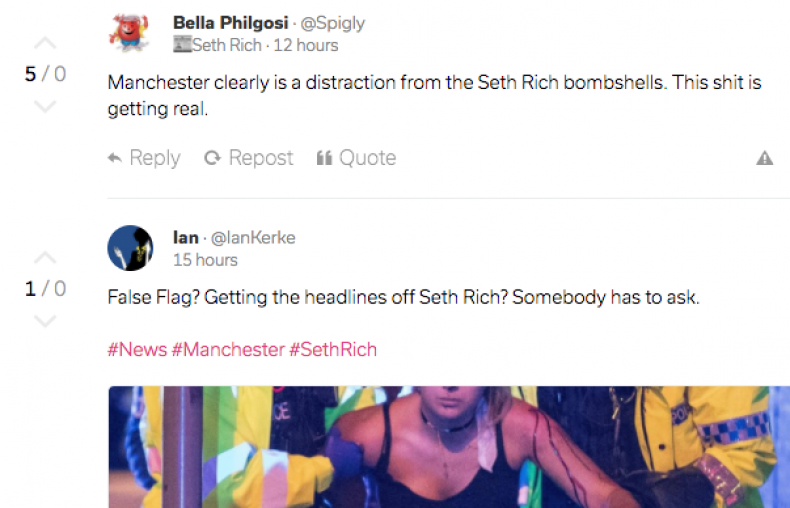 Meanwhile, Aaron Rich, brother of Seth, has written a letter to Sean Hannity's executive producers at Fox News. In the heartfelt missive, Rich writes, "It is a travesty that you would prompt false conspiracy theories and other people's agendas rather than work with the family to learn the truth."
Fox News, in a rare move, retracted Tuesday its reporting on Seth Rich. "On May 16, a story was posted on the Fox News website on the investigation into the 2016 murder of DNC Staffer Seth Rich. The article was not initially subjected to the high degree of editorial scrutiny we require for all our reporting. Upon appropriate review, the article was found not to meet those standards and has since been removed," a statement read. "We will continue to investigate this story and will provide updates as warranted."
But for conspiracy theorists on Twitter, a flag had already been planted.