How Seth Rogen Saved 'The Boys' and Turned It Into a Hit TV Show
Seth Rogen has revealed he had to wait over a decade to turn The Boys into a series after Sony tried unsuccessfully to turn the comic book series into a movie.
The Boys is now a hit TV show on Amazon Prime Video with a third season arriving on June 3 this year and a spinoff animated series starting on March 4, 2022. Rogen is an executive producer on The Boys along with his frequent collaborator Evan Goldberg.
The Boys is based on a graphic comic book series of the same name, written by Garth Ennis in 2006. It is set in a world where a group of superheroes known as The Seven reign supreme, but a non-superpowered group, The Boys, attempt to expose the "heroes" as frauds.
In a recent episode of Hot Ones, Rogen told the story of how The Boys was taken away from him during the development stages in the late 2000s.
"Something like The Boys was obvious to us," Rogen told host Sean Evans. "It's a funny journey with the comic because me and Evan [Goldberg], we're big fans of Garth Ennis, he wrote the comic and he wrote Preacher as well.
"We bought the first issue [of The Boys] when it came out and we were like, 'Oh my god, this would make a great movie. Regular people fighting superheroes.'" Rogen continued, "We brought it to Sony and Neal Moritz, the producer, and they were like, 'Yeah, this would make an incredible movie, we'll buy the rights to it.' Then they did and they did not hire us to write it or produce it in any way shape or form."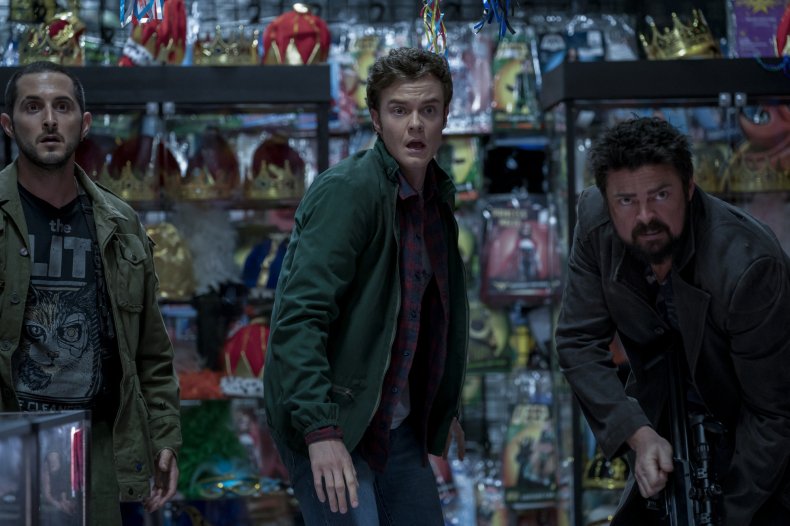 Don't Look Up and Anchorman writer Adam MacKay signed on to direct a movie version of The Boys back in August 2010, but the project never got off the ground. Eventually in 2012, Sony and Columbia Pictures dropped its option, leading to Paramount Pictures picking it up, but once again nothing ever came of it.
Looking back on the development hell that The Boys was stuck in, Rogen said: "They [Sony] hired other people to do that and after like a decade of those people f***ing it up in some shape or form, it came back to us and we turned it into the TV show."
Finally in October 2015, Rogen and Goldberg returned to the project with Cinemax. Then in September 2017, Variety reported that Amazon Studios had picked up the project which was now a TV series. It finally premiered on air on July 26, 2019.
Now the Primetime Emmy Award-nominated show The Boys is approaching its third season, with two spinoffs on the horizon as well.
The Boys: Diabolical is an animated anthology series launching on Amazon Prime Video on Friday, March 4, 2022. Another currently untitled spinoff series focusing on a superhero college has been confirmed to series too. Focusing on the G-Men team (a parody of X-Men), the likes of Lizze Broadway, Jaz Sinclair and Aimee Carrero have been cast.
Explaining why The Boys has resonated so much with audiences, Rogen explained: "I think people love superhero stuff, and Marvel is obviously very popular and makes great films and TV shows, but there are certain things they can't do. It would be too damaging to their brand to have a character kill someone with their 10-inch d***. So as long as they're not doing that, it leaves a great opportunity for us to do that."
Season 3 of The Boys will launch on Amazon Prime Video on Friday, June 3, 2022.