Brock Lesnar is the WWE Universal Champion heading into WrestleMania 35. This thought upsets many WWE fans who long for the top title holder to be a regular presence, and their "thoughts and prayers" may come true on April 7 when Seth Rollins takes on The Beast at WrestleMania.
After winning the Royal Rumble in January, Rollins heads to MetLife Stadium in New Jersey to take on The Beast in hopes of becoming Universal Champion and making the title a regular part of WWE's weekly television.
Rollins and Lesnar's history goes back to WrestleMania 31 when Seth - who was a heel at the time - cashed-in his Money in the Bank contract during Brock and Roman Reigns' match and captured the WWE Championship. This time, Rollins will go toe-to-toe with The Beast without the assistance of an impromptu cash-in. But The Architect is confident he can do it because he has to.
Newsweek caught up with WWE Superstar Seth Rollins to talk about his upcoming WrestleMania match and how bringing the title home would change RAW.
Note: This interview has been edited for length and clarity.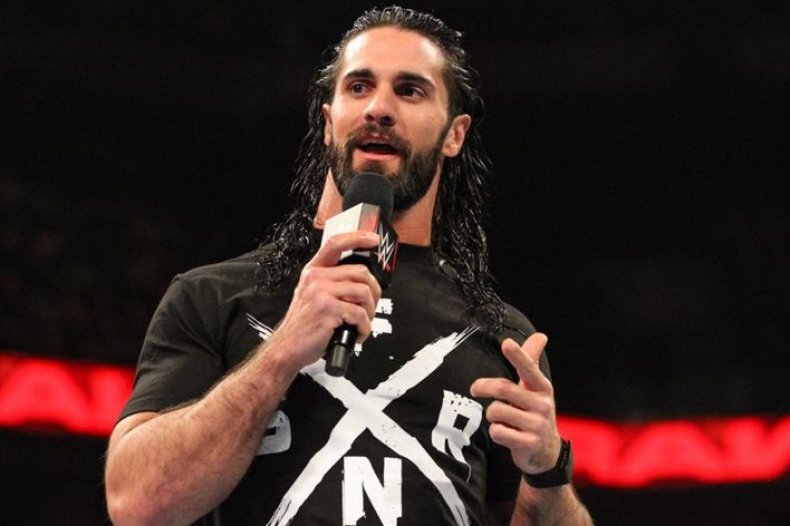 On Monday Night RAW you brought up how you are fighting for the WWE Universe and will answer their "thoughts and prayers." How does it feel to be the "savior" of the WWE Universe?
I honestly didn't realize how much the match meant to everyone else. Coming into it, I was focused on game planning, getting healthy, coming up with ideas to take him down. People have been clamoring for years to get the title off this guy and bring the championship back to the show every week. We had that for a short amount of time last year with Roman after he beat him, but how everything went down with him and his leukemia, man it felt like the more I talk to fans it's an honest "please beat this guy and bring the title back to RAW, I'm so sick of Brock Lesnar."
And it hit me that we were in this fight together. A large portion of our audience doesn't want to see Lesnar as champion any more.
This time last year you were fighting for the Intercontinental title, but a lot has changed. What has the past year meant to you in regards to the fans and your performance in the ring?
It's an entirely different set up. There's a lot more pressure on me this year, but it's been crazy. The crowd support has been just through the roof over the last year or two years. It was important to re-establish that connection with the audience because I felt like even with my first title run there was a connection or mutual respect at the very least. But it was hard to get back to that after my injury. It's really felt like the last year or 18 months that it's been super special.
It's also been super emotional with what went down with Roman so it's been a bit of a rollercoaster. It will be great to just get out there at WrestleMania and tear the house down.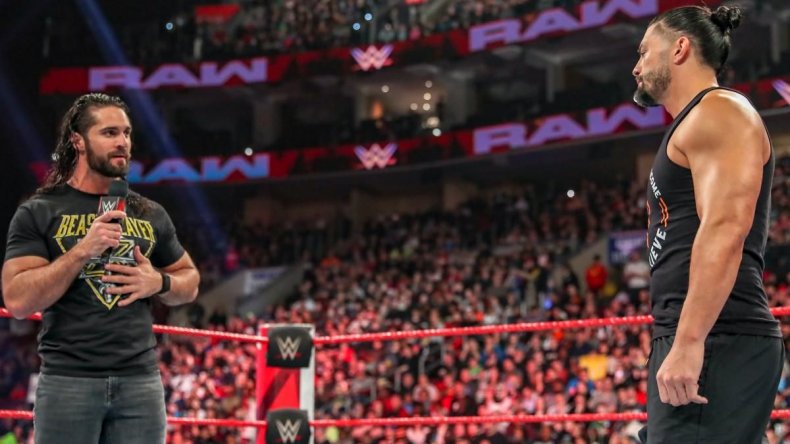 How does it feel to have Roman back?
It's so uplifting, dude. Just talking to him over the 6-7 months and seeing where his head is at, getting some time off and getting healthy to beat this disease for the second time is really special. It's tremendous having him in the locker room, just being around telling jokes and being around him. It's been super special and we appreciate it a lot more with how things in our industry move so fast we take things for granted. But now we have a good reason to maybe understand and appreciate things a little bit better.
Your road to WrestleMania was through winning the Rumble. Did it feel "real" to you then?
Until I step onto that ramp at WrestleMania it won't feel real to me. The Royal Rumble was amazing. It's something you think about as a kid, winning the Royal Rumble. It was one of my favorite WWE events on the calendar growing up. I grew up watching Shawn Michaels, Hulk Hogan, Ric Flair, Stone Cold winning the Royal Rumble and what that would mean. I never really thought that would be my road to 'mania so being able to take out Braun Strowman was really a special moment for me.
What would winning the Universal Championship mean for the landscape of Monday Night RAW?
You'll just be able to see the belt represented every week and someone who will put it on the line to anyone who is deserving. You're not going to have so much aimlessness because now there is a focus and a real tangible goal.
What I hope is winning the Universal Title will refocus some of the guys on the roster because on Brock Lesnar, [the title] was out of reach for them. Who is Brock Lesnar going to fight? Just by sheer numbers, he only has four or five matches a year so the odds getting a title shot are so slim. And now the opportunity will hopefully motivate and push guys to work harder and get to the next level. And hopefully that inspires the next generation to come in and take those spots. And that inspiration will move us forward because the title was being held hostage by Brock Lesnar.
The roster has changed significantly with the NXT call ups. Is it exciting to see that new blood?
It's always good to see who is going to step up. I remember being the new guy on the block. I remember coming in before the Shield doing live events and tours, there was so much resistance to new guys coming in. And new guys pushing old guys out and everyone being so protective. I'm the opposite. I'm the guy who feels so comfortable where I'm at that I just want the best for our industry. I want to see the guys who are going to put in the work and move this thing forward in the next 5-10 years. So it's always cool to see a new batch of call ups like a Gargano, Ciampa, Aleister Black and Ricochet. Who is going to step up and be the first guy to break the glass ceiling, sort of speak?
Even McIntyre, say what you will about him, but he's a totally transformed individual from when he was in 3MB before he got let go. So it's a totally different atmosphere.
You came up through NXT too and it's so different now from what it was when you were there. How does NXT's success make WWE better?
Obviously, Triple H saw something in the developmental system that we weren't taking advantage of what we had. And you have to look at how we build and create our talent. It was just neglected for so long and he came in and took over and changed the whole game. And you start to recruit talent all over the world and even just looking at different types of talent.
Before we used to look at body types and what you had physically. And the thought was you could just teach them how to be a star, but that's not necessarily the case. And it took a little bit of learning, but the guys who have been stars they are the guys who have the passion and came from where I come from. If you don't care about this industry, it'll chew you up and spit you out. And that's ok, it doesn't have to be for everybody. NXT has become a place full of different people and characters, selling out shows, arenas that [WWE] can sell out. So it's great to see what Triple H has done.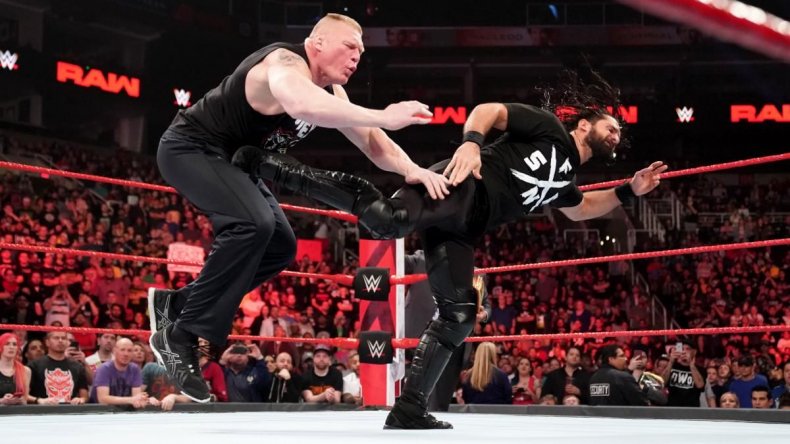 Speaking of body types, you brought up on RAW how your size will give Lesnar problems. Is that a conscious shift in thinking for the WWE to bring in more athletic smaller guys?
The wrestling business is always going to be a circus and there's a place for everybody. I just think the smarter our audience becomes with the access to information the shorter the attention span, it's starting to cater to guys who can do everything.
So you need to be able to be able to have the ability to adapt your style and work with anyone at anytime in any situation. I don't know if it's transitioning to guys who are smaller, necessarily, but it's just a different animal. It's not the Land of Giants anymore. It's just how it is. The star power is diversified. You have women main eventing WrestleMania, guys like Kofi Kingston taking on Daniel Bryan., You have myself challenging for the Universal title, it's a totally different place than where it was 10 years ago I think, in a good way. Our audience is smarter, they ask for different things and we're reacting as they request. So it's the sign of the times, man. Everything is changing and I'm excited to be a part of it.
WrestleMania 35 is set for Sunday, April 7.