Settling My Soul in Sedona
The author reconnects with nature and finds herself in the Arizona desert
I can't remember when I first saw a picture of the massive red rocks that are Sedona. I was in awe. Something about them was surreal. It was like no place I'd ever seen. I was born in Indiana, raised in Northern California and for many years had been a hardcore New Yorker ever since. But still, I knew one day I would see those rocks - they called to me.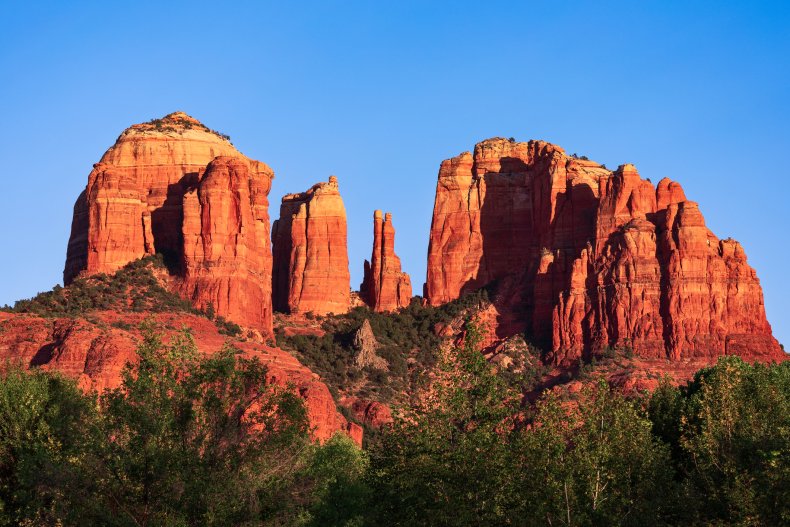 In retrospect, it was kind of like when I went to New York City for vacation and started crying in the cab going home to the airport. I knew I was going to return. I did and am still there. In the same instinctive way, I knew Sedona was special. The image of those red rocks stuck in the back of my mind, it was a secret desire that wouldn't go away, but somehow going there never happened. Until it did. Fate intervened. I got an assignment to write about Sedona for a magazine. Sometimes the stars align. Getting the gig was just the beginning -- I would soon discover I had a date with destiny.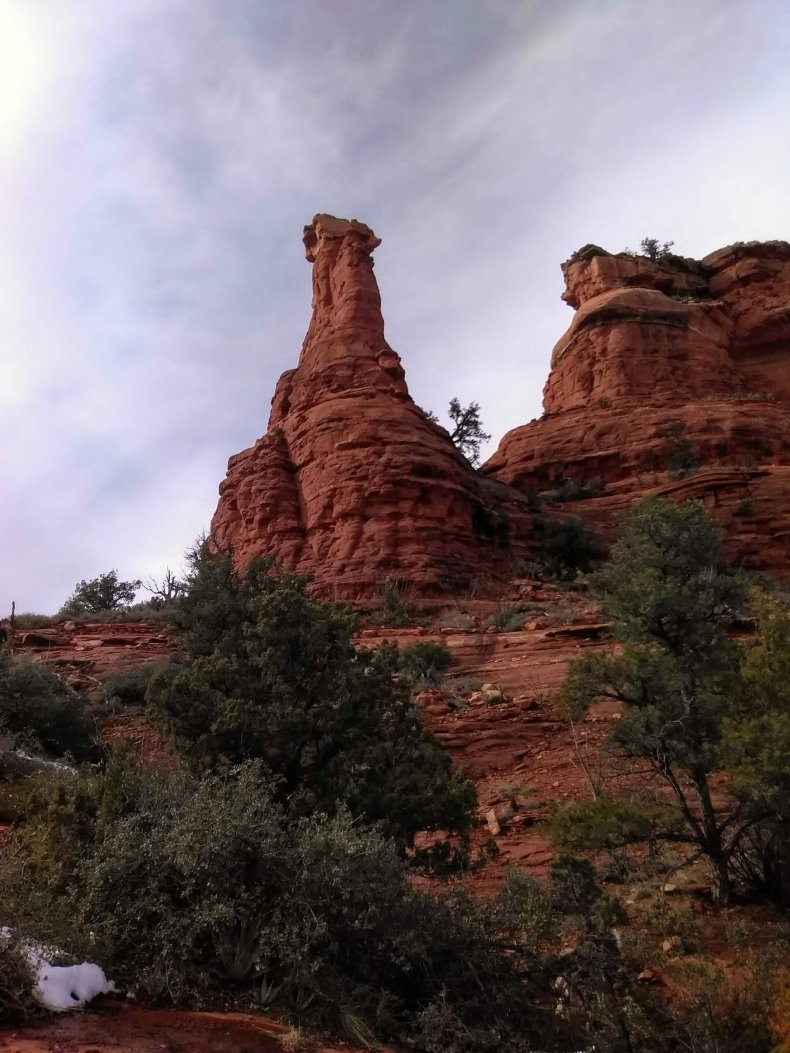 When I got off the plane from New York in Phoenix this past February, I was excited. I don't even like driving, but I committed to renting a car and driving the two hours to Sedona. The scenery, mountains, long stretches of quiet driving once past Phoenix and I could feel my mood lifting. I was desperately seeking Sedona. With good reason. Sedona has long been hailed as an oasis for physical and emotional healing. There is an abundance of yoga studios, spas, crystal shops, tarot readers, and all things spiritual and mystical. Though technically I was working, this trip was also about me. I was hurting. How does one get over the loss of a relationship of 30 years? I was looking for answers.
I found my hotel, somewhere to eat and called it an early night. I was ready to sleep so that tomorrow would come. My first stop was Local Juicery for a jumbo green smoothie. I wanted to begin my journey with a healthy start. I also needed fuel to do a hike. Of course, this being Sedona, it wasn't just a hike, but a private tour with SPEX: Sedona Philosophy Experience. I was clueless and curious about how philosophy would be incorporated into a hike.
I pulled into Red Rock State Park's parking lot and didn't realize I had put my car in neutral instead of park. As the car was rolling back, I thought perhaps I was having a dizzy spell. I had been generally out of sorts. It wasn't until I looked up from my purse which I had grabbed to get something out of, when I saw a woman waving at me. I realized what was going on, totally embarrassed and properly parked. I had been operating in the distracted zone for weeks. Turns out the woman was my guide, Andrea. She must have known immediately she had her work cut out for her.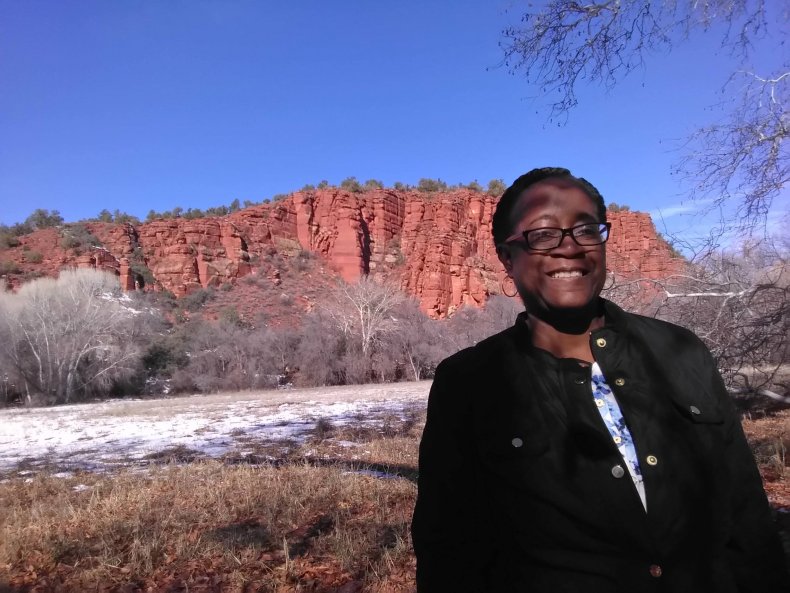 We introduced ourselves and headed into the park. To my pleasant surprise, she said we would begin our hike with a stop at a creek for meditation. We sat on a bench in front of a babbling creek, tucked in the woods, just the two of us. She first asked where I was in my life. I paused, I wasn't sure how I wanted to answer. Did I want to bare my soul? I said I was in transition. Then I went for it, revealing my breakup with my husband. In almost a whisper she began talking to the universe, giving thanks, and seeking guidance for our journey and healing. I started sobbing. I apologized, embarrassed. She hugged me and we left to climb Eagle's Nest. I looked up at how high we were going and wanted to back out. She promised if I got to a point where I didn't want to go further, we wouldn't. For two hours I spilled my guts and just as I was gently encouraged to keep climbing, so was I to examine truths. When asked what I wanted out of life and who I was, I stumbled, confessed maybe I wasn't sure. My focus had been on everything but myself. I was lost, particularly now that I would no longer be a wife, and with a daughter now grown, what was my purpose?
The first order of business was to change my thinking. Andrea reminded me that Plato compared changing one's thought process to climbing out of a cave. When I reached the top of Eagle's Nest it was symbolic. I had done something I didn't think I could and was indeed rewarding. She challenged me to see the change in my life not as failure but a time to recalibrate that would ultimately lead me right where I was supposed to be. We ended our walk with her prayer for my healing, peace and reconciliation. I hugged her tightly and left. I was shaken to my core, but in a good way. I was awakening.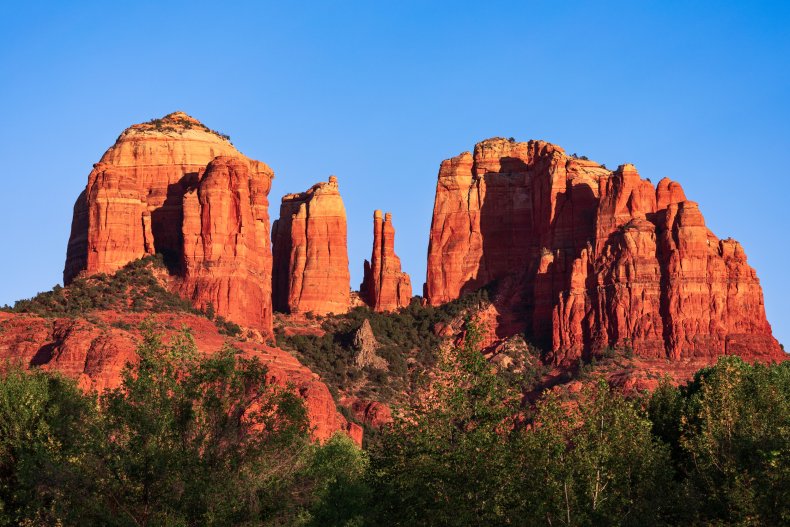 Later that day I had an appointment with Sedona Soul Adventures to visit the legendary vortexes -- energy fields that have been said to have healing powers. My guide was a laid-back guy whose nickname was Sequoia. Almost as soon as we got out of the car and walking toward those massive red rocks something was different. I couldn't put my finger on it. We kept climbing. I felt sort of light-headed with sparks like blind spots fluttering in my vision. I wasn't scared. I felt good - Sequoia was smiling. He was feeling good too. He offered to take me to one more. I was game. Our conversation on the drive became serious. He shared his life story and then it was my turn. He listened quietly. When we got to the second vortex, the vibe was different, peaceful yet powerful. We were walking silently, and Sequoia stopped suddenly and said, "This seems like a good place to stop and give thanks," and we each did just that in our minds. We resumed walking and he stopped again, "Say what's on your heart," I closed my eyes and a few tears came. We sat on top of one level of the mountain and sat staring, marveling at the immense valley below. The quiet was peaceful and a presence palpable. It was not possible that things would not be okay. As we worked our way back down, we paused. "Now is a good time to give anything negative to Mother Earth. Let it go. Leave it here." Finally, as we looked back at the mountain, we gave thanks for our time in the vortex.
I had an appointment at Sedona's New Day Spa early the next day. I was ready, a little sore from the climbing and walking and just wanting to relax my mind after a flurry of thoughts and emotions. I requested the Desert Moon Deep Healing Turquoise Sage Mountain Arnica. Five minutes into touching my body the masseuse quietly said, "I don't know what's going on with you honey, but we need to do a release." I felt like there were no secrets in this town, everybody sees right through you. She seemed to do some sort of ritual; I was face down so I couldn't see. She proceeded with oils and warm hands. I fell asleep. All I remember is leaving better than I came. That could be said of my trip to Sedona. I came on assignment but had a divine appointment. I went home centered, comforted, calm -- back in control.
Sheryl Nance-Nash is a freelance writer specializing in travel, business and personal finance. Over the last two decades her work has appeared in publications such as Newsday, Money Magazine, Essence, Black Enterprise, ShermansTravel, Afar, Fodors, Orbitz, Reader's Digest, The New York Times, among others. When she's not encouraging people to spend their money wisely, she travels the globe to satisfy her wanderlust and hopefully inspire others to do the same.