Seven dead after Florence strikes: survivor heard neighbors yelling for help
The flooding caused by the relentless rain of Tropical Storm Florence has devastated the Carolinas. Though it has been reclassified from a hurricane to a tropical storm, Florence has left at least seven people dead.
The storm came to North Carolina on Friday as a Category 1 hurricane and has now moved towards South Carolina, causing about 950,000 people to lose power, CNN reported on Saturday.
Seven people have died as a result of Florence, including a mother and her baby after a tree fell on their house in North Carolina, according to CNN. One man was killed by electrocution while hooking up his generator, another while checking on his dogs outside.
Some decided to stay behind instead of evacuating. Annazette Riley-Cromartie, a survivor who was rescued with her family, explains that she believed her and her family would be safe in their brick house. The flooding pushed her, her three children and her husband to the attic of their home.
Riley-Cromartie spoke with Anderson Cooper on CNN. She recalled realizing the situation was dire around 11:30 p.m.
According to Riley-Cromartie the water came into the house and steadily kept rising. "My husband pushed a mattress upstairs into the attic and we were in there for a little bit," she said. "Then the wind started getting really bad, so we just made a decision to come down out of the attic and put the kids on the top bunk bed for them to at least try to get some sleep and hopefully the water didn't rise anymore."
She continued, "While we were still waiting, my husband kept hearing people yelling for help. We tried to go outside and see if we could help but then the water got up above his chest and he had to come back inside. You can't help anyone because you just keep hearing people yelling and you can't do anything."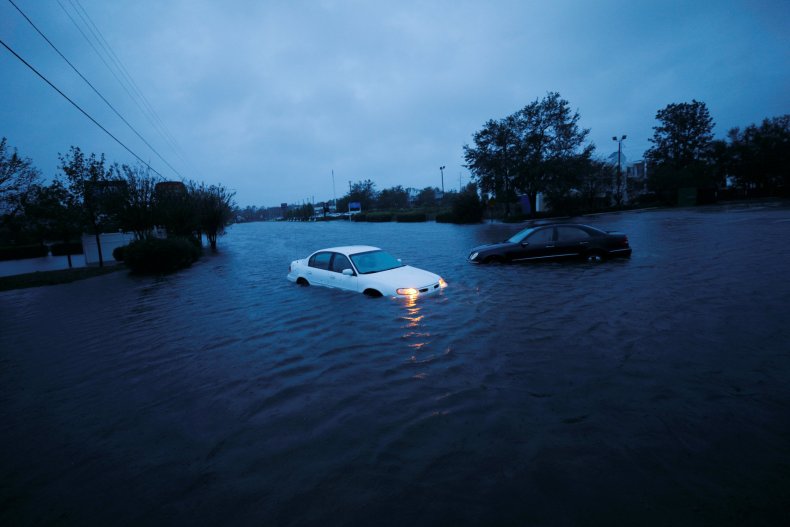 Riley-Cromartie's husband is 6'2" she said the water had risen above his chest. They could hear their neighbors screaming and yelling for help.
"It's the worst feeling in the world to hear people yelling for help, and you can't do anything," she said. When they called 911, emergency services were unable to arrive until the following morning.