Seven East Coast States Agreed to Work Together on Reopening—Here's Where They Stand a Month Later
Seven East Coast states that agreed to work together on forming plans to ease coronavirus restrictions are all on their way to reopening, but they have reached different stages.
New Jersey, Massachusetts, New York, Connecticut, Pennsylvania, Delaware and Rhode Island formed a council to take a regional approach to easing their lockdowns. The goal of the coordinated reopening, as with shutting down, was to limit the virus's spread since interstate travel in the region is so easy because of highways and public transportation.
In announcing the council on April 13, New York Governor Andrew Cuomo acknowledged that the states likely wouldn't come up with a "fully common strategy," given the differing circumstances of the outbreak. That said, he urged the seven states to be "smart," "cooperative" and to "learn from one another."
A month after announcing the council, only two states—Rhode Island and Pennsylvania—have lifted stay-at-home orders. In Rhode Island, Governor Gina Riamondo lifted the stay-at-home order on Saturday, following its expiration last Friday. Pennsylvania Governor Tom Wolf also lifted a stay-at-home order, but only for 37 counties.
When Pennsylvania counties move to the "yellow phase," residents can gather in groups of up to 25 people and stores can reopen, although delivery and curbside service is preferable. Stores in Rhode Island have also been permitted to reopen for in-person service.
Next week, restaurants in Rhode Island will be permitted to reopen for outdoor dining, but only for patrons who make reservations.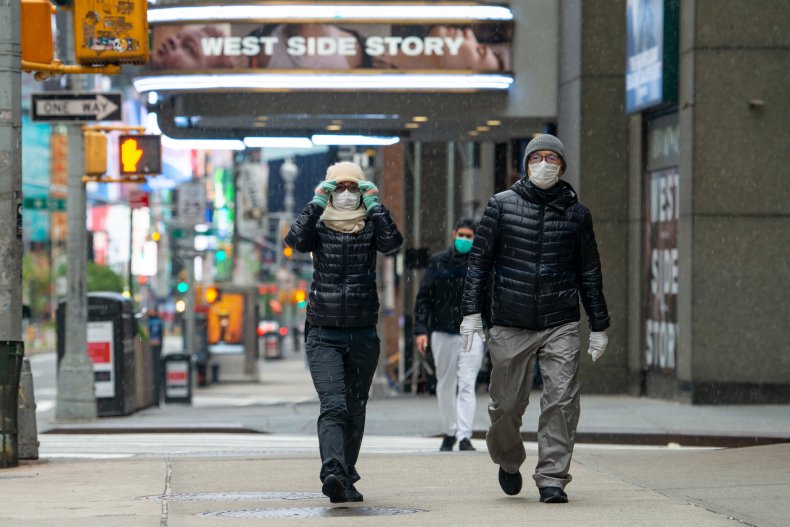 Rhode Island has had 11,835 confirmed cases and 462 deaths, and aside from three increases, it has seen a downward trend in new cases since May 4, according to the state health department. In Pennsylvania, which has the sixth-largest outbreak in the country, 61,859 people have tested positive and 4,016 have died. The state hasn't seen the same downward trend that Rhode Island has, but on Tuesday new cases dropped to 851, one of the lowest increases since April 1.
New York is taking a similar approach to Pennsylvania, lifting restrictions in parts of the state where the outbreak appears to be waning. Last Friday, stores in four regions—North Country, Finger Lakes, Southern Tier and Mohawk Valley—were able to open for curbside or in-store pickup, followed on Monday by some stores statewide in New Jersey.
New York, the epicenter of the outbreak, has had 340,661 cases, more than double those in New Jersey, where the second-largest outbreak is occurring. Despite the high number of infections, both states have started to see a downward trend in new cases, a trajectory that Cuomo championed as a great success.
Massachusetts Governor Charlie Baker's orders closing nonessential businesses and requiring people to stay at home are set to expire on Monday, but it's unclear if they'll be extended. On Wednesday, Baker said businesses "most likely to be successful" in reopening could be allowed to do so. However, he said this wouldn't include every business that's currently closed, and he did not elaborate on which businesses may reopen.
At 79,332 cases and 5,141 deaths, Massachusetts is experiencing the fourth-largest outbreak. The state recently saw a five-day decline in new cases, and although that ended on Tuesday, new cases increased to only 870 from 669 on Monday.
Massachusetts' southern neighbor, Connecticut, has reported 34,333 cases and 3,041 deaths. The Constitution State hasn't begun reopening just yet but is slated to start on May 20. At that point, hair salons, barbershops and retail stores can reopen for in-person transactions, and restaurants, museums and zoos can serve patrons in outdoor areas.
Delaware, where there have been just 6,741 cases, isn't expected to start its first reopening phase until June 1, although farmers markets will be allowed to reopen on Friday.