Seven GOP Senators Vote to Convict Trump During Second Impeachment Trial
Seven Senate Republicans voted to convict former President Donald Trump during his second impeachment trial on Saturday.
Senators Susan Collins, Mitt Romney, Lisa Murkowski, Ben Sasse, Patrick Toomey, Bill Cassidy and Richard Burr joined all of their Democratic colleagues to vote for a conviction.
Cassidy of Louisiana and Burr of North Carolina cast surprise votes, joining the other five expected GOP votes to convict. Cassidy unexpectedly switched his constitutionality vote before the trial, after initially voting that the trial was unconstitutional earlier last month.
Cassidy walked a fine line throughout the trial, saying he found the House impeachment managers' arguments compelling but also indicating that his constitutionality vote would not signal whether he would convict or acquit.
Saturday's vote included six more Republican votes than there were during Trump's first impeachment. Last year, Romney was the only GOP senator to break party lines when he voted guilty on the first article of impeachment, "abuse of power." All Republicans voted not guilty on the charge of "obstruction of Congress."
During the first trial, Romney also became the first senator in U.S. history to vote to convict a president of his own party in an impeachment trial.
Although Democrats gained some GOP support, they did not muster enough votes to win a conviction against the former president, which would have required backing from two-thirds of the Senate, or at least 17 Republicans.
Some held on to hope that Senate Minority Leader Mitch McConnell would break from his fellow Republicans and vote to convict Trump in a legacy-defining moment—given his previous remarks accusing the former president of "provoking" the U.S. Capitol riot on January 6 and speculation that he may not run for reelection. But McConnell did as many expected and voted to acquit Trump.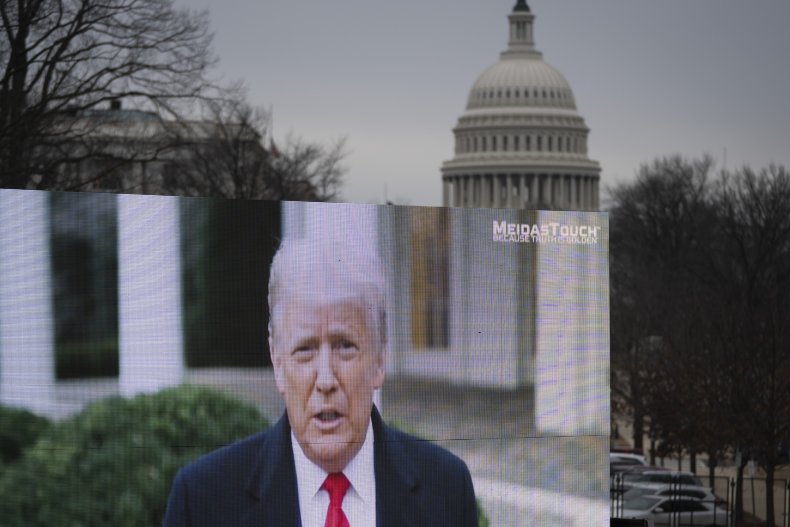 Even after a visceral video presentation from the impeachment managers, most GOP senators signaled that they would vote to acquit the former president.
"I think there's more votes for acquittal after today than there was yesterday," Senator Lindsey Graham said after the trial's third day.
Some Senate Republicans, like Ron Johnson, were further convinced to vote not guilty after the defense's performance on Friday.
"The president's lawyers blew the House manager case out of the water. They legally eviscerated them," the Wisconsin senator said.
Saturday marked the second time Trump has been acquitted in an impeachment trial. He is the only president to ever be impeached twice and is now the only president to be acquitted twice.
Without a conviction, the Senate is unable to take another vote to disqualify Trump from running for federal office again. The Senate would have needed only a simple majority vote to pass the measure, which could have been easily secured by the Democrats since they won both of Georgia's Senate seats in January's runoffs.