Seven Hilarious Adam Sandler Jokes to Celebrate the Sand Man on His Birthday
Happiest of birthdays, Adam Sandler! The comedian is known for many things, from his tenure on Saturday Night Live and starring in '90s comedies like Happy Gilmore, to his more recent films Murder Mystery and Uncut Gems. The native New Yorker also did standup as young as 17 years old, and got his career started after comedian Dennis Miller recommended him to SNL's Lorne Michaels. The rest, as they say, is history.
Now, Sandler is a household name, and his jokes provide belly laughs for days. Below we've rounded up some of the Sand Man's best jokes in order to celebrate his 54th birthday.
About that one crazy cab ride:
"I just came here from New York, and my last day in New York was kind of weird. I had a cab driver acting peculiar. We were driving along, me and the cab driver, and he killed a dog on the way. He didn't hit the dog with the car, he got out of the car and stabbed the dog on the way. The first thing I thought was, 'No tip. I'm not gonna tip this guy.' Not because he killed a dog, just because 30 cents clicked in the meter while he was doing it."
On house etiquette, from his 2018 Netflix special 100% Fresh:

"You ever go to somebody's house, and, uh, you ring the doorbell and the guy answers and says, 'Hey you gotta take your shoes off,' and you go, 'Oh God, okay,' and then he goes, 'Hey, take your socks off,' and you're like, 'Take my socks off? What?' Then he goes,'Roll up your pants!' And then he puts some grapes down and he goes, 'Start stomping on the grapes!' And you're like, 'What the f**k are we doing?' And he's like, 'We are MAKING THE WINE!'"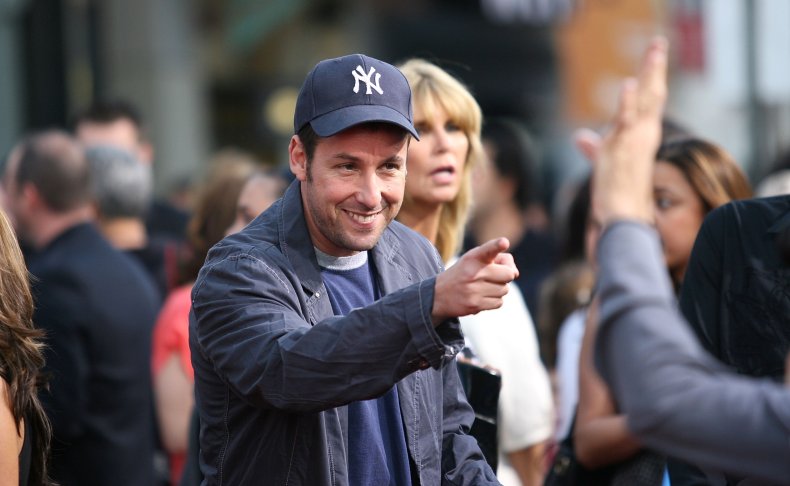 On explaining "that's what she said" to his daughter, from 100% Fresh:

"My little sweet daughter... the sixth grader, she comes back from school and she's like, 'All the boys keep saying, "That's what she said..." and then they all laugh. Why Daddy?' And I was like, 'Oh, boy.' 'Yeah, it seems like anything I say, they say, "That's what she said." They look at each other, and they just laugh and laugh. And I'm confused. Help me Dad-da.' And so, I'm like, 'Okay, how do I explain this to her?' And I'm trying to just figure out, you know, the right way to do it, in a clean way, no cursing. And I'm just going, 'Uh... uh... uh... uh, well, it's a...' And then my kid goes, 'That's okay, Daddy. You tried your best.' And I was like, 'That's what she said.'"
On his dad stopping by school when he was a kid, from 100% Fresh:
"I always get these emails from the kids' school that I've got to come in. 'It's Terrific Tuesday... Make sure you come in.' And you're like, Terrific... What the f*** is Terrific Tuesday?' 'Well, you come by the school and you tell the kids how terrific they are.' And I'm like, 'Okay, Thirsty Thursday. It's Thirsty Thursday. Come by. You know, you help the kids fill their water bottles.' I'm like, my father literally came to school one f**king time my whole school career. He opened the door in the middle of a f**king test, and I hear, 'Where'd you put the rake?' I'm like, 'What?' 'You put it on the nail?' 'I think I did.' 'You think? It's not there.' 'Okay.' 'It's not okay.' 'I'll get it for you after school.' 'No, you'll get it now!'"
On spooky scandalous photos, 100% Fresh:

"I took my first d**k pic, everybody! D**k pic? That's a weird thing to do. And there's no reason for me to do it. I'm f**king married. But all my friends do 'em so I'm like, 'What the f**k? Let me do it, so I can at least be a part of the conversation.' So I do my first d**k pic and I look back at it and there's a ghost in the background. I live in a haunted house? I wanna show everybody! What are the chances of catching that! But my d**k doesn't look as good as I want it to look, plus the ghost was really tall so it makes my d**k look... plus the ghost was holding a ruler and I'm like, 'What the f**k is your problem?' to the ghost and he's like, 'I live here too. I like to have fun.'"
When he mocked his Oscar snub, at the 2020 Independent Spirit Awards:
The actor put on his best Waterboy impression for this acceptance speech. "Hello my name is Adam Sandler... I stand before you trembling with glee as I receive your so-called best actor trophy, independently speaking, of course. You know, a few weeks back when I was, quote unquote, snubbed by the Academy, it reminded me of when I briefly attended high school and was overlooked for the coveted yearbook superlative category 'Best Looking.' That accolade was given to a jean jacket-wearing, feather-haired douchebag by the name of Skipper Jenkins."
He also noted that the Independent Spirit Awards are the "Best Personality Award" in the biz. "Let all those feather-haired mother-f***ers get their Oscars tomorrow night. Their handsome good looks will fade in time. Our independent personalities will shine on forever!"
And, of course, there's "The Chanukah Song":
This one speaks for itself.