Seven Injured After Car Crashes Into Outdoor Dining Area on Manhattan's East Side
A van was involved in a multiple vehicle collision in Manhattan's East Side on Monday, leaving seven injured, including five adults and two children.
A spokesperson for the New York City Police Department confirmed to Newsweek that the accident occurred between 50th Street and 2nd Avenue. when a male driver operating a van had a collision with a black Toyota Camry. The Camry had two passengers inside, according to the spokesperson.
After being hit by the van, the Camry then struck an outdoor dining area on 2nd Avenue. The spokesperson told Newsweek that while there was nobody inside the outdoor dining area, the debris from the crash struck a two children, ages 5 and 7.
"The van continued southbound and at 49th Street and 2nd Avenue proceeded to strike an outdoor fruit stand that was located on the sidewalk," the NYPD spokesperson told Newsweek. "And hit three other people when it hit the fruit stand."
The driver of the van was taken into custody with charges pending, according to police.
All seven individuals who were injured were taken to local hospitals and the NYPD spokesperson confirmed to Newsweek that preliminary investigations show that all injuries are minor.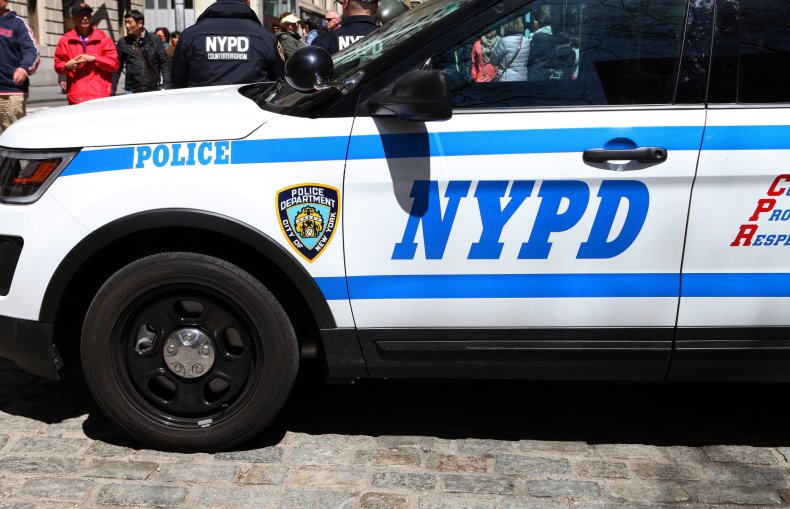 A spokesperson for the New York City Fire Department (FDNY) wrote to Newsweek, stating that the accident occurred around 8:37 a.m. local time. The FDNY spokesperson also confirmed that seven individuals were injured in the crash.
"Firefighters have secured the scaffolding and debris," the spokesperson told Newsweek, while adding that the extent of the injuries was unclear and the scene has since been secured.
According to WABC-TV in New York, four of the individuals injured were taken to the Bellevue Hospital.
Several photos and videos of the crash were posted on the Citizen App.
One video shows several police officers and an ambulance surrounding the van after it crashed into the scaffolding on the side of the street.
Another video shows a closer view of the crash and a street sign and traffic light can be seen damaged by the van.
A third video shows another view from above the crash, where debris can be seen scattered across the corner of the street with police officers and firefighters working to secure the scene as civilians look by.
WABC-TV also posted a video of the incident to Twitter, showing a second car involved in the crash. The video also shows firefighters working on cleaning up the debris from the crash, including what appears to be a bus stop and a pedestrian crossing light.
New York City's emergency management notification system posted on Twitter that drivers in the areas should expect delays due to the crash.
"Expect traffic delays, road closures & emergency personnel near East 50th Street & 2nd Avenue, Manhattan. Use alternate routes," the tweet said.