'Seven Kings Must Die' Release Date: Everything On 'The Last Kingdom' Film
There is good news for fans of The Last Kingdom on Netflix. The story of Uhtred of Bebbanburg (played by Alexander Dreymon) is not over.
In early 2021, the streaming platform announced The Last Kingdom would end after Season 5, with a feature-length film in the works to tie up the loose ends of Uhtred's story for good.
Filming recently wrapped on Seven Kings Must Die in Budapest, Hungary with star Alexander Dreymon paying a touching tribute to the show and movie on his Instagram page, penning he felt "so lucky" to "live part-time in Uhtred's skin for so many years."
Newsweek has everything you need to know about Seven Kings Must Die.
When Is Seven Kings Must Die Out?
Unfortunately at the moment, Seven Kings Must Die does not have an official release date. However, the good news is filming on the highly anticipated movie has finished, meaning Seven Kings Must Die may be coming to screens a lot sooner than expected.
Fans can realistically expect Seven Kings Must Die to air on Netflix in late 2022 or early 2023.
To watch Seven Kings Must Die, you must be a Netflix customer. You can sign up to Netflix now for $8.99 per month.
In the meantime, as you wait, the first five seasons of The Last Kingdom are streaming on Netflix now.
Warning: This article may contain spoilers about Seven Kings Must Die
What Will Happen in Seven Kings Must Die?
Seven Kings Must Die is set to pick up from the dramatic ending of The Last Kingdom Season 5, which saw Uhtred, alongside Athelstan (played by Harry Gilby) and the forces of Mercia and Wessex defeated Constantine II, the King of Scotland (Rod Hallett), and his army.
Uhtred was back to reclaim his ancestral home of Bebbanburg and in order to keep the peace, he struck a deal with Constantine that ensured Northumbria would remain a "buffer zone" between England and Scotland until a new English King had been appointed.
However, an independent Bebbanburg ultimately means King Edward of Wessex's (Timothy Innes) dreams of a unified England have been thwarted and there is a huge risk Edward may go against his word and betray Uhtred.
From the show's inception, The Last Kingdom intended to cover the 10 novels in Bernard Cornwell's The Saxon Stories novel series, adapting two novels per season.
However, in the years since The Last Kingdom aired, Cornwell released three additional novels, War of the Wolf, Sword of Kings, and War Lord which will loosely form the plot of Seven Kings Must Die.
If the Seven Kings Must Die is to stick closely to the original novels, fans will see a lot more of Uhtred in Bebbanburg.
Book 11 of The Saxon Stories, titled, War of the Wolf, see's Uhtred secure his childhood home whereas Edward, King of Wessex seizes the opportunity to take over Mercia following Aethelflaed's (Millie Brady) death.
In Sword of the Kings, Uhtred finds himself at the center of a succession struggle between Wessex and Mercia.
In the 13th and final novel, War Lord, Uhtred meets Alfred the Great (David Dawson) and becomes a key figure in the battle which will ultimately decide if Alfred will become King of England.
The Last Kingdom movie, Seven Kings Must Die, will be a standalone story, executive producer Nigel Marchant has confirmed.
Speaking to The Radio Times, Marchant explained: "In terms of Season 5, we felt these two central strands of the story were coming together and it was the natural point to finish the TV series. Over the five seasons, there was a very definite beginning, middle, and end, so it was a group decision that we came to.
"However, we did know there were a few more books (not to spoil anything!) following on from where we get to at the end of Season 5. So we did start to talk to Netflix fairly early about whether we could tell that end piece of the jigsaw so that it would feel complete."
He continued: "And it was felt that the movie version was the right format to do that. Season 5 does feel like the end of the TV series, and the movie will be much more standalone. It'll be an extra treat for the fans of the TV series, but you could also watch it even if you've never seen the TV show."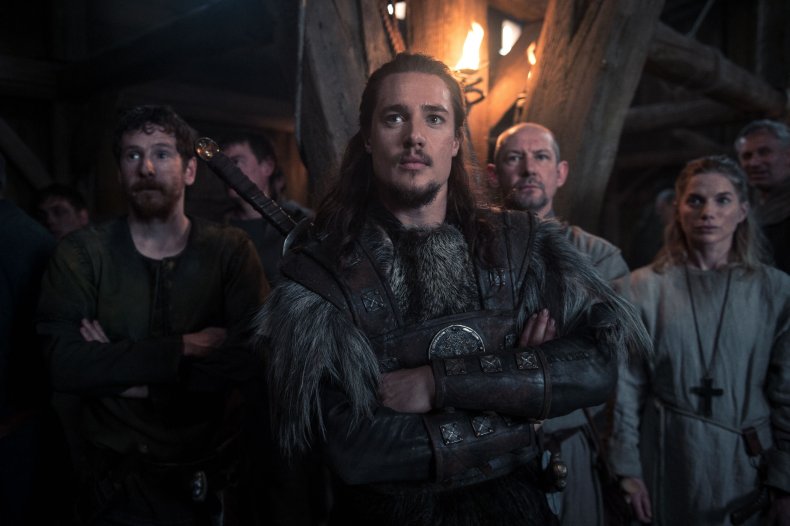 Who From The Last Kingdom Will Star in Seven Kings Must Die?
For now, the cast of Seven Kings Must Die has been kept largely under wraps to avoid spoilers.
However, die-hard fans of The Last Kingdom have been able to piece together who will most likely return for the series based on the events of Season 5 and what occurs in the final three books.
One thing is for sure, Alexander Dreymon will be back as Uhtred of Bebbanburg.
Back in January 2022, Dreymon posted a video of him on the set of Seven Kings Must Die, confirming filming was underway.
Standing alongside him was Arnas Fedaravičius, who plays Uhtred's loyal ally Sihtric.
Another one of Dreymon's Instagram posts featured Mark Rowley as Finan, so hopefully, he will also be making an appearance. Fans will be hoping to learn more about Osbert after he arrived in Bebbanburg at the end of Season 5 after growing up without his father.
Other cast members who could return in Seven Kings Must Die, thanks to their characters surviving the Season 5 battle and their appearance in the last three books in The Saxon Stories, are:
King Edward – Timothy Innes
King Constantin – Rod Hallett
Eadgifu – Sonya Cassidy
Aethelstan – Harry Gilby
Aelfweard – Ewan Horrocks
Father Pyrlig – Cavan Clerkin
Aelswith – Eliza Butterworth
Aelfwynn – Phia Saban
Lady Eadith – Stefanie Martini
Abbess Hild – Eva Birthistle
Father Benedict – Patrick Robinson
Cynlaef – Ryan Quarmby
Sadly, some fan favorites are unlikely to appear in the movie after their characters met an unfortunate death in the final season, including Brida (Emily Cox), Aethelflaed (Millie Brady), Osferth (Ewan Mitchell), and Sigtryggr (Eysteinn Sigurðarson).
However, there is the possibility they could always appear in a flashback.
The Last Kingdom is streaming on Netflix now and Seven Kings Must Die is coming to Netflix soon.