Seven Shot During Candlelight Vigil in Detroit, Suspect Flees
A man opened fire during a Sunday night candlelight vigil on Detroit's West Side, injuring seven and sending them to the hospital, local TV station WDIV reports. The crowd of at least 100 had gathered to mourn a man recently killed in a hit-and-run while riding an ATV.
The shooting occurred between approximately 10 to 10:15 p.m. when the perpetrator pulled up in a lime green Chevrolet Camaro and opened fire, police said. Authorities are searching for the vehicle, which they believe was hit with return fire from the crowd. A search is also on for a black GMC Yukon that was seen speeding away from the area of the vigil.
"We found a number of different shell casings in the area, so it's possible there was some return fire, but we just don't know enough right now," Police Chief James White said in a statement. "But we're in the process of looking and finding out.
Police reported that six individuals were initially taken to a hospital for treatment following the incident. Of these victims, five were said to be in serious condition, while one was said to be critical. An additional wounded victim checked into the hospital later.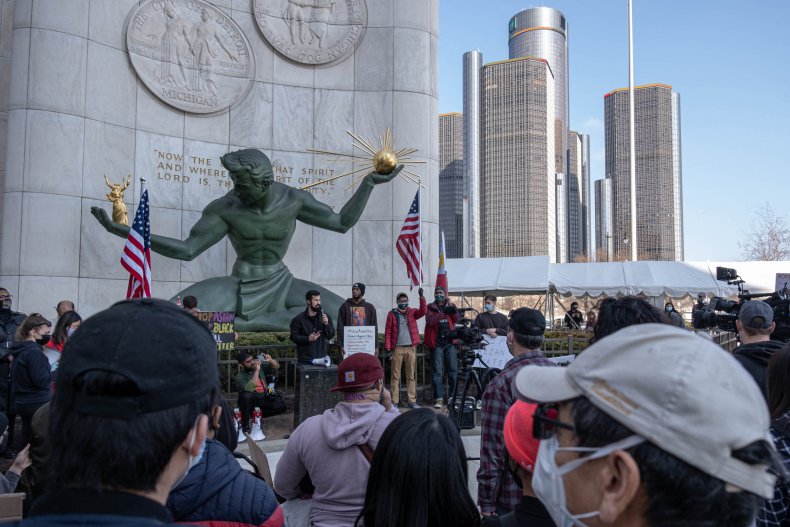 Newsweek reached out to the Detroit Police Department for comment and was told that a press conference would be held later in the day.
The incident was one of several shootings in Detroit on Sunday night, some of which resulted in fatalities, according to another report from WDIV. All but one of these shootings occurred on the West Side. On Chopin Street, a man in his 30s was shot and later died from his injuries in an incident authorities believe began in a bar. Elsewhere, around midnight on Longacre Street a shooting erupted following an argument. A woman nearby was reportedly struck by a bullet during this incident, police said.
Another incident involved a shooter knocking on a door and shooting a 28-year-old who answered the door. The victim is said to be in critical condition. On the city's East Side, at around 1:10 a.m., two men were in critical condition after a car rolled up next to them while they were sitting in their vehicles and opened fire.
Updated 2:40 p.m. This story was updated with the correct model for a vehicle that was seen speeding away from the area of the shooting, as well as a police comment about an upcoming press conference on the incident.