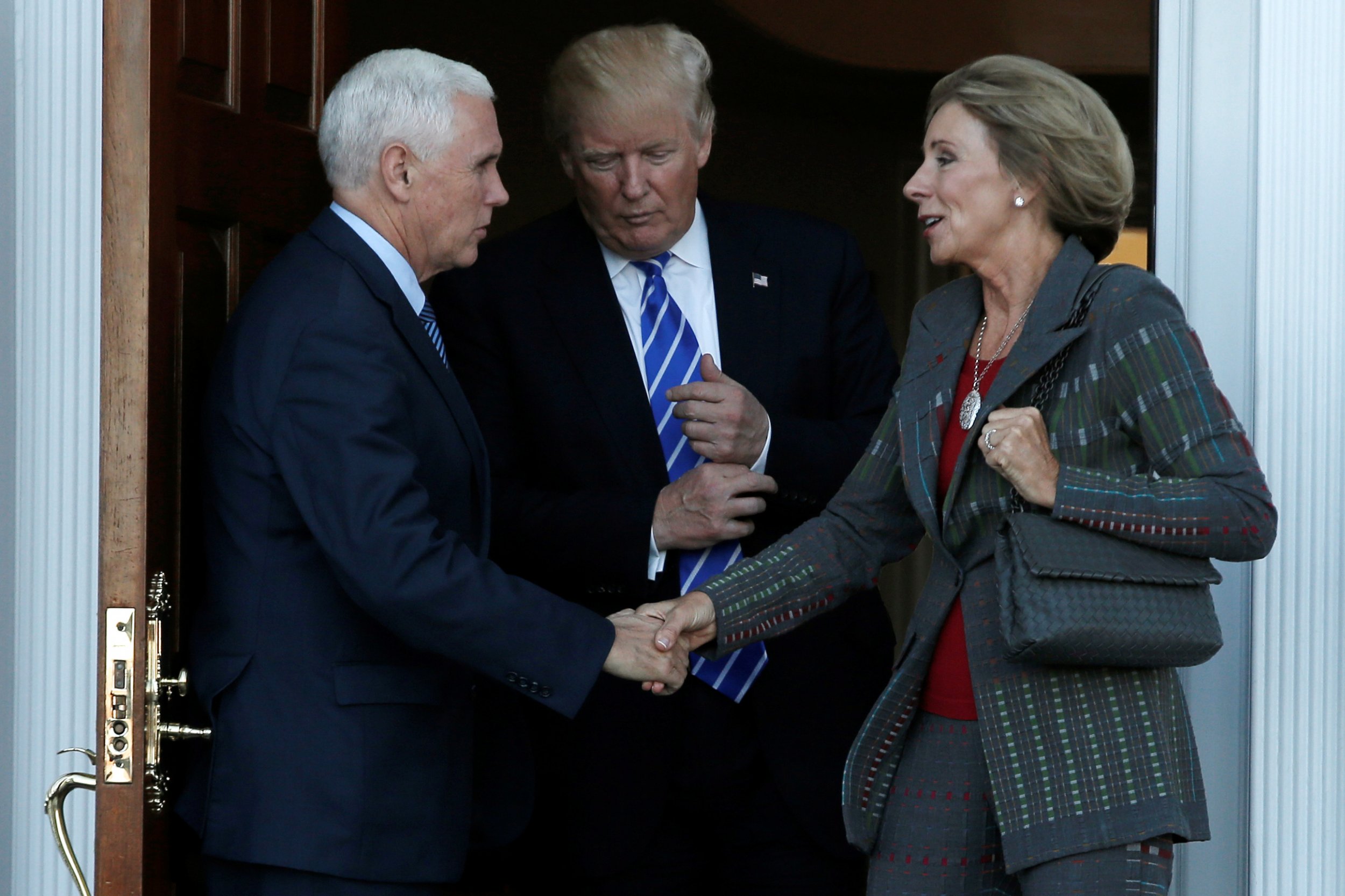 This article first appeared on The Daily Signal.
President-elect Donald Trump has selected billionaire philanthropist Betsy DeVos, a relatively unknown figure on the national scene, to head the U.S. Department of Education.
"Betsy DeVos is a brilliant and passionate education advocate," Trump said in a press release. "Under her leadership we will reform the U.S. education system and break the bureaucracy that is holding our children back so that we can deliver world-class education and school choice to all families."
Although she has little name recognition, DeVos is well known in the education world, having donated and served on the board for a number of school choice nonprofits.
"I am honored to accept this responsibility to work with the president-elect on his vision to make American education great again," DeVos said in a statement. "The status quo in education is not acceptable. Together, we can work to make transformational change that ensures every student in America has the opportunity to fulfill his or her highest potential."
Related: Trump transition: Betsy DeVos tapped for education
DeVos is a relatively safe pick for conservatives who favor school choice programs such as vouchers that would enable low-income families to send their children to a private school of their choice. However, she is a polarizing figure for those who support the traditional public school system.
Here are seven things to know about Trump's pick for education secretary:
1. She does not support Common Core, "period."
Upon accepting the position of education secretary, DeVos issued a statement clarifying that she is not a supporter of Common Core, "period."
Trump's disdain for the national standards was perhaps the most talked-about education policy issue on the campaign trail, and DeVos's opinion on the issue was previously unclear.
DeVos currently serves as head of the Foundation for Excellence in Education, which was started by former Florida Governor Jeb Bush, whom Trump criticized for defending the national standards.
In recent years, DeVos had been quiet on the issue of Common Core, but upon accepting the position in the Trump administration, she changed that, writing:
I do support high standards, strong accountability, and local control. When governors such as John Engler, Mike Huckabee, and Mike Pence were driving the conversation on voluntary high standards driven by local voices, it all made sense.

Have organizations that I have been a part of supported Common Core? Of course. But that's not my position. Sometimes it's not just students who need to do their homework.

However, along the way, it got turned into a federalized boondoggle.

Above all, I believe every child, no matter their ZIP code or their parents' jobs, deserves access to a quality education.
2. She strongly supports school vouchers.
DeVos believes that every child should have the opportunity for a "top-notch education," regardless of a family's financial background.
For that reason, she and her husband advocated a ballot proposal in 2000 that would have amended the Michigan Constitution to create a school voucher program that allows taxpayer funds to follow students to private schools. After hitting a roadblock, she and her husband formed a political action committee to support voucher-friendly candidates on the national level.
According to Chalkbeat, "the group counted a 121-60 win-loss record." Since then, DeVos has played a major role in expanding the number of school choice programs available to students across the country.
3. She also supports charter schools.
DeVos and her husband have been actively involved in promoting charter schools for more than two decades and helped to pass Michigan's first charter school law.
Charter schools are publicly funded and open to all students but able to operate with more autonomy than traditional public schools.
There are currently 275 charter schools in Michigan, according to the American Federation for Children, some of which have been criticized for their lack of accountability and government oversight. Some blame the DeVos family for contributing to that lack of oversight. "The DeVos influence is one reason that Michigan's charter sector is among the least regulated in the country," Chalkbeat reported.
4. She's an outsider in Washington but an insider in Michigan.
Although dealing with the inner workings of Congress will be new to DeVos, she's familiar with the political system, having served as chair of the Michigan Republican Party.
Her husband, Dick DeVos, was elected to the state Board of Education in 1990 and ran for governor of Michigan in 2006, losing to Democrat Jennifer Granholm.
5. She supports homeschooling.
In a 2013 interview with Philanthropy Roundtable, DeVos voiced her support for homeschooling. She said:
Homeschooling represents another perfectly valid educational option. We've seen more and more people opt for homeschooling, including in urban areas. What you're seeing is parents who are fed up with their lack of power to do anything about where their kids are assigned to go to school. To the extent that homeschooling puts parents back in charge of their kids' education, more power to them.
6. She funds a variety of nonprofits.
DeVos and her husband are founders of the Dick and Betsy DeVos Family Foundation, where they support "organizations and programs that focus on community, education, the arts, justice, and leadership." She serves as chairman of the American Federation for Children and the Alliance for School Choice, according to Philanthropy Roundtable.
Some organizations the DeVos family has supported include the Foundation for Excellence in Education, ArtPrize, West Michigan Aviation Academy, the Kennedy Center for the Performing Arts, American Enterprise Institute, Mars Hill Bible Church and the Heritage Foundation, which is the parent organization of The Daily Signal.
DeVos is the daughter of Edgar and Elsa Prince. Her father was an extremely successful engineer, developer and industrialist who founded Prince Corp. DeVos's in-laws, Richard and Helen DeVos, are longtime personal supporters of the Heritage Foundation.
Richard DeVos is the co-founder of Amway, which is now one of the largest and most successful companies in the world. In recognition of the family's support, the Heritage Foundation named the DeVos Center for Religion and Civil Society in their honor. Through their family foundation, Betsy and her husband have continued the family's support of the Heritage Foundation over the last decade.
7. She chose to send her children to private Christian schools.
Growing up, DeVos attended Holland Christian High School in Michigan and graduated from Calvin College in Grand Rapids, where she earned a bachelor's degree in business administration and political science. She also chose to send her children to private Christian schools, according to Chalkbeat.
Kelsey Harkness is a senior news producer at The Daily Signal.
Read more from Newsweek.com:
- Trump said he loves the "poorly educated"; here's why they love him back
- How do undocumented students enroll in higher education?