Seven Workers at Ramen Noodle Factory in Virginia Test Positive for Coronavirus—But It's Still Open
A ramen noodle factory in Virginia is still open despite several workers testing positive for coronavirus.
Seven workers at the Maruchan Virginia Inc. factory in Chesterfield County are quarantining in their homes after they were confirmed to have contracted the virus, WRIC reported.
A company spokesperson told the station that a deep cleaning based on guidelines from the U.S. Centers for Disease Control and Prevention (CDC) was carried out after the cases were discovered at the factory.
The spokesperson added that the company "will continue to enforce safety and sanitization precautions above and beyond what has been outlined by the CDC and the health department, and, as of now the plant is in operation."
"We are grateful to our associates for all that they are doing to ensure our products are available for families during the unprecedented time," the spokesperson added.
The company—a subsidiary of Tokyo-based Toyo Suisan Kaisha Ltd.—added that it would continue to work with the CDC "to ensure the safety and health of our associates and community, as well as the safety of our products." Maruchan Virginia Inc. has been contacted for additional comment.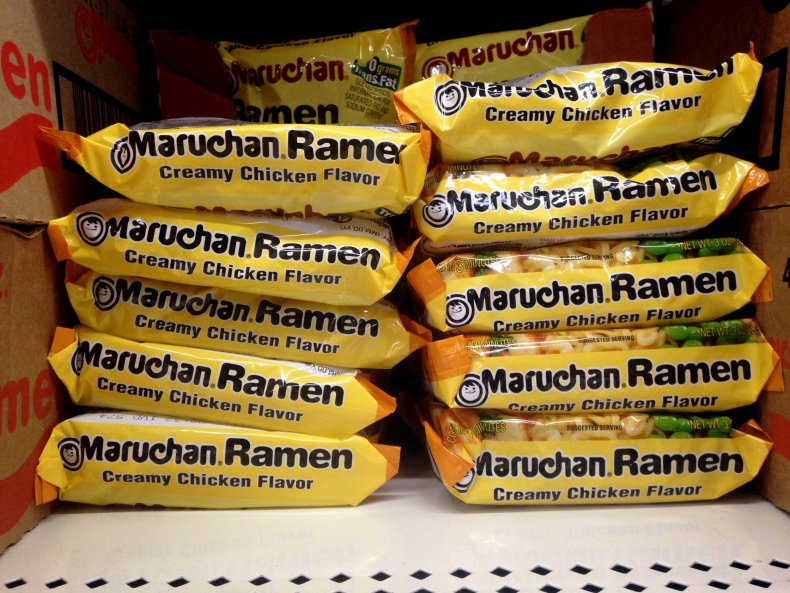 According to a report by Bloomberg last month, sales of ramen skyrocketed in recent months as consumers stocked up non-perishable foods amid fears over the spread of coronavirus in the U.S.
Walmart said online sales of ramen rose by 578 percent between February 23 and March 21—while stores also saw a 17 percent uptick in sales in March compared to that period last year.
News of the outbreak at the Maruchan factory comes after Virginia Gov. Ralph Northam this week delayed the first phase of reopening for northern parts of the state, saying it was "too soon" to start easing restrictions.
His office cited data in a news release on Tuesday, saying it showed the region has "substantially" more confirmed coronavirus cases than the rest of the state.
"While the data show Virginia as a whole is ready to slowly and deliberately ease some restrictions, it is too soon for Northern Virginia," said Northam, a Democrat.
The rest of the state will be able to enter the first phase of Northam's reopening plan, which permits some businesses to operate at limited capacity, on Friday.
Virginia has more than 26,000 confirmed cases of COVID-19, the disease caused by the novel coronavirus, and 927 deaths, according to the latest figures from the Virginia Department of Health.
This infographic, provided by Statista, shows the number of confirmed COVID-19 cases across the U.S. as of May 13.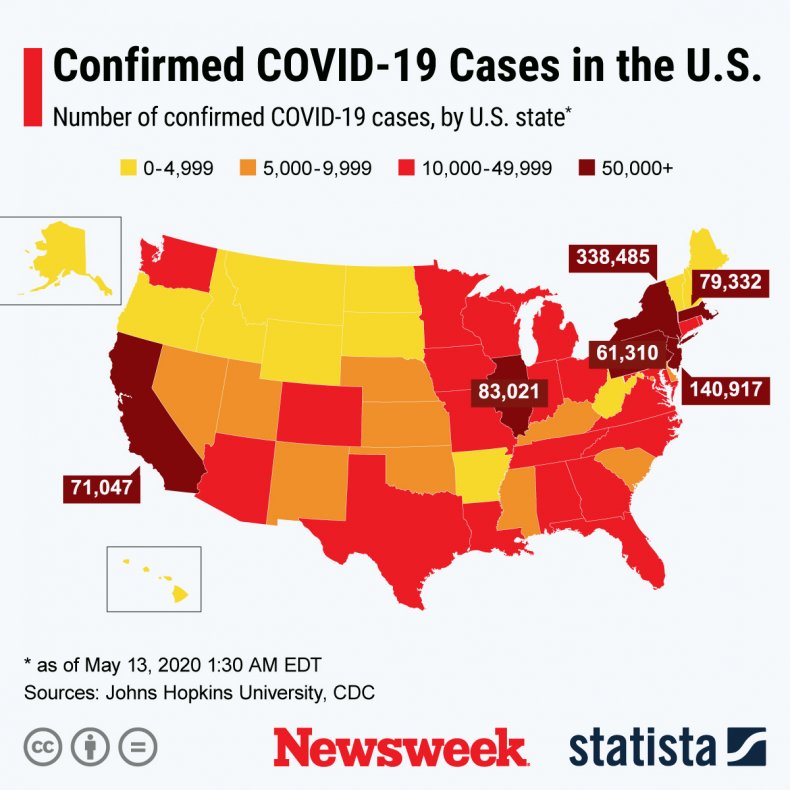 This article has been updated to include an infographic.