Three deputies and a suspect were hospitalized after a gas pump caught on fire during an arrest Sunday night.
Authorities received a report that a group of motorcyclists was "acting unruly" while pointing guns at people near Orlando, Florida, the Osceola County Sheriff's Office said in a statement to Newsweek Monday morning. The authorities tried to pull over one of the suspects, but he allegedly fled, according to the statement.
Law enforcement later found out that the suspect—identified as 26-year-old John Beretta—stopped at a Wawa gas station along Central Florida Parkway to fill up his motorcycle, local news station WKMG-TV reported. Deputies went to the scene to arrest him. But during the attempted arrest, a gas pump caught on fire.
Three deputies from Osceola County as well as Beretta suffered burns. Two of the deputies have since been discharged from the hospital, but the condition of the third and Beretta was not disclosed. The three deputies have been identified as David Crawford, Christopher Koffinas and Ben Maclean, according to WKMG.
Demetrius Stanley, a witness who was at the gas station with his family at the time of the incident, told the news station the situation happened "so fast." He said when police arrived, they instructed Beretta to get on the ground and he then allegedly heard a taser go off.
"All of a sudden, we saw a big flame going in the air," Stanley said.
Osceola County Sheriff Marcos Lopez told WKMG that authorities are still investigating what caused the pump to catch on fire but did not say if the taser played a role.
The arrest drew a response from deputies from both Osceola and Orange counties. The Wawa gas station is located at the intersection of Central Florida Parkway and S John Young Parkway, south of Orlando.
A sheriff's office spokesperson told Newsweek that more information would be released later Monday.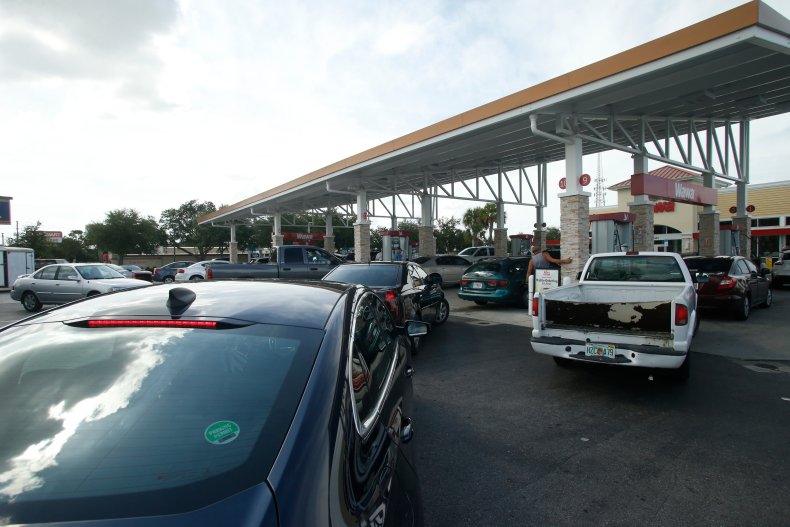 The incident is the latest in which law enforcement officers were injured while on the job, whether a suspect specifically targeted them or not.
Last week, a Taylor County deputy was shot several times during an encounter in Salem in northern Florida. The unidentified deputy was airlifted to a hospital, while the suspect was killed.
In Southern California, a police officer died, while another was injured, after a helicopter they were traveling in crashed in Orange County. The officer who died, 44-year-old Nicholas Vella, was described as "truly dedicated to his job."
Five police officers were shot at, with four suffering injuries, in Phoenix, Arizona earlier in February after they responded to a report of a shooting and attempted to rescue an infant on the scene.