'Several' Republicans Back $1Tn for Infrastructure and 'Some' Tax Increases, Senator Coons Says
Senator Chris Coons, a Delaware Democrat, said that he has spoken to "several" Republican lawmakers who have expressed willingness to support a somewhat smaller infrastructure package than President Joe Biden has proposed, as well as "some" tax increases.
Last week, Biden unveiled his $2 trillion infrastructure package, which aims to upgrade the nation's crumbling roads and bridges as well as expand public transportation and broadband internet access, among other priorities. The president has proposed raising the top corporate tax rate from its current 21 percent to 28 percent and eliminating tax breaks for the fossil fuel industry, which the White House says would pay for the package over the next 15 years.
Top Republicans have criticized the proposal, taking issue with the tax hike and the high price tag. But Coons told Punchbowl News in a Wednesday pop-up virtual event that he's spoken with GOP lawmakers who are open to compromise.
"Without getting into the details of any particular conversation, several fairly seasoned senior Republicans have surprised me by saying they'd be willing to vote for something up to a trillion dollars, and they're willing to raise some taxes to pay for it," Coons explained. However, he noted that it will be a challenge to determine which taxes can be raised for a successful compromise.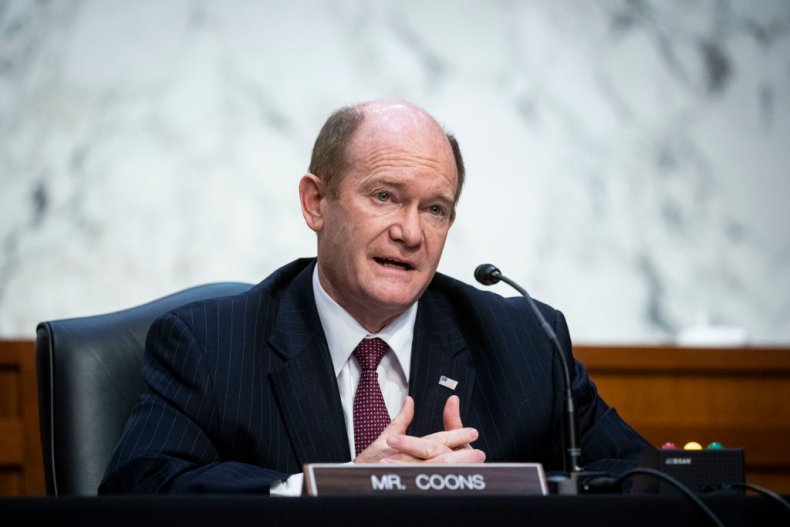 "There are some Republicans saying they're willing to raise the gas tax, willing to impose a new—what's called a vehicle miles traveled fee for road infrastructure, as long as this is dedicated to improving road infrastructure on electric vehicles," Coons said. However, he pointed out that there is resistance to repealing the 2017 tax cuts pushed through Congress by Republicans and former President Donald Trump.
The White House has emphasized that it is more than willing to hear alternative proposals on how to pay for the massive infrastructure package. At the same time, the administration has stressed the necessity of doing something major to address the nation's infrastructure needs while warning of a growing threat from China. The administration contends that the U.S. must ramp up its infrastructure and increase its productivity and innovation to maintain its global advantage.
In early March, the American Society of Civil Engineers (ASCE) released its 2021 Report Card, giving U.S. infrastructure a C-. Although this was a slight improvement from the D+ the organization gave the nation's infrastructure back in 2017, the engineers said there is still substantial need for significant improvements and investment.
"ASCE fully supports efforts from the administration and Congress to develop a comprehensive infrastructure package and believes it needs to be a central component of our nation's economic recovery. The fact is that American families are already paying a hidden price when roads and bridges require detours, a water main breaks or a power outage turns off the heat," Emily Feenstra, ASCE's director of government relations and infrastructure initiatives, told Newsweek last month.
"The longer we wait to address our current maintenance backlog, the more the funding gap will increase, costing American households $3,300 per year due to faulty infrastructure and drastically impacting businesses and the American GDP," Feenstra warned.
Polling published Wednesday by Morning Consult and Politico showed that nearly two-thirds (65 percent) of Americans support Biden's plan to raise corporate taxes to fund the infrastructure package. By comparison, just 21 percent said they somewhat or strongly opposed the idea. Among Republican voters, 42 percent supported the tax hike proposal, while 47 percent were against it.
Newsweek reached out to the White House for comment but did not immediately receive a response.