Several Sailors Injured Following Ship Fire at San Diego Naval Base
More than a dozen U.S. Navy personnel were injured during a fire that broke out aboard the USS Bonhomme Richard at Naval Base San Diego on Sunday morning.
The San Diego Fire-Rescue Department (SDFD) responded to the incident around 9 a.m. PT, alongside officers dispatched from partner agency Federal Fire. Four hours later, the three-alarm fire had not been extinguished.
SDFD Chief Colin Stowell warned the flames could continue to burn "for days," according to reporters at the scene.
Approximately 160 sailors were aboard the Bonhomme Richard when Sunday's fire broke out, according to the Twitter account associated with U.S. Naval Surface Forces' Pacific Fleet. Seventeen sailors and four civilians incurred non-life threatening injuries and were transferred to a local hospital for treatment, according to the Naval Surface Forces.
The Bonhomme Richard, classified as an amphibious assault ship by the U.S. Navy, typically houses a crew comprised of about 1,000 people. Fewer personnel were on board Sunday because the ship was undergoing a maintenance availability.
The Naval Surface Forces confirmed all 160 members of the Bonhomme Richard's current crew were evacuated from the ship in an earlier tweet.
The SDFD has shared updates about the fire's status as well as information about related injuries to Twitter over the past several hours. A video included in one of the SDFD's initial tweets showed smoke covering the San Diego pier where the naval ship is docked. The department cited an explosion as cause for the fire.
Later, San Diego County Fires said the flames sparked "due to the fuel catching fire" on board, which incited the original explosion. On Twitter, SD County Fires noted that neighboring naval ship, the USS Fitzgerald, was "threatened" as a result of the ongoing fire aboard Bonhomme Richard. The Fitzgerald was relocated away from its docked position shortly after.
Photos and videos shared to social media around 1 p.m. PT showed the extent of the fire's damage. Clouds of smoke billowing up from the ship and traveling across the San Diego shoreline were captured vividly by aerial camera footage despite a considerable distance between the flames and SDFD helicopter that recorded the video.
Newsweek reached out to the SDFD and the USS Bonhomme Richard's public affairs officer for additional comments, but did not receive replies in time for publication.
Updated 7:23 PM ET, with the latest number of those injured.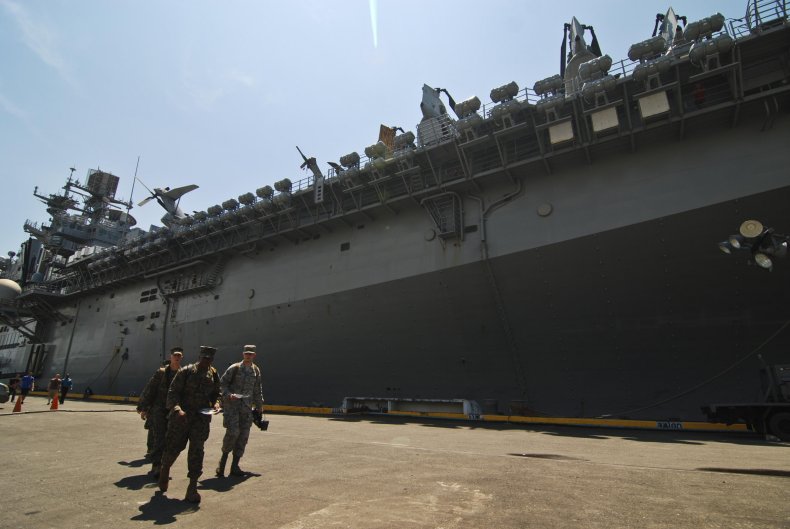 Several Sailors Injured Following Ship Fire at San Diego Naval Base | U.S.