Several States Quietly Teamed Up With the FBI to Stop 'Violent Agitators' From 'Hijacking' George Floyd Protests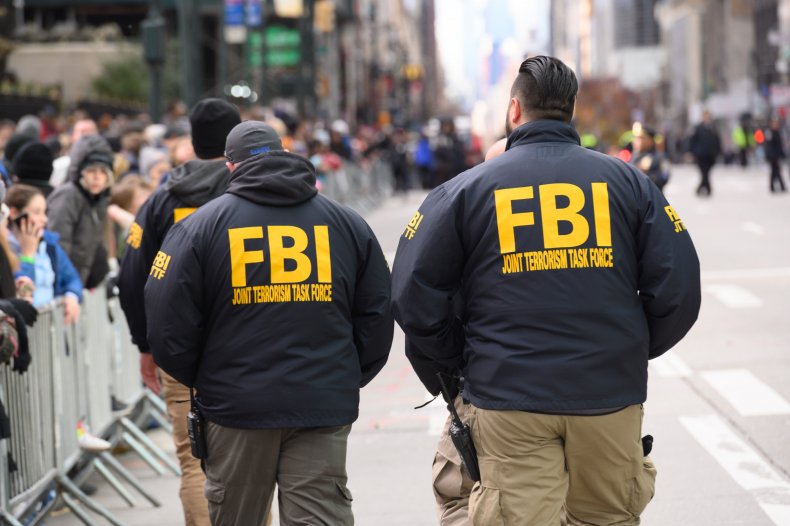 As anti-police brutality protests swept the country during the past two weeks, several states were teaming up quietly with the Federal Bureau of Investigation, the Department of Justice, U.S. attorneys and other federal agencies in efforts described in news releases and addresses to local officials as attempting to keep things civil.
Newsweek's review of information about such law enforcement work showed that while crowds took to the streets to protest the death of George Floyd, an unarmed black man in Minneapolis, a tightly coordinated federal and state effort based around the FBI's existing 200 Joint Terrorism Task Forces spread across the country.
The task forces are multi-agency partnerships—many formed decades ago—charged with investigating extremists' threats and terrorist plots. The task force system has faced scrutiny from the American Civil Liberties Union, who has questioned its surveillance targets and claimed that it lacks transparency. The ACLU of Oregon referred to the task force system as a "dragnet surveillance and spy program" in a news release last year, and the Portland City Council subsequently voted to withdraw from the Joint Terrorism Task Force there.
No such criticism has emerged in the protest response so far. But FBI Director Christopher Wray told reporters last week that the goal of involving the task forces has been "apprehending and charging violent agitators who are hijacking peaceful protests."
"The relationships we've built with our law enforcement and community partners are more important now than ever," he said.
The FBI released a bulletin online last week urging people to submit tips, photos and videos of "actors who are actively instigating violence in the wake of Mr. George Floyd's death."
Deputy Attorney General Jeffrey Rosen last week also told more than 2,000 state and local officials on a conference call that the task forces had been activated to coordinate federal and local efforts through the FBI's 56 field offices. The field offices have been operating 24/7, serving as hubs for intelligence sharing.
DOJ has assisted by surging federal law enforcement resources to specific locations to aid state and local law enforcement with quelling unrest and maintaining order, Rosen said on the call, based on a transcript provided by the Department of Justice on its website.
"JTTFs are well-suited to this task, because they are already existing coordination organizations that combine intelligence and operational resources and combine both federal and local law enforcement," he said. "It is a convenient and effective mechanism that has already proven effective in other contexts."
Rosen also noted in the call that "in some locations, including Washington DC" the Department of Justice deputized members of federal agencies so they could imbed with local authorities. He didn't elaborate on what other locations were included.
"We have deployed United States Marshals, FBI agents, Bureau of Prisons officers, as well as Drug Enforcement Administration agents, and agents from the Bureau of Alcohol, Tobacco, Firearms and Explosives," Rosen told the local leaders. "We are drawing on all available resources and supplies to help cities protect lives and prevent violence."
U.S. attorneys in states also were part of the coordinated efforts, Rosen said, "keeping DOJ plugged into what is happening on the ground in our nation's cities."
The FBI and DOJ didn't respond to Newsweek's request for further comment.
The effort came as President Donald Trump lambasted states for not seeking more federal assistance to quickly quash the unrest.
"If you don't dominate, you're wasting your time. They're going to run all over you, you'll look like a bunch of jerks," Trump told governors during a call June 1, as he repeatedly pressed them to lean on the National Guard for assistance to stop looting and other violence.
And during the call with local leaders, Rosen spoke of the need for a surge in law enforcement amid unrest.
"One of the points that (U.S. Attorney General William Barr) made about this in the president's call with governors was that, in order to both provide protection of facilities and people during a protest and still have police officers available to pursue those who commit criminal acts, it can be very important to have a large enough presence of law enforcement personnel," he said. "This is obviously an important issue for mayors and governors to consider."
In a May 31 statement, Barr offered federal law enforcement resources to assist state and local leaders "to identify criminal organizers and instigators" and apprehend and charge those in violation of federal law. He also made the same offer directly to governors during the conference call the following day.
"Federal law enforcement actions will be directed at apprehending and charging the violent radical agitators who have hijacked peaceful protest and are engaged in violations of federal law," Barr said in the statement. "The violence instigated and carried out by Antifa and other similar groups in connection with the rioting is domestic terrorism and will be treated accordingly."
It's unclear whether any state actively opposed the federal assistance or declined. Some federal and local authorities, however, later released minimal details about the partnerships through news releases.
"It is important to know that we have the support of our federal partners in times like these," Charleston, South Carolina Police Department Chief of Police Luther T. Reynolds said in a statement. "With the help of the U.S. Attorney's Office, and other federal resources, we are able to achieve the goal of keeping the City of Charleston safe."
Some officials heaped praise on the coordinated effort and even compared it to measures taken during the Civil Rights movement.
U.S. Marshal Gary G. Schofield, a Trump appointee based in Nevada, likened the response to the recent protests to efforts taken to quell riots that broke out during the enrollment of the first black student at the University of Mississippi in 1962. Teams of Marshals provided protective duty to James Meredith for 24 hours a day that year.
"We have provided security to enforce federal laws and orders related to civil rights throughout our country's history," Schofield told Newsweek in a statement.
The federal agencies haven't released comprehensive totals of the results of the coordinated efforts so far. The FBI and DOJ have publicized some specific protest-related arrests based on the work of Joint Terrorism Task Forces.
In one news release, United States Attorney Maria Chapa Lopez of Florida credited "cooperation and expertise of our local, state and federal partners" in the arrest of 27-year-old Jacksonville man who was allegedly discovered in possession of a Molotov cocktail during a protest over Floyd's death.
The Joint Terrorism Task Force in Las Vegas was credited with the investigation that led to charges for three alleged members of the extremist "Boogaloo" movement accused of plotting to incite violence during protests.
"This type of planning and intent on causing mayhem is terroristic and will not be tolerated," Clark County District Attorney Steve Wolfson said in a statement. "Thankfully, the Joint Terrorism Task Force is able to identify and stop such actions."