Ben Stiller and 'Severance' Cast Take the Importance of Work/Life Balance to the Extreme
Anyone who struggles to separate their home and work life will instantly be intrigued by the premise of Severance but the concept comes with a warning.
The fictional Lumon Industries has found a solution which forms the premise of Severance, and it sounds like a win-win on paper. By tampering with the brains of workers, corporations can get employees that aren't distracted by thoughts of their personal lives, while outside of the office, employees won't be bogged down with deadlines and work woes.
The idea for Severance was dreamed up by first-time writer Dan Erickson, while Ben Stiller and Aoife McArdle share directing duties across the nine episode-arc. Stiller, and the cast of Severance (Adam Scott, Britt Lower, Patricia Arquette, John Turturro, Zach Cherry and Tramell Tillman) spoke to Newsweek about their new show, which starts on Friday, February 18, on Apple TV+.
Ben Stiller, a "Serious" Director
"What is it to sever yourself?" Stiller told Newsweek when pondering what it was that fascinated him the most about the story. "The idea of cutting off your memories and emotions and living outside of yourself when you're at work."
TV show The Office and movie Office Space are "progenitors" to Severance according to Stiller, who also executive produced the series as well as directed six out of the nine episodes. He acknowledges that the looming presence of Lumon Industries is also drawn from real world comparisons.
"It obviously mirrors some of the giant mega corporations, like Apple or Disney, that are out there, that are swallowing everything up in our world and how you exist within these big corporations as an individual," he said.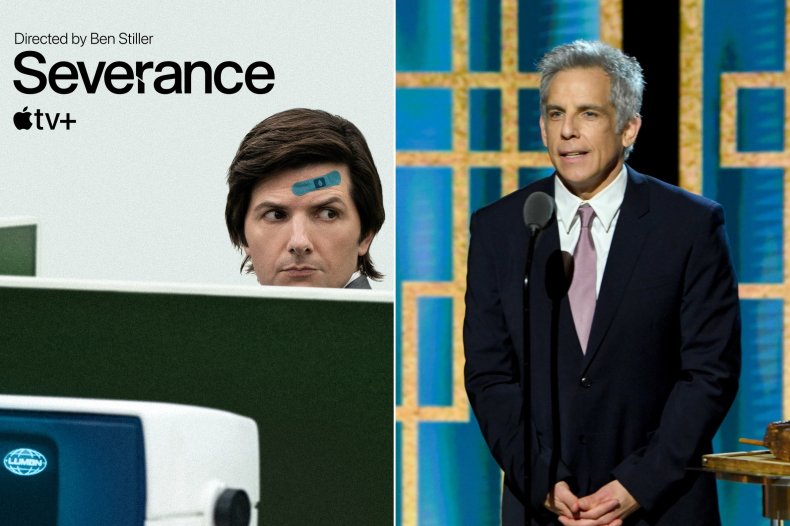 Stiller is a name known to many for his roles in absurdist comedies like Zoolander, Dodgeball and Tropic Thunder, but he's also a very serious director according to one of his actors in Severance.
"He's a very serious guy," Turturro tells Newsweek. "Really hard-working, really detailed, really specific, and he doesn't joke around a lot.
"I mean, once in a while he does, but he really helped develop the whole piece and he was really committed in every department, so no, that [Ben Stiller the director] is a completely different person."
Casting Adam Scott
As soon as Stiller was hooked on the Severance script written by Erikson, he knew who he wanted to play the lead role of unwitting Lumon employee Mark.
"I flipped out over the script and [Adam Scott] was the first person I thought of, so I just gave him a call," Stiller said.
"It's so weird because I was such a big fan of Ben's," Scott told Newsweek. "Me and all my stoner buddies every Sunday night would watch The Ben Stiller Show on Fox, and I was like, 'this is my guy.'"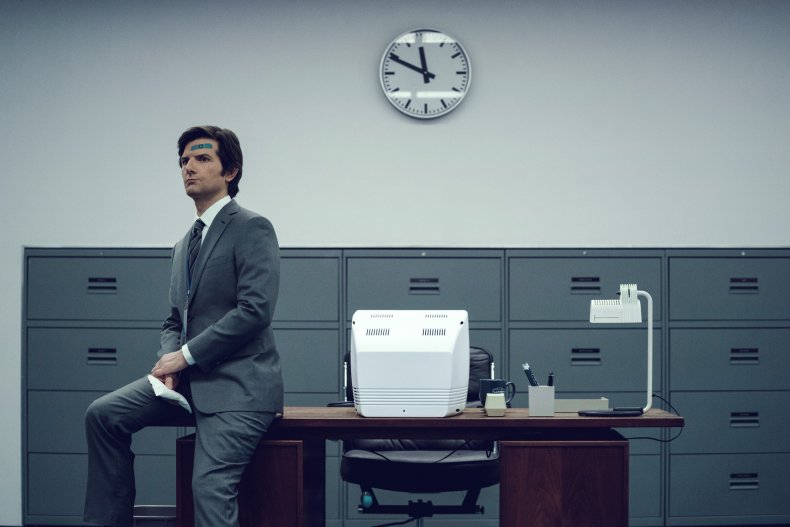 Scott had already achieved his stoner dream of working with Stiller in 2013's The Secret Life of Walter Mitty and it gave him enough information to know that he wanted to work with him again.
"He called me with this show and just the idea hooked me in right away, because it sounds exactly like the kind of show I would want to watch, so I was in from the start," Scott said.
Struggling With the Work/Life Balance
At its core, Severance is a mystery-thriller with many layers that get peeled back across its nine-episode run, but its premise is one that we all reevaluate now and then: How is your work/life balance?
Because of the COVID-19 pandemic, Oscar-winner Patricia Arquette admits it felt hard to switch off while shooting Severance. "I felt like I never really left this job," she told Newsweek.
"We had to take off our masks to work," Arquette continued, "that felt incredibly dangerous and scary. Then there were so many shutdowns and close contact things, so I kind of always felt this pressure and honestly it was kind of driving me crazy because I never felt like I could really not have pressure on during most of this shooting, so it was super weird. Honestly."
Arquette plays the formidable Harmony Cobel, a Lumon executive who rules Mark's department with stern authority. Her right-hand man, Milchick, is played by the comparative newcomer Tramell Tillman who shows tremendous range through Severance, but maintains an underpin of creepiness throughout.
He worked closely with Arquette and told Newsweek how he didn't let the opportunity to learn pass him by. "It was such a delight to be able to watch her and to listen. Some of my favorite moments were where I didn't have lines, and I was just sitting and watching her," Tillman said.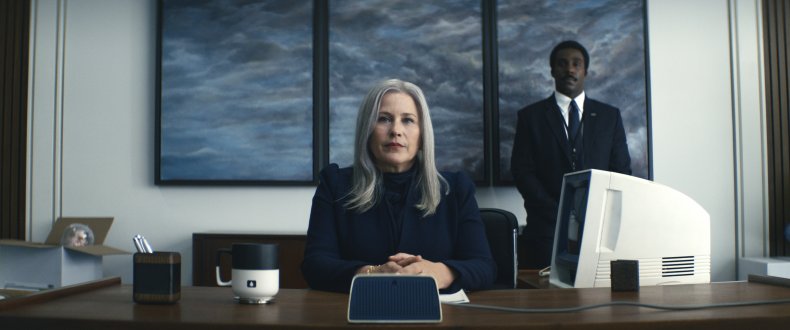 Arquette likewise praised Tillman's performance. "Tramell has so many incredible talents as an actor." She said, "I think our characters; we came up in this corporation, we really believe in this corporation. That's where our loyalty lies at the end of the day—with this corporation.
"But my character does go a little, but outside of the company walls… That's all I'll say." Arquette mused.
Recognizable Office Characters
Although Lumon features an unusual workplace, with bland colors and dated technology, there's still plenty of office space clichés featured within.
Some of those are best represented by the workers sharing Mark's cubicle space. The funny guy of the office is played by comedian Zach Cherry who combined his own background as a comedian with the character from the script. "I think a lot of his humor was there. We kind of discovered as we did it, then some of that is kind of just how I am."
The office rebel is seen in the form of the newcomer Helly, played by Britt Lower. "The attributes I admire so much in her, how fierce she is, how active, dynamic, unapologetically honest, she doesn't care what people think about her." Lower said, "It was super refreshing to step into her shoes."
The stickler for the rules is Irving. Played by John Turturro, Irving follows Lumon's rules by the book, until a chance meeting with a worker from another department changes his outlook. This new colleague, Burt, is played by Christopher Walken and Turturro reveals how he convinced his long-time friend to join the Severance cast.
"I just knew that if I was going to have a strong connection with someone then it would be great to have it with someone I knew that I could play with, and who I cared about, and that I enjoy." That is why Turturro, who had previously acted with and directed Walken simply sent him a text to sign him up.
Turturro says he and Walken never discussed a scene before shooting it —they'd simply play around and hope to find the right take. "Chris, is still able to play like a little child. He's still able to do that. And I think that's really rare. And I love doing that with him," Turturro told Newsweek.
Episodes 1 and 2 of Severance will drop on Apple TV+ on Friday, February 18, 2022. New episodes drop every Friday on the streaming service.