Thanksgiving Travel Forecast 2019: Winter Storm Could Cause Severe Disruption for 55 Million People Across Central U.S.
A major winter storm is forecast for the Central U.S. region, including Chicago, Detroit, St. Louis, Minneapolis and the Great Lakes area, with the potential to spread further south and east, causing travel chaos on the busiest day of the year for Thanksgiving holiday commuters.
The currently developing storm is expected to bring heavy snow to parts of the Desert Southwest, Great Basin, Southern and Central Rockies, as well as heavy rainfall to the south-central part of the country this week through Saturday, according to the National Weather Service Weather Prediction Centre (NWS WPC).
"To the north, an area of low pressure lifting to the northeast through the Great Lakes region Thursday [this week] will drag a cold front with it through the Northeast on Friday and offshore by late Friday night/early Saturday [this weekend]," the NWS WPC warned.
"Snow, which at times may be heavy, will move across the Upper Mississippi Valley in through the Upper Great Lakes region. Generally, amounts are expected to be light across the Northeast," it added.
The approaching storm system is predicted to bring heavy snow to the area spanning from Denver to Minneapolis. It may reach its full potential by Wednesday evening and "take a northward track toward the Great Lakes, heavy, windswept snow would fall just northwest of the storm's center with heavy rain and perhaps severe thunderstorms to its south and east," according to AccuWeather meteorologist Courtney Travis.
Several parts of the Midwest and Central states, including Chicago, Detroit, St. Louis, Minneapolis and Pittsburgh, are expected to face heavy snow, low visibility and thunderstorms on Tuesday and Wednesday, which may lead to major travel disruption including flight delays and cancellations, affecting travel across the country, AccuWeather report.
"Depending on how quickly this storm system strengthens, we could be contending with severe thunderstorms from Arkansas and Louisiana through southern Indiana and western portions of Kentucky and Tennessee," AccuWeather senior meteorologist Randy Adkins noted.
Heavy snow, colder air and slippery roads are expected to affect the southern and eastern regions along the Interstate 70, 80 and 90 corridors and reach parts of the Ohio Valley, eastern Great Lakes and the central and northern Appalachians on Wednesday, AccuWeather predicted.
But should the storm be much weaker, it is likely to move much further east at a rapid pace, Adkins added.
"In this faster, weaker scenario, there is a chance the storm turns far enough to the east to allow some snow and/or a freeze-up in parts of Indiana, Ohio and western Pennsylvania late Wednesday and Wednesday night," AccuWeather meteorologist Max Gawryla notes.
A large portion of the West, including California, is also forecast to be hit by a strong storm pushing in from the Pacific Ocean by the middle of next week, with snow and slippery roads likely to cause travel disruptions on major highways such as along the I-80 and possibly the I-5, according to AccuWeather.
More than 55 million commuters are expected to travel for Thanksgiving this year—1.6 million more than last year—including 49.3 million by car, 4.45 million by plane and 1.49 million by train, bus or cruise ship, according to a report by INRIX, a global transportation analytics company.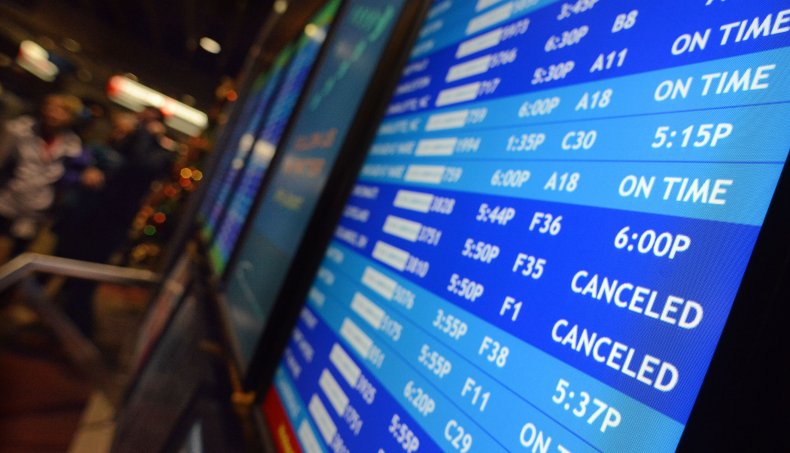 Wednesday afternoon is expected to be the "the worst travel period nationally, with trips taking as much at four times longer than normal in major metros," INRIX predicts.
"With record levels of travelers, and persistent population growth in the country's major metropolitan areas, drivers must prepare for major delays," said Trevor Reed, transportation analyst at INRIX.
"Although travel times will peak on Wednesday afternoon nationally, travelers should expect much heavier than normal congestion throughout the week," he added. See the table below for more travel delay predictions by INRIX.
| | | |
| --- | --- | --- |
| Metro Area Atlanta | Worst Time (Wed, Nov. 27) 5:30-7:30 PM | Delay Multiplier 3.5x |
| Los Angeles | 5:00-7:00 PM | 3.5x |
| New York | 5:15-7:15 PM | 3.5x |
| Boston | 4:30-6:30 PM | 3.4x |
| Houston | 5:00-7:00 PM | 3.4x |
| San Francisco | 2:00-4:00 PM | 3.2x |
| Washington DC | 3:00-5:00 PM | 2.8x |
| Seattle | 4:00-6:00 PM | 2.7x |
| Detroit | 5:15-7:15 PM | 2.6x |
| Chicago | 4:15-6:15 PM | 2.4x |
Source: INRIX