Severe Weather in the South, Midwest Results in Fatalities and Power Outages
Severe storms consisting of high winds, tornadoes and heavy rain hit the southern and Midwest portions of the United States, leaving at least 11 people dead as of Saturday evening, The Associated Press reported. Meanwhile, hundreds of thousands of people from Texas to Ohio were reportedly left without power--and numerous flights were canceled or delayed at Chicago's O'Hare Airport.
Among the fatalities included police officer Nicholas Reyna and firefighter David Hill in Lubbock, Texas, both of whom were killed in the line of duty after they were struck by a vehicle amid icy conditions, according to officials. Another firefighter injured from that incident was hospitalized in critical condition.
"It is not possible to express the hurt we all feel from the death our own officer, and the death and injuries to our firefighter brothers, and the grief of their families and friends," the Lubbock Police Department wrote in a tweet Saturday:
The city of Lubbock also issued a statement on Twitter related to the incident:
Also in Texas, a person reportedly died Friday evening when a car flipped into a creek amid heavy thunderstorms.
Near Kiowa, Oklahoma, a man identified as Randall Hyatt, 58, drowned after he was caught up in rushing floodwaters and tried to get out of his truck that was stuck, said the Oklahoma Highway Patrol. KTUL reported that Hyatt was found about 100 yards from his vehicle by the Pittsburg County Swift Water Team Saturday morning.
Meanwhile, three fatalities were confirmed in Pickens County, Alabama, al.com reported, by the Pickens County Coroner's Office. Those deaths were attributed to an "embedded tornado within a long line of intense thunderstorms," according to Alabama Emergency Management in a tweet:
On Saturday, firefighters in northwestern Louisiana discovered the bodies of a couple in the vicinity of their demolished trailer, according to the Bossier Parish Sheriff's Office. The couple were later identified by Bossier Parish Coroner's Office.
"Jerry W. Franks, 79, and Mary Sue Franks, 65, were confirmed as the storm victims to the Bossier Sheriff's Office Saturday afternoon. The tornado packing 135 MPH winds traveled over their residence at 438 Davis Road just before 2 a.m.," the Bossier Parish Sheriff's Office posted on Facebook.
"Three pets - two Chihuahuas and a German Shepherd - were initially unaccounted for following the tornado. The German Shepherd was later found alive in the rubble and taken to the vet for some wounds. One of the Chihuahuas was found dead, and family members are searching for the other one as of Saturday afternoon."
Meanwhile, also in Louisiana, a tree fell onto the home of Raymond Holden, 75, crushing him as he was in bed Friday, according to the Caddo Parish Coroner's Office. KTBS reported that Holden later died at a local hospital early Saturday morning. Authorities said Holden's wife was not hurt.
Additionally, Alabama Power tweeted that as of 6 p.m. local time Saturday, there were about 84,000 customers without power as a result of the severe weather, although it said its "crews continue to make progress in returning service to customers."
Memphis Light, Gas and Water Division in Tennessee issued a statement Saturday afternoon, saying that power was restored for 29,000 customers in Memphis and Shelby following the high winds and lightning in the early morning that resulted in 38,000 to lose power.
Other states that reportedly experienced outages included Mississippi, Louisiana, Georgia, Texas and Ohio.
Meanwhile, over 1,100 incoming and outgoing flights at O'Hare Airport in Chicago were canceled, and 300 others were delayed amid strong winds, snow and rain in the city, CNN reported.
"The worst of the wind is over, and wind is expected to slowly diminish into the night. It will take longer for the waves to calm down," said National Weather Service meteorologist Casey Sullivan, as quoted in the Chicago Tribune.
The National Weather Service's Weather Prediction Center said on Saturday that "significant ice accumulations of a quarter to one half inches over Michigan and Northern Maine will lead to treacherous travel conditions, power outages, and tree damage tonight and into Sunday. Some ice accumulations may approach one inch in far northern New York. Gusty winds are anticipated behind the storm which is why wind advisories are issued across a large portion of the eastern U.S."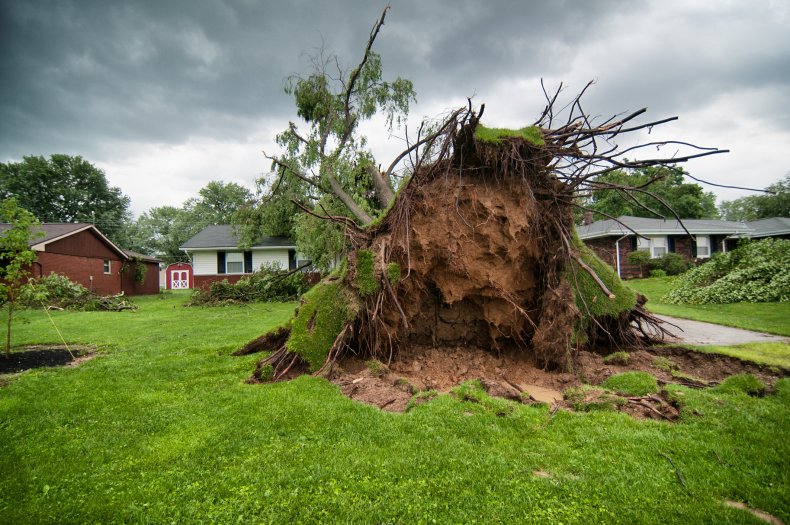 Updated 8:57 PM EST: This story has been updated to include the number fatalities and power outages.