Severe Weather Warning With Thunderstorms, Hail Expected in Oklahoma, Texas, and Arkansas
There is a moderate risk of severe thunderstorms today and throughout the night across parts of Arkansas, Oklahoma and Texas, with the threat of damaging winds, hail and possible tornadoes.
In a tweet, the National Weather Service said: "One of the weather stories for Tuesday will be severe weather across the Plains and Mississippi Valley from an arriving cold front. All possible hazards are expected with these storms from hail to winds to even a few tornadoes."
Severe thunderstorms are expected in parts of Eastern Oklahoma, Northeast Texas, and Far western Arkansas. The Weather Channel says around 42 million people could experience "threats such as thunderstorms, tornadoes, hail, and damaging winds."
Northwestern Oklahoma will experience storms this afternoon, while central and eastern parts of Oklahoma face a risk of severe thunderstorms.
The main threats Oklahoma residents should watch out for are damaging winds of up to 60 to 80 mph, and large hail as big as tennis balls. The probability of severe winds is between 10-15 percent in areas of the state and there is a 30 percent probability of severe hail in central parts of Oklahoma.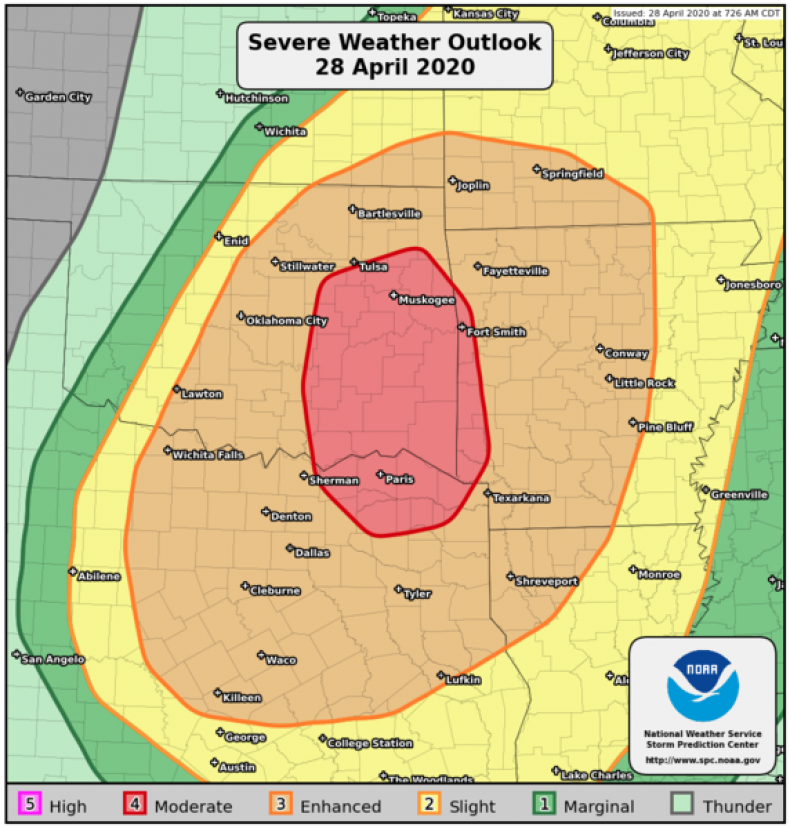 The threat of a tornado is low but an isolated tornado could be possible. The National Weather Service says the probability of a tornado is between 2-5 percent in parts of Oklahoma.
Additionally, there is a chance of scattered flash flooding over parts of the Southern Plains and into the Lower Mississippi Valley.
Parts of Mississippi Valley and the central and southern Plains will experience a severe thunderstorm, with the greatest threat coming from eastern Oklahoma into Arkansas and Texas. There is also the chance of excessive rainfall, with some storms producing 2 inches of rain in 45 minutes.
According to AccuWeather, on Wednesday afternoon and evening the risk of severe storms will extend to southeastern Louisiana and the panhandles of Mississippi, Alabama, and Florida. AccuWeather says: "Those venturing outdoors or staying at home will need to closely monitor the weather situation for the potential for rapidly-changing and dangerous conditions."
Additionally, the National Weather Service states that residents of these areas should: "Review [their] severe weather safety procedures for the possibility of dangerous weather today. Stay tuned to NOAA Weather Radio, weather.gov, or other media for watches and warnings.
"A watch means that conditions are favorable for severe thunderstorms over the next several hours. If a severe thunderstorm warning issued for [their] area, [they should] move to a place of safety, ideally in an interior room on the lowest floor of a sturdy building."