Severe Winter Storm Warnings for California, Minnesota, Dakotas, Nebraska, Colorado—How to Prepare
The National Weather Service has issued warnings for severe winter storms for several parts of the U.S. as many Americans prepare for post holiday travel.
NWS states: "A Winter Storm Watch means heavy snow, strong winds, freezing precipitation, and cold temperatures are possible. Monitor NOAA weather radio, local radio or television, or the Internet for updates on this potentially dangerous storm. Take time to prepare for severe winter conditions before the storm develops."
From this afternoon through this weekend, heavy snow, rain and freezing rain and wind gusts will hit the upper midwest, western states and the east of the country, according to the NWS Weather Prediction Center.
States such as Minnesota, Nebraska, North and South Dakota, Colorado and Kansas will see a storm swing from the southern Rockies, while southern states such as California, Arizona, New Mexico and Utah will see potentially hazardous conditions due to winds and snow.
Urgent winter weather messages have been published by NWS for the midwest this morning detailing expectations of high snow accumulations.
In Arkansas, cities such as Skagway, Haines, Valdez and Thompson Pass and highways such as the Haines Highway and the Klondike Highway, will see "periods of heavy snow" with total accumulations of five to 10 inches from this afternoon until tomorrow morning.
Blizzard conditions are also possible, with northwest winds gusting as high as 45 to 60 miles per hour (mph). NWS also warns that wind chills could go as low as 35 below zero degrees Fahrenheit (F), which could cause frostbite on exposed skin in as little as 10 minutes.
The Dakotas will also be affected by the storm system from tonight through to tomorrow. According to NWS Rapid City, "copious moisture and strong winds" will develop in portions of western South Dakota, with the system strengthening on Sunday, seeing winds increase "significantly" over the plains.
NWS advises that power outages could be possible in these areas. In North Dakota—specifically cities such as Jamestown, Napoleon, Gackle, Lamoure, Edgeley, Kulm, Wishek, Ashley, Oakes, and Ellendale—a watch is in effect from today through to Sunday night. NWS forecasts that total snow accumulations in these areas could reach up to 16 inches, with snow blowing possible with wind gusts as high as 45 mph.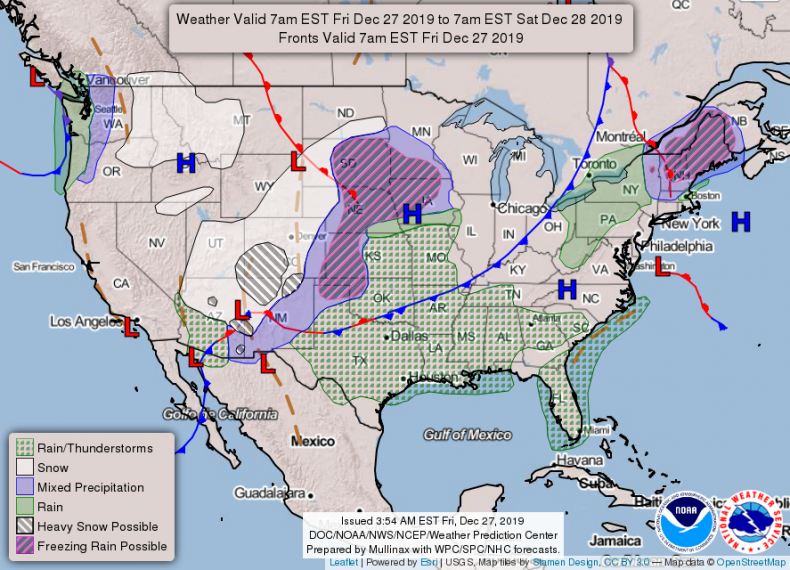 Knox, Cedar, Antelope, Pierce and Boone Counties in Nebraska, will see a mix of precipitation, according to NWS, consisting of rain, freezing rain and snow. Total snow accumulations range between four and seven inches with ice accumulations of one tenth to two tenths of an inch. Residents in these counties need to be prepared for these conditions from this evening through to late tomorrow night.
Minnesota will likely see a strong winter storm this weekend, bringing snow accumulations of six or more inches. According to NWS, a low pressure system in the Central Plains will deepen and lit northeast. However, a prolonged period of wintry precipitation is expected with the system for most of eastern, central and northern Minnesota from this evening into early next Monday morning.
Ice is also predicted, accumlating over a tenth of an inch. According to the NWS, wintry mixed precipitation will be heavy at times and should last into the late afternoon hours on Sunday. Residents of cities including Alexandria, Long Prairie, Little Falls, Morris, Glenwood, St Cloud, Madison, Benson, Montevideo, Willmar and Granite Falls need to keep updated with weather alerts throughout the weekend.
In north central Kansas and central and south central Nebraska, the NWS predicts a "messy mix" of snow and ice for cities such as Phillipsburg, Ord, Greeley, Spalding, Scotia, Wolbach, Fullerton, Genoa, Loup City, Sherman Reservoir and more. According to the alert, heavy mixed precipitation will be possible with total snow accumulations of one to nine inches, and ice accumulations of up to one quarter inch. Sustained winds will average under 15 mph through Saturday morning and will pick up out of the north into Sunday, with gusts as high as 30 to 40 mph.
Denver, Colorado, will see a storm system develop late tonight and into tomorrow with the potential for heavy snow across the plains of the state. According to NWS, the latest information still indicates the heaviest snow potential will be east of Denver and extend northeast into the Nebraska Panhandle. Total snow accumulations of five to eight inches possible, with winds gusting as high as 45 mph.
Other areas where post holiday travel could be hazardous include Niobrara, Goshen and eastern Laramie counties in southeast Wyoming from tonight. Drivers are recommended to keep up to date with weather alerts throughout the weekend.
In California—specifically, the San Bernardino County Mountains, which include the cities of Crestline, Lake Arrowhead, Big Bear City, Big Bear Lake, Running Springs, and Wrightwood—a winter storm warning remains in effect until this morning. Additional snow accumulation of one to three inches is expected, according to NWS, with northeast winds from 20 to 30 mph with gusts to 45 mph on the coastal slopes will create areas of blowing snow.
Arizona also has a storm warning in effect for above 3,500 feet until this morning. Total snow accumulations of 12 to 24 inches above 4,000 feet and six to 12 inches as low as 3,500 feet has been forecast by NWS. Winds gusting to between 20 to 30 mph may result in blowing and drifting snow, affecting the western portion of Joshua Tree National Park.
How to stay safe in winter weather
Understanding what each term means in regards to alerts, can help Americans know how to react. A weather warning indicates that residents need to take action; a watch means people need to prepare themselves and an advisory means people need to be aware.
The types of weather that come with weather messages might be unknown for people, especially those traveling in winter. Here are some more key terms to understand, as defined by NWS:
Freezing Rain: Rain that freezes when it hits the ground, which creates a coating of ice on roads, walkways, trees and power lines
Sleet: Rain that turns to ice pellets before reaching the ground and can also cause moisture on roads, causing them to freeze and become slippery
Wind Chill: A measure of how cold people feel due to the combined effect of wind and cold temperatures based on the Wind Chill Index and advise people about frostbite, hypothermia, helping them keep animals inside and not exposing skin in winter weather
If caught in a winter storm, there are life-saving actions people can take to protect themselves.
If they're outside, they need to find shelter so they can stay dry and cover all exposed body parts. In the event that no shelter is nearby, NWS advises building a lean-to, windbreak or snow cave for protection from the wind. People should also build a fire for heat and to attract attention, placing rocks around the fire to absorb and reflect heat. If people do not have water on them, or run out, they can melt snow for drinking water.
For travelers that have to drive in a snowstorm—it's not recommended—NWS advises to take the following precautions:
Slow down, even if the roads only look wet they could still be slick. According to NWS, over 5,000 fatalities occur on the roadways each year due to weather conditions.
Make sure the vehicle is completely clear of ice or snow before starting the trip—flying snow from cars causes accidents.
Let someone know travel plans so if something happens, this person will know where to start a search.
Don't leave the house without the following: a fully charged mobile phone;, car charger; and an emergency supplies kit in the car.
If a driver has trouble seeing due to weather conditions, pull over to the side of the road and stop the car until visibility improves. Turn off the car lights and use the parking brake when stopped so that another car won't mistakenly follow tail/brake lights, which could cause an accident.
If a vehicle gets stuck during a storm, drivers should not leave the car as they will become disoriented quickly in wind-driven snow and cold. Drivers can run the motor for about 10 minutes each hour to heat the inside of the car.
NWS advises that while running the motor, the window should be opened slightly for fresh air to avoid carbon monoxide poisoning. To attract the attention of others, tie a bright colored cloth to the antenna or the door and after the snow stops falling, raise the hood of the car to indicate assistance is required.