A man in Texas needed 26 doses of anti-venom after being bitten by the severed head of a four-foot rattlesnake.
Jennifer Sutcliffe, from Corpus Christi, told KIII TV that her husband had been clearing the yard on Memorial Day weekend when he saw and decapitated a rattlesnake.
But as the man, whose name was not given, picked up the snake to get rid of it, the head bit him and released an almost fatal amount of venom.
"Since there is no body, it released all its venom into him at that point, so he had a lot of venom," Sutcliffe told the station, explaining she had driven her husband to hospital following the bite.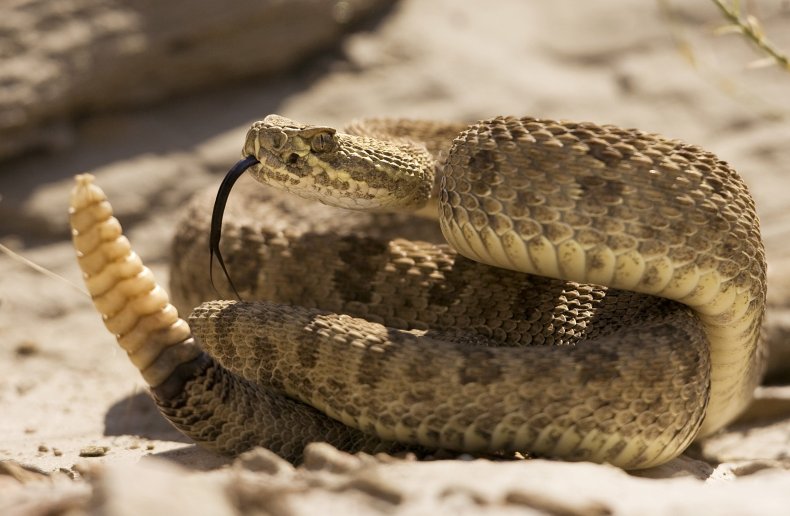 "They HALO-Flighted him into the hospital," Sutcliffe said, explaining she could not get to the emergency room quickly enough so met with an ambulance en-route. "A normal person who is going to get bit is going to get two to four doses of antivenom. He had to have 26 doses."
While the man's injuries were life threatening, he is in a stable condition following treatment, KIRO 7 reported, despite doctors warning Sutcliffe initially that he may not pull through.
The bite came just a week after a kayaker in South Carolina was hospitalized after a rattlesnake attacked him after falling from a tree.
The 28-year-old man, from Anderson, was kayaking along the Edisto River when the snake struck, biting him a number of times and leaving him in need of urgent medical treatment, ABC News 4 reported.
Friends of the man, who caught the rattlesnake, called an ambulance for the man. He was given anti-venom at the Colleton Medical Center and was later transferred to the Medical University of South Carolina (MUSC) for treatment after his condition took a turn for the worse.