Sunken South Korean Ferry Emerges Three Years After Disaster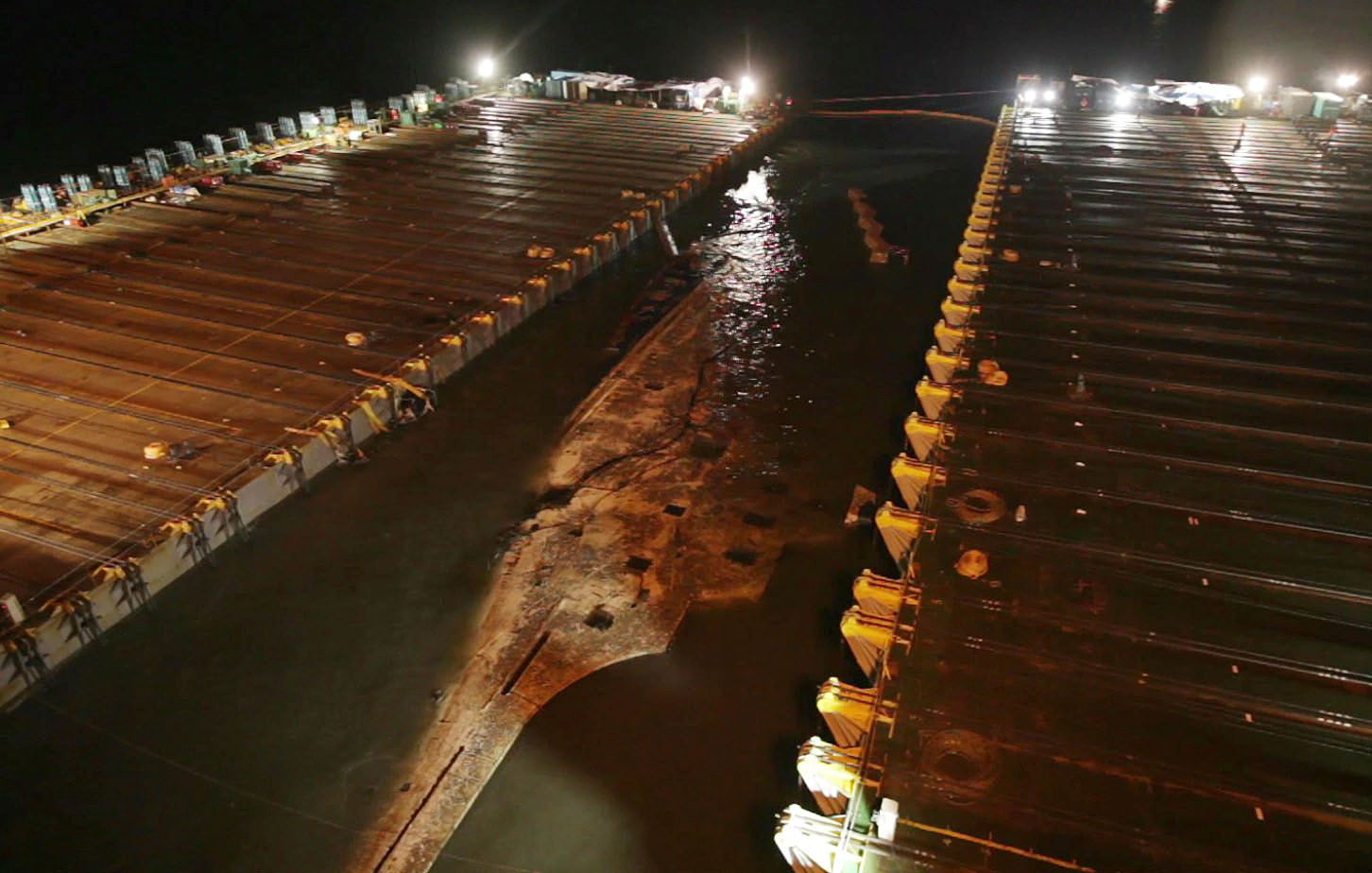 A South Korean ferry that sank nearly three years ago, killing 304 people, most of them children on a school trip, slowly emerged from a grey sea on Thursday, a somber reminder of a tragedy that traumatized the country.
The ferry, the Sewol, was structurally unsound, overloaded and traveling too fast on a turn when it capsized and sank during a routine voyage off the southwest coast on April 16, 2014.
Bereaved families have been calling for the ship to be raised and for a more thorough investigation into the disaster. Officials also hope to find the last nine missing bodies.
"We can't help but feel stunned seeing the ship being raised," Lee Kum-hee, whose daughter Cho Eun-hwa was one of the nine, told reporters.
"My Eun-hwa has been in that dirty place. My poor Eun-hwa. It's been heart-breaking, how cold she's been there," Lee said in tears.
Salvagers started to bring up the vessel, which has been lying on its side at a depth of 144 feet, late on Wednesday, and worked through the night.
Television pictures taken from the air early on Thursday showed the white 460-foot-long hull, coated in mud and sediment, breaking above the surface, flanked by winching barges.
"The work needs to be done very cautiously," Lee Cheol-jo, an official at the Ministry of Ocean and Fisheries, which is in charge of the operation, told a briefing.
A Chinese salvage company has fitted 33 beams beneath the hull with 66 hydraulic jacks inching the ship up.
Salvage workers in orange overalls and white hard-hats clambered over the hull fixing cables. The name Sewol could just be made out through the grime.
Lee said the ferry would be raised as high as 42 feet above the sea and then moved onto a semi-submersible vessel. That operation was expected to take until Friday and it would then be taken to a nearby port, but that could take up to 12 or 13 days, he said.
Once the sunken ferry had been secured on the semi-submersible vessel, bereaved families would be allowed to observe from a closer distance, another official said.
Only when the ferry has been brought to port will it be inspected, media reported.
Of those killed, 250 were teenagers from the same high-school, many of whom obeyed crew instructions to remain in their cabins even as crew members were escaping the sinking ship.
The botched rescue and toll of children in one of Asia's most technically advanced economies shocked and angered the country, with former President Park Geun-hye and her administration the focus of much of the ire at the time.
Park denied accusations that she failed to act decisively but for many South Korans, she has never fully explained what she was doing during the seven hours between the first news reports and her first television appearance that day.
Her response to the disaster was again raised in recent months after she came under suspicion in the course of an investigation into a corruption scandal that led to her dismissal from office on March 10.
The captain of the ferry was found guilty of homicide in 2015 and jailed for life. More than a dozen other crew members got shorter sentences.
The salvage is costing about 85 billion won ($75 million), another ministry official said this week.