When Sex Is Bad: Feeling Your Age Makes Your Love Life Less Satisfying, Study Says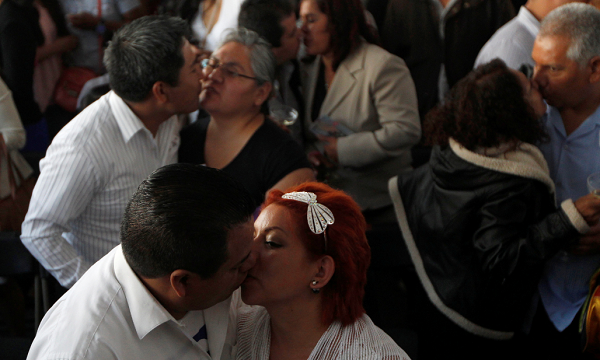 As people age, it's not uncommon for them to harbor negative feelings about growing older. There are plenty of damaging stereotypes surrounding aging, such as increased odds of being hampered by a disability, growing senile and losing the ability to perform certain daily functions and actives.
While there have been studies indicating that bad thoughts toward aging act as stress indicators that can affect cognitive function, a new study recently found that viewing aging negatively could lead to more than just failing mental health: It could result in an unsatisfactory sex life, too.
Researchers at the University of Waterloo, in the UK, examined data from the Midlife in the United States Study, a large, annual national survey conducted by the University of Wisconsin. They focused on 1,170 adults of various sexual orientations in their mid-40s to mid-70s who responded to the survey for several years in order to spot any connection between feelings about aging and feelings about sex. They found them. According to their study, just published in the Journal of Sex Research, participants with less positive views about aging also became less enthused about sex over time. Sex was less interesting and less enjoyable to them. Those negative feelings were not linked with diminished sexual activity, only diminished feelings about it.
"What was clear from the data is that feeling younger had a huge impact on how people felt about the quality of their sex life and how interested they were in having sex," Steven Mock, an associate professor in Recreation and Leisure Studies at Waterloo and co-author of the study, said in a statement.
The research found that adults who felt "young at heart" showed signs of having more enjoyable sex lives.
"For people in mid to later life, feeling young at heart actually appears to make a difference in the bedroom," Mock said. "When you are young it's not unusual for people to feel their age, or even feel more mature, but as you age, typically at around 40, you reliably don't feel older than you actually are. People say, 'I still feel like a 25-year-old or 35-year-old.' Feeling younger than your chronological age has an effect on the quality of sex and your interest in sex."
When people aren't viewing aging negatively, their sex lives can be pretty hot, especially for women over the age of 36. A recent separate conducted by contraceptive app Natural Cycles found women in their middle ages reported having the best sex of their lives after 36. The study, which surveyed 2,600 women of different ages, found 86 percent of women 36 and older were having their most active and satisfying sex lives after turning 36.
Six out of 10 women over 36 also had higher rates of reaching a climax during sex, while only five out of 10 women under the age of 36 reported frequent orgasms.