Sex Assault Suspect Falls to His Death From Apartment While Fleeing Police
An investigation has been launched after police in Washington D.C. said a man died when he fell from the ledge of an apartment building while trying to evade arrest.
Officers were called to reports of an intruder at a 10-storey block in the early hours of Wednesday morning. They found the suspect had entered two apartments and had sexually assaulted a female in one of them, police said.
"The suspect attempted to evade apprehension by going to the roof of the building and hanging over the ledge," the Metropolitan Police Department said in a statement to Newsweek.
"The suspect fell from the building and was pronounced dead on the scene. This case remains under active investigation."
A police report quoting a witness said the suspect had "entered his apartment and was moving stealthily in the kitchen." The suspect later entered another apartment "and used a knife to force [the alleged victim] to engage in a sexual act against her will," the report said.
Police named the man as Duan Terry, 44. It was not clear how he had gained access to the two properties at 2501 Porter Apartments, in the Cleveland Park neighborhood of northwest D.C.
Dave Simon, who lives with his wife on the 6th floor of the building, told WUSA 9 he awoke to unusual noises.
"We could hear running in the halls and screaming, not like a party screaming, but someone was scared," he said.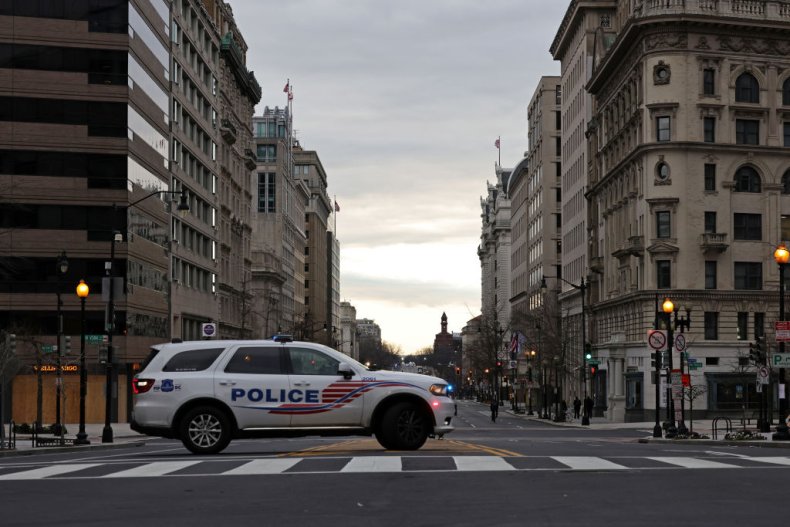 Another resident, Eli Orland, told NBC Washington: "When I peeked out I saw a number of police officers and a body on the ground on my patio.
"I didn't hear the fall itself. It wasn't until I looked out that I saw someone on the ground.
"I know other residents who have mentioned they need to start locking their doors.
"I have no reason to believe that this is the norm and, in fact, I feel extremely lucky that I live in a neighborhood where this is not the norm."
Resident Breanne VanNostrand said: "It's weighing on us. We're all working from home. Everybody in the building is kind of just feeling it. It's nerve wracking."
Police reported a 15 percent drop in sexual abuse cases in the D.C. area last year, compared to 2019. There were 169 offenses committed in 2020, down from 198, according to figures from the Metropolitan Police Department.
That compares with a 19 percent rise in homicides, up from 166 in 2019 to 198 in 2020. The total figure for violent crimes dipped by 4 percent.