'Sex and the City' Reboot: Will Samantha Jones Die? How Kim Cattrall Absence May Be Addressed
Sex and the City (SATC) is getting a reboot, 17 years after the final episode aired. The majority of the show's original cast are returning, including Carrie (played by Sarah Jessica Parker), Miranda (Cynthia Nixon), and Charlotte (Kristin Davis). Kim Cattrall is not reprising her role as Samantha Jones for the reboot but just exactly how her absence will be addressed has been kept under wraps.
Filming is currently underway in New York City and behind-the-scenes footage and images have got SATC fans talking online about all the ways the series can return.
A recent TikTok shows extras on the set of the Sex and the City reboot dressed all in black which has got everybody guessing there is a funeral on the cards and there is the possibility it could be the funeral of Samantha Jones. After all, Samantha is the only main character from the original series who is not returning for And Just Like That...
Fans will also see Chris Noth as Mr. Big, John Corbett as Aidan, David Eigenberg as Steve Brady, Evan Handler as Harry Goldenblatt, and Willie Garson as Stanford Blatch.
On August 4, TikTok user @Klinetime posted a video that shows a group of extras supposedly filming And Just Like That..., dressed head to toe in black mourning attire.
Kline narrates: "I was walking down the street in New York City and saw a huge crowd and realized they were filming for Sex And The City. But everyone was wearing all black. Is it for Samantha's funeral?"
The caption for the video, which has been liked more than 3,000 times read: "Samantha Jones can never die."
On the other hand, some fans were quick to speculate the funeral could be for Mr. Big or a diversion by the show's producers.
@klinetime posted an update a few days later which read: "Apparently having all these people dressed for a 'funeral' is just a diversion so no one knows the plot. I'm so confused right now."
A second SATC fan commented: "If it was for Samantha's funeral, their outfits would've been more colorful."
A third fan said: "If it's Mr. Big. How come he had no friends the night before his wedding to help him and all these people to say goodbye?"
Fans will just have to wait and find out what will happen when And Just Like That... is released later this year on HBO Max.
HBO chief content officer Casey Bloys previously said in an interview with TVLine that Samantha Jones' absence will be reflective of real life, although he did not reveal how her absence would be addressed on screen.
Bloys said: "They're trying to tell an honest story about being a woman in her 50s in New York. So it should all feel somewhat organic, and the friends that you have when you're 30, you may not have when you're 50.
"Just as in real life, people come into your life, people leave. Friendships fade, and new friendships start. So I think it is all very indicative of the real stages, the actual stages of life."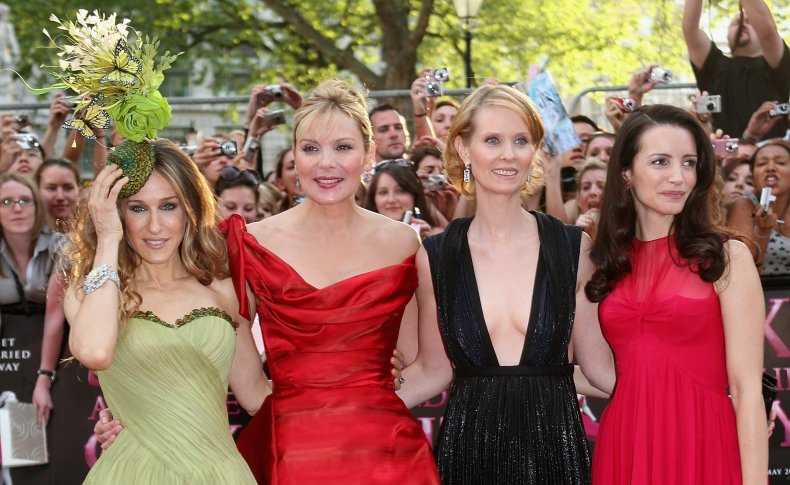 Why Is Kim Cattrall Missing From 'And Just Like That...'?
Kim Cattrall has been very vocal about her disinterest to revive Sex and the City.
She appeared in the two spinoff movies in 2008 and 2010 but had no desire to make a return for the third film which was in the works in 2016.
After a Daily Mail article claimed that the movie had been canceled because Cattrall had demanded Warner Bros. greenlight another of her projects in return for her appearing in SATC3, Cattrall tweeted: "Woke 2 a @MailOnline [poop emoji] storm! The only 'DEMAND' I ever made was that I didn't want to do a 3rd film....& that was back in 2016."
Then speaking on Piers Morgan on Piers Morgan's Life Stories Cattrall explained: "Not for me. That was part of turning 60. That was a very clear moment of how many years do I have left and what do I want to do with it? What haven't I done? I feel that the show was the best when it was the series and the bonus was the two movies."
Asked about what happened with the third movie, she said: "The answer was simply thank you, but no, I'm good. This isn't about more money. It's not about more scenes. It's not about any of those things."
In the same interview, Cattrall advocated a person of color could take on the role instead.
Newsweek has contacted Cattrall's representatives for comment.
And Just Like That... is currently in production in New York City.