Willie Garson, best known for his role as the perennially stylish Stanford Blatch in the Sex and the City franchise, has died at the age of 57.
Garson's death was confirmed on Tuesday by his 20-year-old son, Nathen Garson, who shared a series of images of his late dad alongside a heartfelt caption.
"I love you so much papa," said Nathen Garson. "Rest In Peace and I'm so glad you got to share all your adventures with me and were able to accomplish so much. I'm so proud of you.
"I will always love you, but I think it's time for you to go on an adventure of your own. You'll always be with me. Love you more than you will ever know and I'm glad you can be at peace now.
"You always were the toughest and funniest and smartest person I've known. I'm glad you shared you're love with me. I'll never forget it or lose it ❤️😘."
While a cause of death has yet to be revealed, Michael Patrick King, executive producer of Sex and the City and its upcoming spin-off And Just Like That... revealed in a statement that Garson had been "sick."
"The Sex and the City family has lost one of its own. Our amazing Willie Garson," said King, per The Independent. "His spirit and his dedication to his craft was present every day filming And Just Like That.
"He was there—giving us his all—even while he was sick. His multitude of gifts as an actor and person will be missed by everyone. In this sad, dark moment we are comforted by our memory of his joy and light."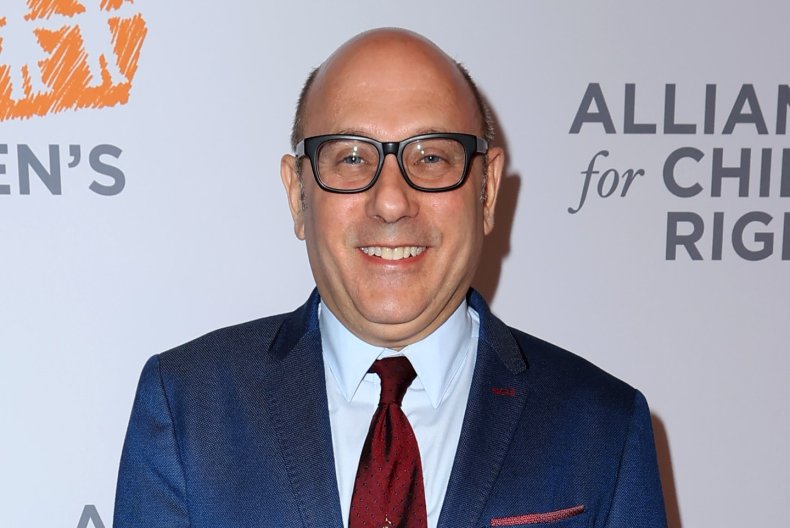 As recently as August, Willie Garson was seen on the set of the upcoming series And Just Like That..., which has been filming in New York City.
Following the announcement of his death, a host of celebrities took to social media to share their condolences, including Garson's Sex and the City co-stars.
Cynthia Nixon, known for her role as Miranda Hobbes in the franchise, took to Twitter to share a snapshot of herself posing with Garson, as she wrote: "So deeply, deeply sad we have lost @WillieGarson.
"We all loved him and adored working with him. He was endlessly funny on-screen and and in real life. He was a source of light, friendship and show business lore. He was a consummate professional—always."
"My heart goes out to his son, Nathen Garson. Nathen, I hope you know how much he loved you and how proud he was to be your dad," she added.
Kim Cattrall, who has opted out of reprising her role as Samantha Jones in And Just Like That..., also posted an image of herself with Garson.
She captioned the snapshot: "Such sad news and a terribly sad loss to the SATC family. Our condolences and RIP dear Willie xo."
A "devastated" Mario Cantone, who was seen on the And Just Like That... set with Garson over the summer, also took to twitter to pay tribute to his co-star.
"I couldn't have had a more brilliant TV partner," Cantone shared. "I'm devastated and just overwhelmed with Sadness. Taken away from all of us way soon. You were a gift from the gods. Rest my sweet friend. I love you."
A post was also dedicated to Garson on the official And Just Like That... Instagram account soon after his passing was revealed.
"Willie Garson was in life, as on screen, a devoted friend and a bright light for everyone in his universe," read the caption accompanying a photo of Garson. "He created one of the most beloved characters from the HBO pantheon and was a member of our family for nearly twenty-five years.
"We are deeply saddened to learn of his passing and extend our sincere condolences to his family and loved ones."
Nicole Ari Parker, who was recently revealed to be a cast member on And Just Like That..., shared the show's tribute post on her Instagram Story, adding a caption that read: "Rest in peace sir. Honored to have met you... Sending strength to your family & loved ones."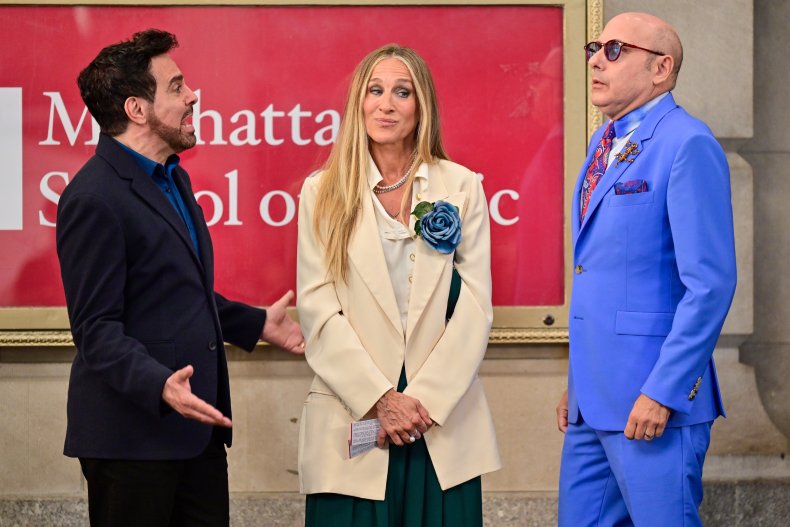 Evan Handler, who played Harry Goldenblatt in the franchise, said of Garson on Instagram: "Willie Garson, or, 'The Mayor.' Invitee to the weddings of Sir Elton and Elvis Costello. Friend and/or acquaintance to...well, everyone.
"Of greatest significance, adoptive father to a foster child. My heart grieves for his son, for the entire #SATC and #AJLT universe, and for the world at large.
"We've lost a consummate funny - and family - man, and they were in short enough supply already."
Sharing an image of Garson and Sarah Jessica Parker filming their show on the streets of New York City in a follow-up post, Handler added: "Sending love to @sarahjessicaparker @cynthiaenixon @iamkristindavis @macantone Who will have exceptionally challenging days at work this week. Love to all."
At press time, Sex and the City stars Parker and Kristin Davis had yet to issue public statements on Garson's passing.
Garson's White Collar co-star, Matt Bomer, also paid shared a tribute to the late actor, writing on Instagram: "Willie. I don't understand. And it's not fair. This past year, you taught me so much about courage and resilience and love.
"I still haven't wrapped my head around a world without you in it- where I can't call you when I need to laugh, or be inspired. The last thing you did when we said goodbye was pull down your mask (I hate covid), smile, and wink at me.
"I know that it wasn't reflective of the pain you were going through, but it was indicative of everything you were and are to me: some one who lifted me up, who made me better, and who always, always made me smile.
"This also reminded me how strong our White Collar family is. We were all there for Willie, and for each other. I love you forever Willie Garson.
"You live on in our hearts and minds always: and your White Collar family is always here for Nathen. Save a place for me, because you know I want to be at your table up there."
New Jersey-born Garson appeared in the Sex and the City series, which ran between 1998 and 2004, before going on to appear in two sequel movies.
Over the course of his career, Garson had also appeared in classic TV shows Cheers, Twin Peaks, Family Ties, Ally McBeal, NYPD Blue, The X-Files, Quantum, Leap, and Friends, among others.
Following his run on Sex and the City, the actor played conman Mozzie on the USA Network series White Collar, which ran between 2009 and 2014.
He also had roles in a number of movies, including There's Something About Mary, Groundhog Day, Fever Pitch, Being John Malkovich, Soapdish, and KingPin. Garson most recently appeared on Supergirl and did voice work on Big Mouth.