A herd of sex-crazed wild goats is terrorizing an Irish town, forcing authorities to consider mass castration to stop them from spreading.
The goats, now numbering at least 22, have been roaming the outskirts of Ennis in southwestern Ireland for several weeks, causing disruption to townspeople, The Independent reported.
The mayor of the country, Tom McNamara, told a council meeting that the animals were "getting up on top of cars and going around businesses at nighttime." Their growing number has almost caused car accidents, with councilor Johnny Flynn asserting that the problem represents "a serious road safety issue and needs to be dealt with as a matter of urgency." Two members of the herd were even electrocuted after wandering into an electricity substation.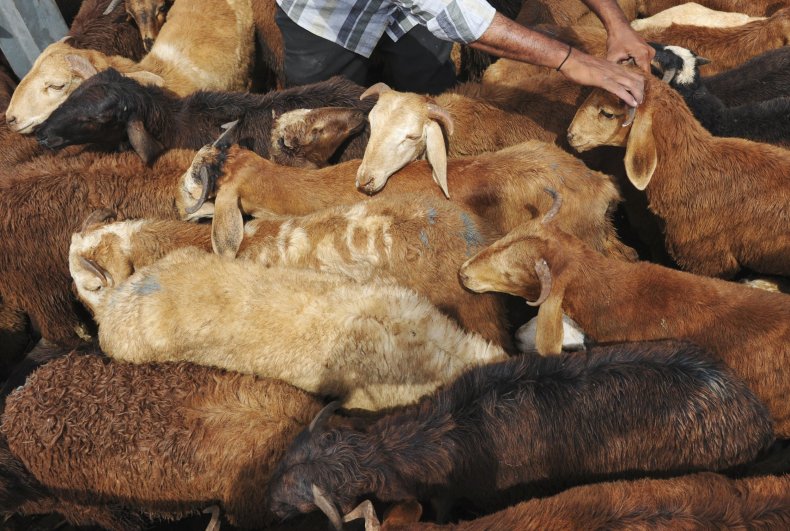 The goats previously occupied an area of wasteland on the western edge of the town, but in recent weeks have taken to roaming farther afield. Videos captured by residents show the animals relaxing outside a supermarket, strolling along the side of the road and eating from bushes in a parking lot.
"The disturbance that these goats are causing in the locality is totally unacceptable," McNamara told the meeting, according to the Irish Mirror. Councilor Mary Howard said the herd was "procreating like there is no tomorrow." Because local residents do not want the goats to be culled, authorities are considering either relocating the goats or castrating the males to halt their spread.
Local officials said they would also erect warning signs on roads leading into the town to alert motorists that goats may stray onto busy routes. Ennis is the 12th largest town in Ireland, with a population of more than 25,000, so there is a significant risk of the wild animals eventually causing an accident.
Flynn said the goats had been seen jumping through people's backyards and walking on their cars, and people have returned home to find the goats sleeping in bushes near their houses. Flynn told councilors that the wild animals should be moved "in the interest of animal welfare, public safety, protection of property, and to avoid a road accident that would lead to animal or human injury or death."
County official Eamon O'Dea said the authorities would consult with animal welfare groups and nearby sanctuaries to come up with a relocation plan.