Sex, Drugs and the Mafia: Exclusive Photos of Life in the Lawless Streets of the Camorra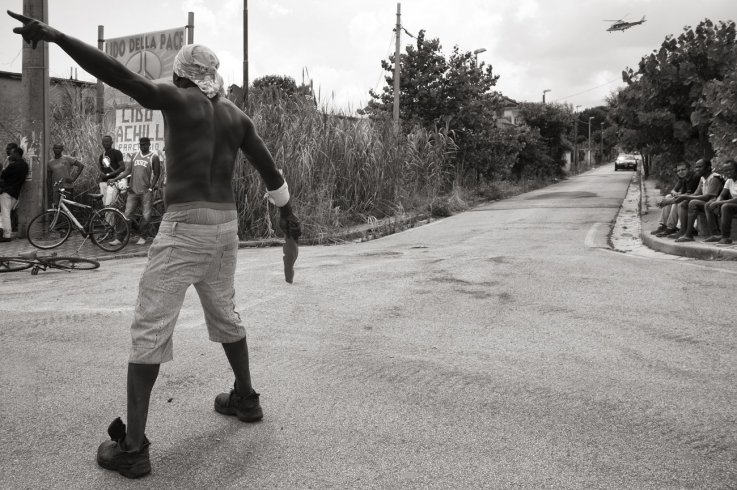 The road that connects the Italian capital of Rome to Naples was first built almost 2,000 years ago. Via Domitiana runs through 34 miles of land, swathes of which are controlled by mafia organizations such as the Camorra, the syndicate that hails from the Italian region of Campania.
Along a five-to-ten mile stretch of the the road around the mafia stronghold of Castel Volturno, as many as 100 women and girls—some of them only 12 years old—wait for cars to pull over and let them in.
Mostly from Nigeria and Eastern Europe, these girls have either been forcibly removed from their countries and trafficked to Italy or sold by their families to criminal organizations, for which prostitution is one of many profitable revenue streams.
Castel Volturno has been at the center of tensions between African gangs and local mafia families for years and in 2008 the situation escalated, with a deadly shooting that killed one Italian and six African immigrants. But lately, the rival gangs seem to have worked out some kind of mutually beneficial coexistence.
While the area remains nominally controlled by the Camorra, some criminal activities such as human and drug trafficking have been devolved to the Nigerian mafia. Felia Allum, senior lecturer at the Department of Politics, Languages and International Studies at the University of Bath, U.K., has researched the Camorra and its links with Nigerian gangs which, she says, are even more violent than their Italian counterparts.
"A lot of the research seems to suggest there is a kind of hierarchy. Because they progressed to such a level of perhaps more sophisticated activity, [the Italians] don't therefore need to go and distribute drugs," she tells Newsweek.
"That seems to be the logic: working out a hierarchy of space in which they are allowed to function because they are paying a certain amount to do it. Territory is really important, you need to look at the territory and how they possess the territory."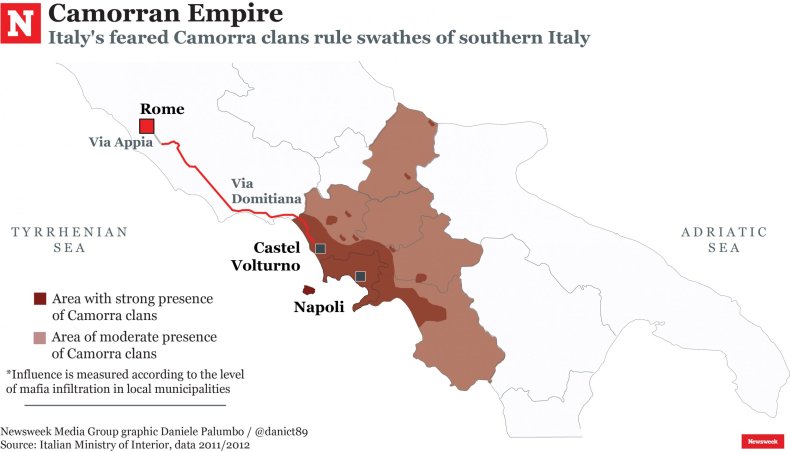 Giovanni Izzo, a photographer who was born and raised in the area of Castel Volturno, has been looking at the territory for years, focusing his work around stories of deprivation, exploitation and criminality populating the lawless streets of Camorra territory.
His pictures tell a story of a place that has fallen from grace since the so-called "Italian miracle" of the 1960s, when the seaside location was a booming tourist resort for the wealthy Neapolitan elite. A sign from those days still harks back to those heady days with the slogan: "Fontana Bleu, Human City, Flower Paradise." Beneath it, someone has scribbled one word: "Squalid!"
The houses that were built along the shore have, with time and progressive degradation, been engulfed by the rising sea. They lack electricity, water, walls and windows, and after a recent influx of migrants to the area, illegal landlords have merely placed mattresses on the floor and rented them for $230 a month, as Izzo tells Newsweek.
Izzo spent years documenting the changing landscape of his hometown and is now exhibiting the pictures at the University of Bath. In the process of putting the pictures together, he has built relationships with the 25,000-strong community of migrants who have settled in the area.
Drugs, prostitution, labour exploitation and pollution are recurring subjects of the stunning photographs. Izzo meets his subjects on Sunday, after Mass, or in the streets, where he says he often stands out as the only white person around.
But not everyone is delighted to have their photo taken and Izzo says he has been punched at least once: "To them, having a portrait taken is the same as getting a mugshot."
Some of his portraits of women are taken from inside his car, after he approached them pretending to be a client and then asked for a photo. He has even been able to help some survivors of human trafficking, who, he says, are increasingly underage girls.
"I have contacts with people who work in migrant shelters and often we get in touch with them, and we try to convince them to leave. It's not easy, these girls are scared and fear for the lives of their families back in Nigeria," he says. The activity comes at a cost for him and his contacts. "We were threatened, but I don't care. If you're scared, you do nothing."
Read more: The Mafia is Teaming Up With Nigeria's 'Viking' Gangsters to Run Sex Rings in Sicily
The photographer was also given access to more intimate aspects of life in the "Little Nigeria" of Castel Volturno: The houses where, for the equivalent of $5.70, men can enjoy food and drinks for a whole day, and paying another $5.70 gives them access to the upstairs bedrooms.
These are rooms where the drugs arrive, are cut and repackaged and where the parties are held for which everyone puts on their best clothes, dances and throws banknotes in the air.
His pictures are all shot in black and white. "Colour distracts" he explains.
Through his work, Izzo wants to present his land and its problems, in the hope that someone may have a solution to offer. "This area used to be called Campania Felix [meaning "happy" in Latin]. We should go back to calling it like this," he said.
The exhibition "The Domitiana, Everyday Organized Crime and Life: Sounds and Images From a Road-A Photographic Experience" runs from July 7 to July 12.