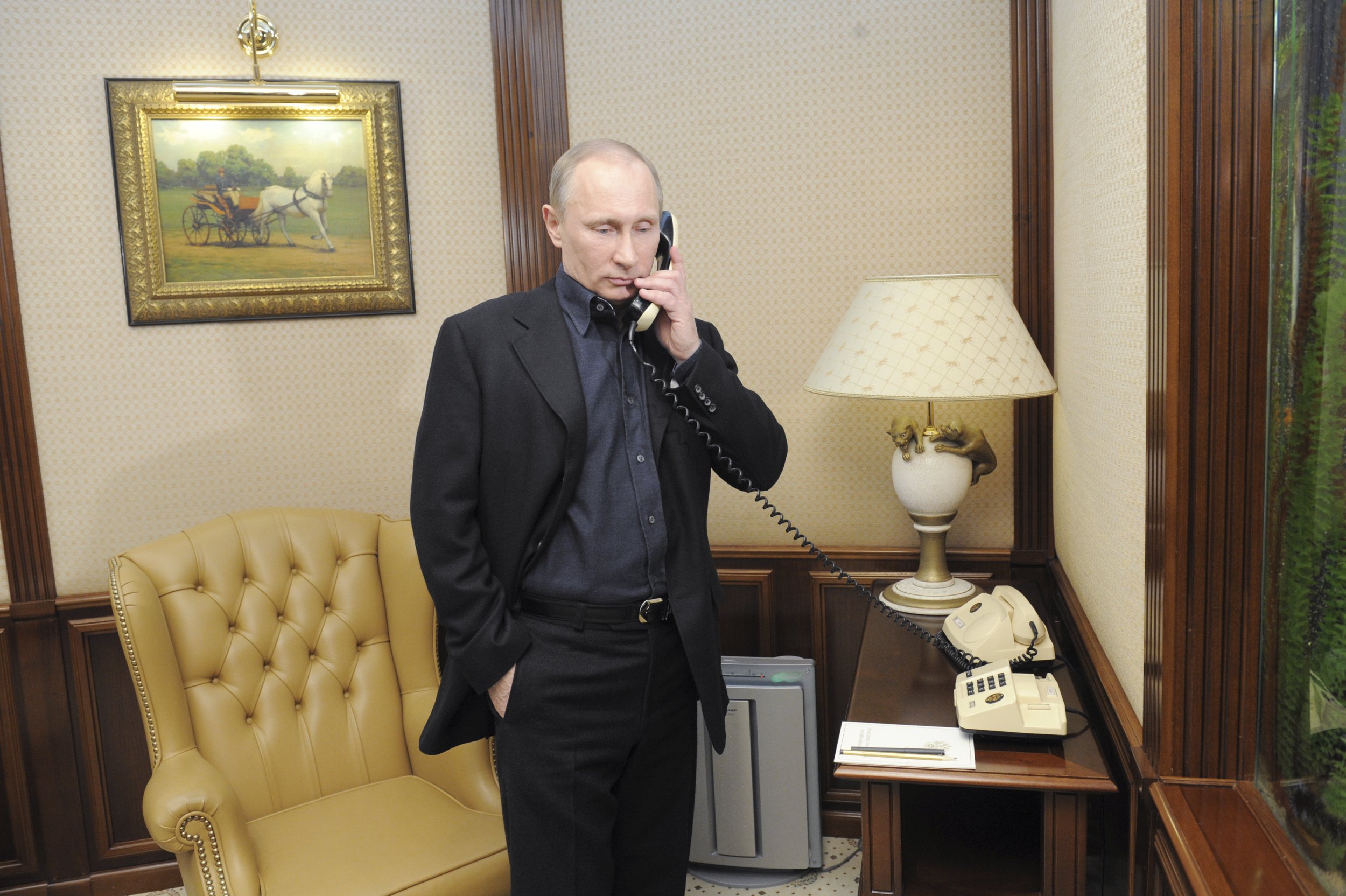 With Spring well underway, the time has come for one of the most bizarre dates in Russian President Vladimir Putin's calendar - his annual hotline show, airing on Thursday morning. The good news is that you, too, can send Putin your query. The bad - you already have over a million Russians to compete with. Not to mention that whether your question makes it on air hinges entirely on the Kremlin's whims and their screening processes.
The event, officially known as A Direct Line with Putin, will be broadcast on Russian national TV and will feature Putin personally answering selected letters, voice messages, phone calls, emails, texts, face-to-face questions and anything short of smoke signals from Russian citizens. Callers from abroad are also welcome, though the event tends to focus on the domestic issues.
This year 1.3 million questions have been submitted to the president, in the week leading up to the live show and Kremlin spokesman Dmitry Peskov told Russian news agency RIA Novosti the people's biggest concern was the increase in prices. Peskov added that Putin has freed up his Tuesday evening plans to prepare for the event.
Ever since first airing in 2001, the direct line has aired annually on all major Russian state broadcasters, even during Putin's time as prime minister, before he returned to the presidency for a third term in 2012. The only examples of Putin's hotline show remaining off Russian television was in 2004 when the call-in session was substituted by a large press conference, and in 2012, when the Kremlin said it would skip the event so as to move the event to the next spring.
Despite Russians' money worries, the wars in Ukraine, Syria and the upcoming parliamentary elections, Thursday's show is bound to have plenty offbeat questions. Here are the best questions from the programme's history:
Take Back Alaska
While Putin's territorial claims over the North Pole have long concerned the U.S., the Russian president allayed fears that Moscow was considering taking back Alaska in 2014. Pensioner Faina Ivanovna asked Putin if the state, sold to the U.S. by Russia in 1867, would ever join Russia's territory again.
"Faina Ivanovna, my dear, why do you need Alaska?" Putin asked. "We have our own northern countryside. Around 70 percent of our territory surrounds the Far North. Let's not get bothered over it, alright?"
Over the course of the question Putin also said he was aware that some Russians jokingly refer to Alaska as "Ice Krym," which sounds like the frozen snack but also borrows the Russian word for Crimea. The Russian-speaking peninsula was annexed from the territory of Ukraine earlier that year and many in Russia have argued it is historically a Russian region.
Betrayal in Kiev
The toppling of pro-Russian Ukrainian President Viktor Yanukovych in early 2014 came in a swarm of fighting between pro-EU protesters and authorities in central Kiev. By the time Putin's hotline was set to air less than two months later, Yanukovych was still the top story in Russia. A member of Yanykovych's brutal Berkut police was given the microphone in the studio, and began to ask the president if "Yanukovych was always such a coward and a traitor" not to let Berkut servicemen unleash violence on protesters.
Putin commended him for being "honest, professional and worthy" in carrying out his duty, but asked him to see Yanukovych's side whose "hand was unable to sign the decree to implement violence against his own citizens." The officer was given a round of applause.
The broadcast made no mention of the fact that police violence against protesters was widely reported, with Ukraine's Ministry of Healthcare reporting over 1,000 were hospitalised and at least 106 dead. Russia maintains pro-Western sides instigated the violence.
Later during the same broadcast Putin controversially highlighted that historically eastern Ukraine was not part of Ukraine at all, but part of Russia. He also used the Imperial term for southeastern Ukraine 'Novorossiya', meaning "New Russia".
Husband in the Doghouse
It is not all war-talk at Putin's direct line, however. In 2015, one Russian woman asked Putin to intervene in a marital dispute. Her friend's husband, military man Boris, had refused to buy his wife a dog. As much as she pleaded, the woman could not persuade her husband to buy her a pet - so, could Putin, Russia's commander in chief, talk some sense into Boris? Putin said he could not command the man on such a personal issue but he would ask him.
"Boris please, be kind and let your wife buy a dog," Putin said. "It is a kind thing to do and it will strengthen your family."
Romance is a recurring topic in the programme and since his divorce in 2013 Putin has been asked if he is courting a new first lady. "I have to first make sure that my ex-wife Lyudmila remarries and then I will think about myself," Putin, who has been linked with Anna Kabayeva for years, answered selflessly.
Any partner would have to come second in Putin's heart however, as in 2008 he made it clear where romance stands in his list of priorities. "Are you a romantic," one caller asked. "Partly," Putin answered. "What do you love more than anything else?" The caller asked. "Russia," Putin answered.
Sex, Drugs and Putin Clones
In 2006 Putin and the Kremlin opened the forum to internet users, in a bid to increase the number of young people reaching out to the president. Immediately, the topics of conversation came to include a few more salacious issues. One of the most popular questions that year was when Putin had sex for the first time.
"They are a unique audience, these young people," a candid Putin laughed. "These kinds of questions are normal for them. They ask when I started having sex. I don't remember. But I do remember the last time I did," Putin grinned. "I can give the precise time, to the minute," a younger Putin boasted. For better or for worse, he did not divulge that information.
His responses have grown a tad more conservative since, as last year he was asked if he would clone himself to set up a team of expert government officials, comprising of his clones. He answered tersely, "No" without letting the presenter finish reading out the question. In 2013, a similar reply came when asked if he would consider legalizing marijuana. Putin explained the leaf may have some uses in agriculture but " as a recreational drug, I am categorically against it. "
Odd Displays of Affection
In 2007, Putin had one of his most curious phone calls, when an excited woman phoned in, live on air and refused to speak to the presenter. "I will not speak with you, only with the president," the woman said, before she was passed on to a slightly humorless Putin. Without identifying herself the woman swooningly asks Putin "Is it you?", "Yes." "Is it really you?" "Yes. It's me," Putin insisted. "And a moment ago it was also you?" The woman asked and Putin nodded. Overcome with apparent excitement and gratitude the woman thanked the president "for everything" and hung up without asking a question.
This is far from the only token of adulation Putin has received over the years, as he has been asked to slow dance with one caller and go jam tasting with another.
Putin The Giver
One of the most common features of the call-in session hosted by Putin is his proclivity for sending gifts to callers after the show.
During his first ever call-in session in 2001, Putin was asked by a resident of a small settlement in Krasnodar region when the people there would have a gas supply. Prepared for the query, Putin signed off on a deal with oil giant Gazprom within a half hour to bring a pipeline to the settlement by January 2002.
In 2008, a Russian schoolgirl, who lived with her grandmother, asked Putin if she could have a dress like Cinderella's. Putin was all too keen to play fairy godmother and prince charming by inviting her, her sister and her grandmother on a trip to his presidential palace in Moscow. He gave both girls new dresses. Putin has also made donations of equipment and medicine to sick children via his call-in shows after they have reached out to him and he has also vowed to find living quarters for homeless veterans.
Putin's generosity has its limits, even when he has predetermined what requests he will listen to on air. In 2003 one man asked him for a pup from his dog Koni's litter. Putin was hesitant, saying he would need to find out if he would be giving the dog to a good home.
Putin's hotline show will be broadcast at live at noon Moscow time and until it finishes, lines will be open for questions from Russia and abroad. The toll free phone number has remained the same through the years—8 (800) 200 40 40—while callers from abroad have recently been allowed to phone in too. In 2015, callers from outside Russia could dial 007 (499) 550 40 40 or 007 (495) 539 40 40.